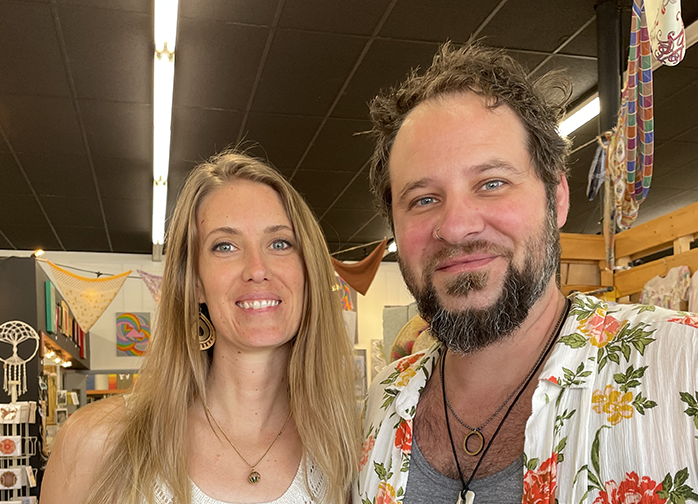 Husband and wife operate Mosaic, a creative shop with crafts and classes
Mavis Bennett for the
Montrose Business Times
Leanna and Jordan Johnson's store, Mosaic, might be described as a business-community center.
Customers come in to buy a gift and end up decorating a hat at the hat bar. Their children will be drawn to the do-it-yourself jewelry.
The shop at 21 N. Cascade offers items of interest to the most diverse of customers.
There is a mixture of clothing for sale. "Some are locally made," Leanna said. "clothing ordered from mom and pop shops and vintage clothing from the sixties to the eighties."
Mosaic offers handmade home decor knick-knacks that you can't find anywhere else."
A business venture
The Johnsons were not natural business people. They had met in Grand Junction in 2006 while Leanna was finishing her graphic design degree at CMU. Leanna was a Montrose native and Jordan, although born in Grand Junction, grew up in Alaska.
In 2016 they began traveling the state to craft shows and festivals. "In March 2020 we were going to be in Arizona and had rented a house when Covid hit and all the craft shows were canceled," Leanna said. "This was our first out-of-state show and we had been preparing for months."
They had to get creative with what they would do next. "We were not alone in this radical change," Leanna said. "All of our maker and artist friends that we had met doing the shows were in the same boat. The store space became available and we reached out to them to see if they would be interested in selling their stuff here."
By then it was November of 2020 and people were slowly coming out to shop. "We wanted to provide a Covid-safe shopping experience where people could do their holiday shopping for locally made goods. We started as a popup shop just to test it out."
They hadn't planned to stay in business. "We were only going to stay open for the holidays," she recalled. "We had our do-it-yourself (DIY) bars, where people could come in and make their own jewelry, our plant bar to decorate a pot for a small succulent plant, and our hat bar to decorate a hat."
What you can find at Mosaic
They offer a variety of clothing—some locally made, some ordered from mom and pop shops and vintage clothing from the sixties to the eighties.
There are handmade home decor knick-knacks that can't be found anywhere else.
For the most part, Jordan runs the front. Leanna still does her graphic design business and most of the behind the scenes work, scheduling classes and workshops and promoting them online. Jordan makes all the jewelry for Lucky Tree Studios.
The art gallery portion of the store will change next month. "We've been featuring a different artist each month, " Leanna said. "Next month we're going to start doing an open art show where everyone can submit two pieces. Our only limitation will be that it be contemporary art work. This will make it more of a community show."
Getting creative at their shop
There are drop-in craft projects where kids can come in and make things. They can decorate a little ball cap, plant succulents, and make jewelry.
They offered three-day art camps in the summer run by different art teachers. The parents dropped their kids off for a few hours. The kids did a new project each day and learned to try out different mediums.
"We did a fashion camp this summer, ages 6-12, for about 13 girls," Leanna said. They started with a blank white t-shirt and got to alter it, cut it up, tye-dye it, add beads. "They also made little bags and we had two people in here to teach them how to sew. We had a little fashion show for the parents at the end."
The store is a mixture of many different pieces, all of their passions together, bringing their love of arts, of design, of crafting.
"It's been fun to do all the things that we love under one roof," said Leanna.
Leanna Johnson uses the word fun a lot. The store is lighthearted, allowing families to explore their own creativity and find one-of-a-kind gifts. She is full of ideas to bring to the community.
Mavis Bennett is a freelance contributor for the Montrose Business Times