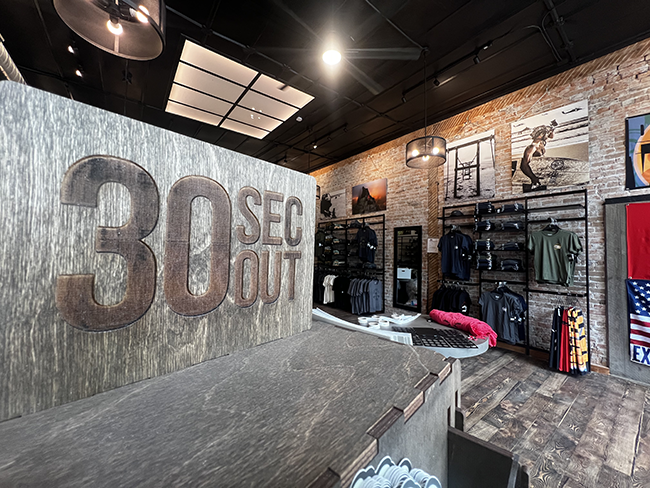 30 Seconds Out, a veteran-owned apparel company, moves operations to Montrose
Whether you're 30 seconds from jumping out of an airplane, heading into a marketing meeting, approaching a news deadline or giving a speech, that's when you have to be at your best.
That's the ideology behind the brand 30 Seconds Out, an apparel company that has relocated to Montrose.
"30 seconds is when the adrenaline starts kicking in," said Sean Evangelista, owner of the company. "It's because you know there's no turning around at that 30-second mark."
That idea is deeply rooted in Evangelista's military background.
Evangelista, 49, was in the Navy Seals for 20 years, serving in wars in Iraq, Afghanistan and Africa.
But while he stays true to his roots, and his business' ideology stems from his military training, when he got out, he wanted to distance himself from that world.
"I wanted to leave that environment and just go to the mountains and live a completely different life," he said. "I was over that because I did it for 20 years."
That's when he started exploring his creative side and discovered he had a knack for art and design.
He began painting, and he had a talent for it. He painted about 50 different pieces, one of which actor Robert Duvall's wife commissioned. But painting wasn't quite lucrative enough as a business model for Evangelista.
At the same time he began painting, he started      doing graphic design. He taught himself the Adobe programs and started designing logos, slogans and brands.
"I was painting, but you couldn't scale that as well," he said. "You could sell a painting for $500, $1,000. But it took you a week to paint it."
He discovered he could put some of his graphic designs on stickers, t-shirts and hats and could make more money than he could with his paintings.
That birthed 30 Seconds Out in the fall of 2014. He started designing shirts and stickers using slogans that translated well to his branding, such as, "No one is coming. It's up to us."
"It is the mindset we had in the military, like a commando unit, where you're small and you're doing dangerous things," Evangelista said. "There isn't a whole lot of help that's going to come in time for it to really matter."
The 30 Seconds Out brand appeals mostly to first responders, active military, veterans and patriotic people. Evangelista, a rock climber, also wanted to market to outdoor-minded people. But he learned quickly that there was a market for those outside those realms.
"It was weird. There's these other groups of people who liked it," he said.
Corporate businesses began purchasing his products for team building. People in Manhattan and Detroit.
"Auto manufacturers paid me to change the design to the colors they wanted, and they slapped the logos on their GM manufacturing floor," he said.
Seeing growth
As his company was growing, he and his wife, Tamra, had made a home in Sun Valley, Idaho. Tamra came on and began helping with the administrative side of things, which allowed her husband to focus on the creative and marketing side of the business. There was plenty of skiing, and he even learned to ski, taking a job on the local ski patrol. But Evangelista's real passion was mountain climbing. There wasn't as much of that in Sun Valley.
"I was coming down to Ouray just to go climbing," he said. "And it was getting more expensive to live in Sun Valley."
Still, they had warehouse space in Idaho, and the business was growing quickly.
In 2016, his sales were at $109,000. In 2017, they dipped to $84,000. Then, in 2019, 30 Seconds Out did $598,000 in sales.
The company was making it.
"It was really due to a multitude of factors," he said.
The Evangelista's upped their social media game. They also began paying for ads in 2018. But maybe the biggest help was the free marketing of his t-shirts.
One day, Evangelista heard from TV's David Boreanaz. The actor/director/producer had earned his fame from FOX's Bones. But he was in his second season as actor and showrunner for the CBS show Seal Team.
"I had a buddy who is in movies, and he was wearing one of our shirts," Evangelista said. "(Boreanaz) saw him wearing it and thought it was awesome."
The actor ordered a bunch of them. Evangelista has continued to send them to him.
"He wears our tees, it seems, almost every episode," Evangelista said.
People email the 30 Seconds Out team frequently, expressing their joy when they see their own shirts on TV. Others see them, look them up online and order for themselves.
Actors on the two-season run for the History Channel's drama "Six" also wore the t-shirts, which helped with exposure.
The company has since continued to grow each year.
Coming to Montrose
Until the Evangelistas moved to Montrose, their business model was purely e-commerce. All their sales were online.
But Evangelista wanted to do more climbing, and Sun Valley had become too expensive. They sold their duplex in Idaho and moved to Ouray. They also started the process of moving their warehouse to Colorado. They looked from Ridgway to Delta and found a space in downtown Montrose that seemed to work.
The plan wasn't originally to open a retail location, but the space at 33 N. Cascade worked, and downtown Montrose seemed a great place for retail.
"We saw the front, and we thought 'we want retail for the front,'" he said. Evangelista said. "We didn't think this brand would work in Telluride, but it works for a community like Montrose, where there's blue-collar people."
They purchased the empty space, located next door to the new bar Red White and Brews, for $275,000.
"That space would have gone for millions in Sun Valley," Evangelista said.
They then put $300,000 into the building, getting rid of asbestos, ripping down old parts of it, and turning it from a wet space into a dry space.
There was lots of work to do.
They stripped down the facade, thanks to a $23,000 matching grant from DART, and completely renovated it. They've also taken advantage of state tax credit incentives for growth and employment. The Evangelistas have two full-time employees and two part-timers.
They are still setting up the inside of the space, but it looks unrecognizable from before.
Plaster was covering a beautiful brick wall. That wall is now exposed. And they have plans to do their part in promoting downtown commerce.
"It's like old school America. How can you not like Main Street in montrose?" he said.
Into the future
The company has done collaborations with other businesses. Black Rifle Coffee Company, a veteran-owned business which has the same type of customers, has collaborated with 30 Seconds Out on a number of projects. Black Rifle even created a 30 Seconds Out small batch roast.
"We understand what it's like to be really small," Evangelista said. "And collaborating can help throw a wider net over customers. Sometimes that can be a big help to both."
Evangelista has since moved his mom to the Western Slope. She lives in Montrose. Tamra plans to move her mother out here, and she wants to get her sister and her family to move here as well.
The Evangelistas' company is still doing under a million dollars in sales per year, and while they have no plans for expansion any time soon, Sean's goal is to get the company to $1 million in the next two years.
In 10 years? "$5 million," he said.
Justin Tubbs is the Montrose Business Times editor. He can be reached by email at justin@montrosebusinesstimes.com or by phone at 970-765-0915 or mobile at 254-246-2260.
TO SEE MORE PHOTOS CLICK HERE.