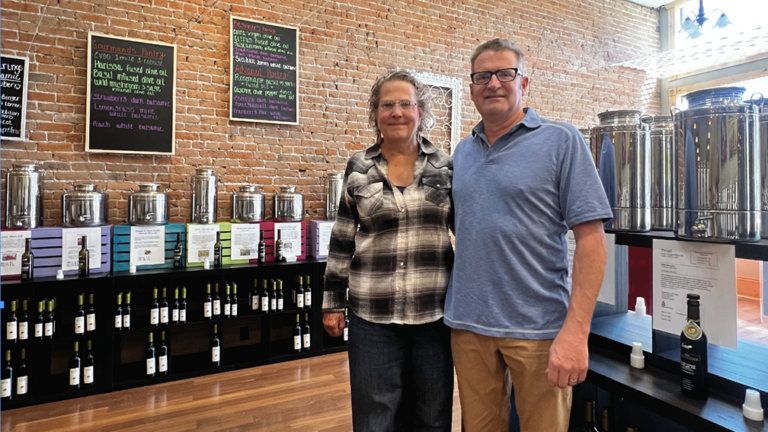 Husband, wife open downtown vinegar and olive oil shop
Have a craving? Want to elevate your next home-cooked dish?
A new downtown business may be able to help you with that, if you're into fine vinegars and olive oils.
Elevated Vinegar Olive Oil Company (EVOO) opened last month in downtown, and the shop has plenty of customers looking for exactly what they provide.
Doug and Diane DeShazo are there during the day, still streamlining the business side of things, as they're working on getting their online shop up and running (it should be up in the next couple weeks), but they don't lack knowledge about their products, and walk-in customers can get an experience not previously found in Montrose.
The business carries a wide array of different vinegars and olive oils — some classic, some more contemporary, some infused, but all very tasty, according to the DeShazos.
The couple moved to Montrose full time about seven or eight months ago from Lake City. (They are originally from Alaska.)
They are retired from several different business ventures (Doug mostly worked as a chiropractor).
In Lake City, they owned and operated Lake City Brewing Company for about five years. They sold it about a year ago.
"After we sold the brewery and completed our contract with the new owners and the training and obligations there, we moved here full time," Doug said.
Since retirement, they have looked to elevate their own home cooking. For the past five months or so, their favorite hobby is making good meals at home.
One day, about eight months ago, Diane asked Doug, "How would you feel about opening an oil and vinegar shop?"
Doug was sold, and they began their venture. It's been (mostly) straightforward from there.
They found some retail space at 443 E. Main St., right next door to the Wild Horse Wine and Whiskey bar, and it was just what they were looking for.
Months of ordering product, arranging the store, decorating it and giving it character led to their opening about a month ago.
The end result is exactly what you'd expect out of an oil and vinegar shop, if you've been to one before.
If you go in the early afternoon, you might see Doug or Diane sharing their knowledge with a customer.
Those unversed in oils and vinegars can sample any and all of them before choosing what to buy. Doug can also help with recommendations for pairings or suggestions on how to use the products in dishes.
"What we try do to is encourage people to try as many things as they want to," Doug said. "Because everyone has a different palette and everyone has different interests."
He said some people come in because they want something for their competition barbecue. Others come in looking for ingredients for chili or salads. But Doug said there's something for everyone.
The couple is also soon making available books — one being written by a mixologist friend about cocktails and another that can guide you through how to make certain dishes using the products in their store.
Aside from their oil and vinegar offerings, all from the roughly 100-year-old American company Delizia which imports the products and ships them to retailers like EVOO, they have some specialty food items from Italy, like pastas, sauces, ladyfingers and much more.
If you don't want the oil and just want the olives, they have several imported pickled olive selections from Spain.
So far, getting the store set up has been the toughest part for the DeShazos, but you couldn't tell by walking into the store today.
Asked what made them choose Montrose, Doug said they had visited Montrose to pick up groceries and run errands very often. Besides being closer to conveniences, Doug said they appreciate Montrose's character.
"So many towns in Colorado have a veneer of the Mountain West, and they're not that way when you visit them," he said. "This town kind of has an identity — Delta the same way — we just liked the authenticity."
You can visit them in person at their downtown location, and you can also visit them online at EvooMontrose.com, where you can sign up to be updated when their online store goes live.
This article is by Justin Tubbs,the Montrose Business Times editor. He can be reached by email at justin@montrosebusinesstimes.com or by phone at 970-765-0915 or mobile at 254-246-2260.