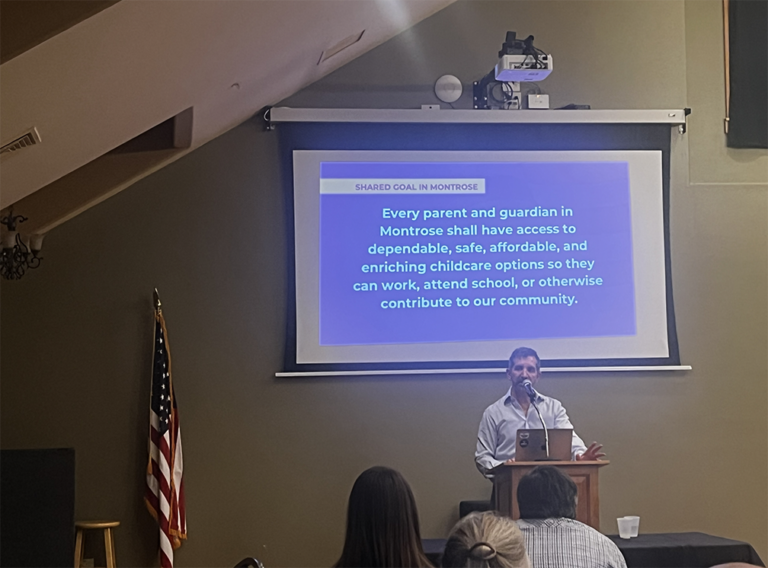 Eight actions that could be taken to solve Montrose's childcare shortage
Nonprofit Unify America, which is operating in Montrose as Unify Montrose, will soon be done with its deliberations, and the group will present action plans regarding Montrose's childcare shortage in early December.
On Tuesday evening at the clubhouse of The Bridges Country Club, Unify America founder Harry Gottlieb invited community leaders as well as Unify America delegates and volunteers to present an update.
Those in attendance included elected officials, business owners and those who work in, or in proximity with, the childcare industry.
Eleven weeks through the 12-week process, the delegation, made of Montrose County residents, has narrowed down its "actions" to solve Montrose's childcare desert, which evolved from a lengthy list of ideas, from more than 60 to just eight.
The Eight Actions
To deal with a large preschool-aged population in Montrose, Unify Montrose delegates have proposed four things: establishing a Montrose Childcare Providers Fund, a local granting organization that would provide Montrose childcare providers with funds to help bridge the gap to pay providers, provide better childcare and more; the second is called Care Bucks, which would subsidize childcare for certain families that can't afford it.
A third idea is called the ECE Center upgrade, which would replace the aging early childhood center in Montrose with a brand new one. The fourth is an idea called the New Preschool project, which would replace the center with preschool classrooms in each public elementary schools.
For K-8 aged children, the group approved an idea called "Camp Montrose", which would require local clubs and organizations like the Boys and Girls Club, the Montrose Recreation District and more to collaborate to provide afterschool programs. And another idea for K-8 children is a transportation system that transports children to the afterschool programs.
For FFN, or "friends and family network," the delegates approved the action of providing the means for regular people get training and become childcare providers themselves. Another idea approved would train volunteers to get licensed, which would allow childcare providers to save money to staff career educators and caretakers.
The process has not yet been finalized, but these actions and more will be presented to the public in December.
Once the 12 weeks are done, the onus will be on the community to continue the efforts and decide whether to find funding for and put into action some of these solutions.
Gottlieb also talked extensively about the process the delegation has been part of over the past 11 weeks. He shared a list of "lessons," the nonprofit organization has learned.
"I'm so impressed by the commitment of delegates. There's about 46 people who really represent a wide range of backgrounds and mantras who consistently participated for 11 weeks," he said. "And I know a lot of them did a lot of work outside of our two hour reading times. And and are showing up to be outside so that there's a possibility of keeping the momentum going and trying to solve problems collaboratively."
He said the most important part will be the next steps: buy-in from the community to move forward and act on the ideas put forth through the "deliberate democracy" process.
Bud Taylor, director of the Black Canyon Boys and Girls Club was one of the many on-hand at the event. He spoke to the Business Times beforehand about his experience as being part of the "solutions" team, which was largely comprised of Montrose childcare providers and those adjacent to the childcare community.
Asked whether the nonprofit and its delegates have been receptive to feedback from the solutions team, Taylor said yes.
"We know that it's such a complex issue. And we pretty much know everybody at the table," he said. "So it's like, 'these people know early child care these people know early child care, and these people know later childcare, and these people know schools,' so how can we get all of those to come together at the table and do what is best for our youth and our community at large?"
Taylor said the childcare community in Montrose has historically worked well and worked closely together. He believes what Unify America has done most successfully is shed light to the childcare shortage issue for the community.
"A lot of us have beat this drum for many, many years, and it's just really come to fruition," he said. "So what we've seen is more people have stepped up in the way that they can."
This story is by Justin Tubbs, the Montrose Business Times editor. He can be reached by email at justin@montrosebusinesstimes.com or by phone at 970-765-0915 or mobile at 254-246-2260.