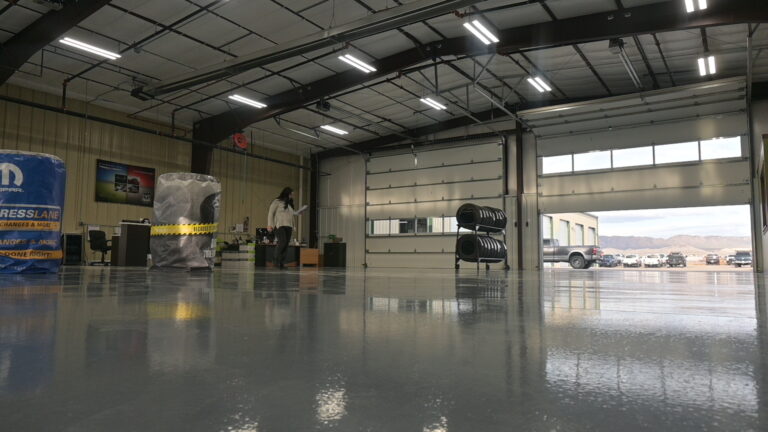 Flower Motor gets big addition as it celebrates 55 years
Just driving around our part of the Western Slope, it's hard to miss Flower Motor Company. Its logo is on the back of many Chrysler, Dodge, Jeep and Ram models in the area.
It's on the back of many Subarus as well.
This year, Flower Motor celebrates 55 years in business, and it's a bigger anniversary than usual, as the company has upgraded with a much needed expansion in the automotive deparatment.
Flower Motor Company started in 1968. It was originally a farm machinery business.
The company was purchased by LF Flower (grandfather to current owners Fritz and Fletcher) and Fred Flower (their father). The first vehicles sold were International Harvester Scouts (off-road vehicles marketed to farmers), along with farm machinery.
In 1974, the Flowers obtained the Subaru Franchise. Interestingly, they are the oldest Subaru dealer in Colorado, dealing the make for almost 50 years.
Selling Chrysler
In 1984, Fred Flower purchased the Chrysler, Dodge and Plymouth franchise from his cousins at Hartman Brothers.
Hartman Brothers, which sold automobiles at the time, had decided to get out of that business ,and it was a perfect fit to keep the Chrysler franchise in the family.
Sid Hartman was Fred's grandfather and great grandfather to Fletcher and Fritz.
The Hartmans had the Ford franchise in Montrose in 1908 and the Dodge franchise in 1915.
In the last 25 years or so, the Flower Motor Company has broadened its footprint, selling more types of vehicles and acquiring other auto dealers in the area.
Flower added the Jeep lineup to its main dealership at 2580 N. Townsend Ave. in 2009 and Fiat in 2014.
As part of that expansion, they moved Subaru into a new facility in 2011, right up the road on N. Townsend.
In 2018, they purchased Steamboat Motors in Steamboat Springs with the Ford and Chrysler Franchises. Then, in 2020 they started Montrose Auto Connection, where Wollert Automotive was previously located.
Flower Motor Company currently employs around 90 employees in Montrose and 35 in Steamboat Springs.
Big addition
The Flower Chrysler store recently went through an 18,000 square-foot addition.
"In this space we have added a drive-thru for our service department, a new parts department, and 18 new service bays," Fletcher Flower said. "We added this to meet the growing demand for our parts and service. In addition, we are remodeling our old parts and service departments into a new customer waiting area."
They have also started a remodel on their old shop, in which we will add new lighting, new floors and new service equipment.
"We are excited. We feel this space will meet our growing customer base and let us alleviate having to schedule our services weeks out," Fletcher said. "Also it's nice for our service and parts team to work in such a nice new facility."
That's not the only change, though. The Subaru store at 1760 N. Townsend Ave., could be getting a remodel.
The Flowers have recently been working with Subaru on a plan to remodel the Subaru building, and it should be a rather extensive remodel that will include new service and sales areas.
"By doing this remodel with Subaru we will be able to get higher allocations of vehicles, making us a larger Subaru dealer in Western Colorado," Fletcher said. "The remodel costs are extensive but we believe in Montrose and our community and want to prepare to handle our existing needs and future growth.
"With our stores we are proud to be in a position to give back to our community.
"We have taken a leadership position in community support and it is part of what drives our culture. Anyone can sell you a car, but not everyone is interested in being part of their community. It is what makes this a great place to live and raise our families."
Flower Motor Company also recently added a promise to its customers.
They call it the Flower Promise, which basically gives peace of mind to customers making a vehicle purchase.
Cars that qualify get a 6 month, 6,000-mile coverage at no cost to the consumer.
"We added this coverage to make sure customers know when a vehicle leaves our lot, it has undergone a intensive reconditioning and customers are covered after the purchase," Fletcher said.
This story is by Justin Tubbs, the Montrose Business Times editor. He can be reached by email at justin@montrosebusinesstimes.com or by phone at 970-765-0915 or mobile at 254-246-2260.