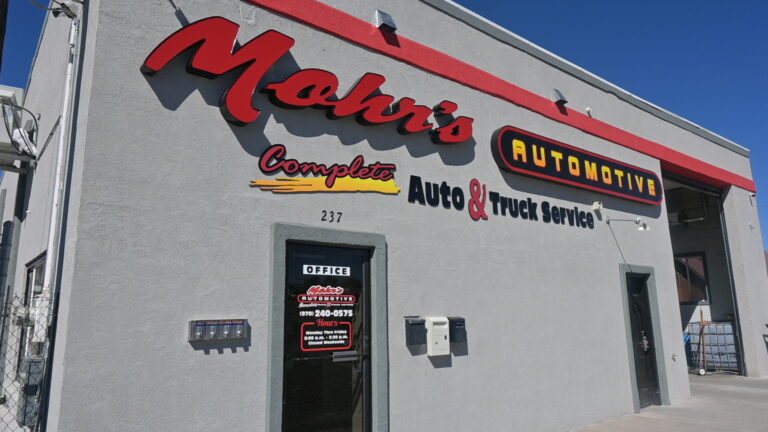 Mohr's Automotive gets new location near downtown
Justin Tubbs
Montrose Business Times
If anyone in Montrose knows the automotive business, it's Henry Bellew.
The longtime mechanic and owner of Mohr's Automotive recently moved his business, but he's been overseeing operations since 2009.
Bellew had learned several aspects of the automotive repair business when he decided to open a small mechanic shop in Delta in 2007. Two years later, in 2009, Mohr's Automotive came up for sale.
He moved on the opportunity and purchased it. Eventually he would close the Delta auto shop; but Mohr's has been running and successful ever since.
"We've grown leaps and bounds since I bought it in 2009," Bellew said.
He's now owned the business longer than the original owners from whom he bought it.
"I've put so many dollars and hours into staffing and training," he said. "We've made a very, very small business into a large one."
Of course, small and large are relative, but the business is working on around 230 vehicles a month so far this year.
But the business recently moved — a move that was a long time in the making.
The business, previously located at 1141 N. Townsend near the corner of North Townsend and the San Juan bypass, is now located at 237 N. Fourth St., where Sweet's Automotive used to be located.
The owners of the property on N. Townsend originally approached Bellew some time in 2019 or 2020 and told him they wouldn't be letting him renew his lease at the property. They had other plans for the area.
But COVID struck, and those plans stalled. Fast-forward to 2023, and the owners decided they would go ahead with those plans, leaving Bellew in a tough situation.
He didn't want to move, but he had to. He had even offered to buy the building several times, but they didn't want to sell.
But the opportunity to move into the former location of Sweet's Automotive was too good to pass up.
The square footage of the shop is about the same as it was previously.
But the building and hte facade are completely remodeled now, the large, bold "Mohr's Automotive" signage on the building.
Bellew says they have the same capacity they had before to work on vehicles.
Bellew describes Mohr's as an "all-types" repair shop.
"We work on all models and all types for repair and maintenance," he said. "So, whether it's your Volkswagen, your Audi, your Subaru, your, your powerstroke, your Duramax, pretty much all types of vehicles."
Bellew is proud of his business and thinks of it highly.
"I feel like it has the best value of any repair shop in Montrose, and I feel like we are among the top 3 of independent repair shops," he said.
Mohr's has business hours on weekdays 8 a.m. to 5:30 p.m.
Justin Tubbs is the Montrose Business Times editor. He can be reached by email at justin@montrosebusinesstimes.com or by phone at 970-765-0915 or mobile at 254-246-2260.