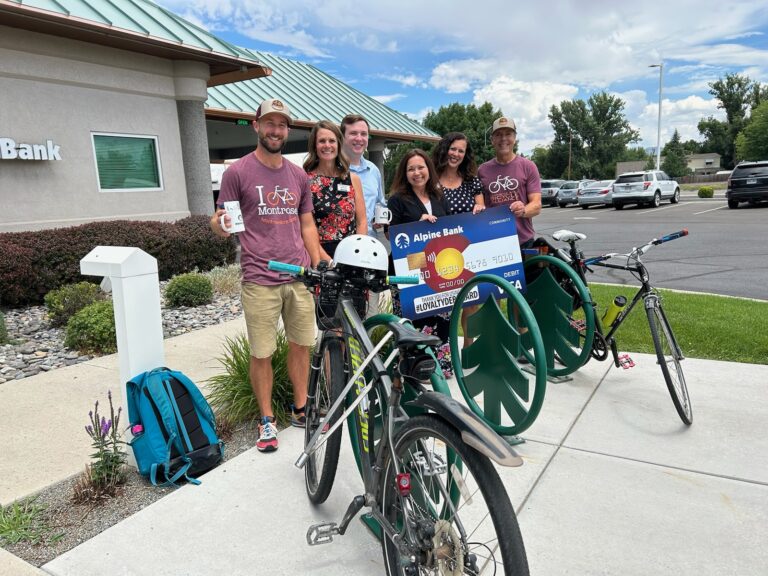 Alpine Bank celebrates 50 years
Justin Tubbs
Montrose Business Times
For the past 50 years, Alpine Bank has been doing business in Colorado, and the branch in Montrose is a big part of that celebration.
This year, they have given back to the community as a way to celebrate; and that isn't too different from how the institution normally conducts business.
Jamie Saff, who has been with Alpine Bank for two decades, said the bank is committed to giving back and topping its giving in previous years.
"We have really been working on exceeding all of our prior donation amounts and getting to $2.5 million as a statewide community giving milestone," she said.
In August, for Colorado Day, the bank allocated $500 of the bank's money to each employee to donate to the nonprofit of their own personal choice.
"It allows each of us to really be able to say, well this is what's really important to me," Saff said.
Governor Jared Polis recognized the bank's efforts and declared Aug. 1, 2023 Alpine Bank Day, noting that "since its inception in 1973, Alpine Bank has exemplified a philanthropic spirit by providing nonprofit organizations with over $55 million in grants, scholarships, sponsorships and other donations."
Several local nonprofits, from the Montrose Area Bicycle Alliance, to Mrs. Claus for a Cause, to the Dolphin House, benefited and received $500.
That giving spirit started with Bob Young, the founder of the bank, who made the commitment to stay involved and to give back to each of Alpine Bank's communities.
The bank was started in 1973 in Carbondale, originally known as the Roaring Fork Bank. The grand opening included presentation of a "sizable donation" to the town's park department.
"It's just part of our culture," Saff said. "Giving in our communities and supporting our communities, we are making communities stronger, and that's really deep-rooted in the culture.
Loyalty Debit Cards
One of the most recognizable tokens ways in which Alpine gives back is the loyalty debit card program.
The program benefits arts, environment, education, Colorado Mountain College, Children's Hospital Colroado, Fort Lewis College and community.
Basically, when someone opens a debit account with Alpine Bank, they choose one of those categories. Alpine Bank donates 10 cents into a fund every time a debit card gets used.
Depending on which debit card you choose, that money is then distributed to related nonprofits.
An "arts" card might benefit local theater. An "education" card might help your local high school.
"It is important to thinkk about it in a way that the more people we have in Montrose using loyalty debit cards, the more we are able to give back to our community," Saff said. "A lot of times people don't think about how where you shop and where you bank matters, but it actually does."
Jane Marie Amundson is in charge of collecting donation requests and looking into nonprofits.
Then Amundson and Saff together make the decision about where to donate the funds to "most impact the community."
If anything should be highlighted about Alpine Bank's giving spirit, the loyalty debit card program is its shining star, according to Saff, who remarked that by choosing a card and swiping, people can take pride in helping the community simply by banking and spending money.
Justin Tubbs is the Montrose Business Times editor. He can be reached by email at justin@montrosebusinesstimes.com or by phone at 970-765-0915 or mobile at 254-246-2260.