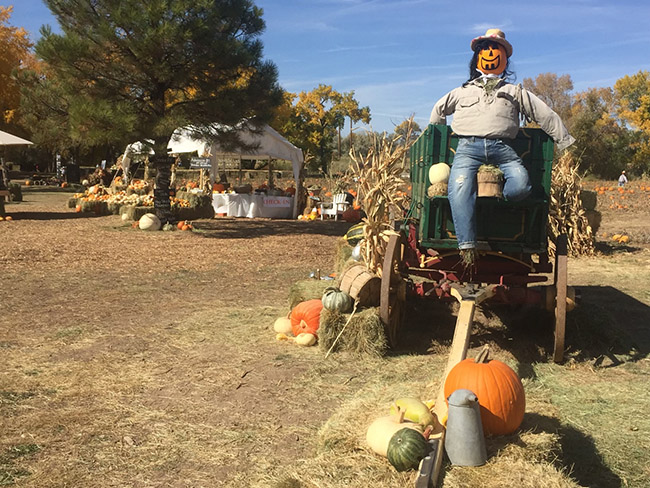 There's fall fun at Covered Bridge Ranch since 2000
For the past 23 years, Covered Bridge Ranch has brought in the autumn holiday in a special way. And this weekend, the fall fun begins again.
The ranch is one of a few area pumpkin patch businesses, and the Riessen family, owners of Covered Bridge Ranch, pride themselves on activities for the whole family throughout October.
"My father (Gary Riessen) started it in 2000, and then I joined him in 2012," said Natalie Riessen, the oldest daughter, who operates the business and oversees the activities each year.
When it began, Covered Bridge Ranch operated the open-to-the-public festivities on about an acre of the 300-acre tree farm and saw around 600 attendees throughout the season.
Now the business sees around 6,000 visitors annually and has about four acres dedicated to pumpkin picking and fun family activities.
"This has probably grown by about 10 times since it started," said Natalie.
Primarily, Covered Bridge Ranch is a Christmas Tree farm, so it's a destination for the holiday season, as well. But there's something special about the ranch in the fall, when the leaves are changing colors and there's pumpkins to be picked.
In total, there are about 1,800-2,000 pumpkin plants on the ranch. About 10-15 pumpkins grow from each of those plants. You do the math… there are tons of pumpkins to choose from.
"It's not only a palace for entire families to have fun, but a great gathering and community event (for everyone)," Natalie said. "Individual families come out, but it's highly attended by the community as a whole."
Tickets are $12 per person to get in, and all the activities at Covered Bridge are included in that, except for the pumpkins themselves, which cost extra.
But there are endless activities.
To name a few, there are hayrides, treasure hunts, a human hamster wheel, a hay bale maze, a corn pit, face painting, a rabbit hole to slide down, haystacks to climb, tire swings, a giant spider web, farm animals and more. This year there are hamster wheel races.
The Covered Bridge Ranch is so named because of the covered bridge entrance to the festivities.
Most of the community has been out to the ranch at one point or another, but there is plenty of fall beauty to discover each year at the ranch.
Covered Bridge Ranch operates Sept. 30 to Oct. 29 this year, on Fridays, Saturdays and Sundays, 10 a.m. to 5:30 p.m. In addition to the $12 daily admission, three-day passes are also available.
More information is available at CoveredBridgeRanch.com, including scenic routes to get to Covered Bridge from downtown Telluride or Ridgway.
It is located at 17249 6250 (Dave Wood) Road in Montrose.
Justin Tubbs is the Montrose Business Times editor. He can be reached by email at justin@montrosebusinesstimes.com or by phone at 970-765-0915 or mobile at 254-246-2260.