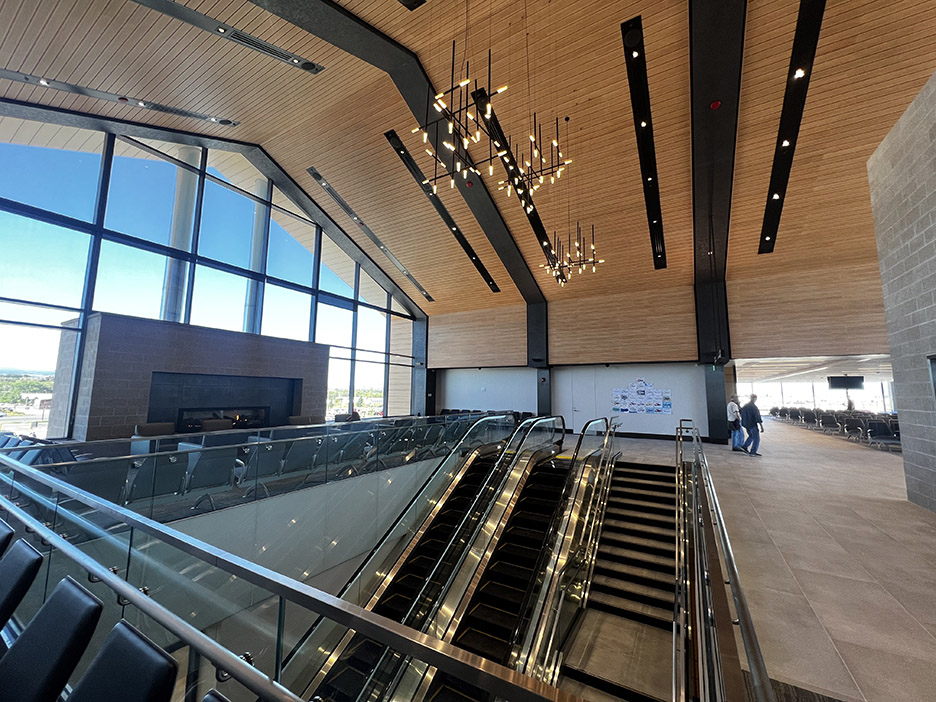 Montrose Regional Airport unveils north terminal expansion
Montrose Regional Airport over the weekend held its annual Tribute to Aviation. One of the more exciting parts of the event, at least to locals, was the unveiling of the north terminal expansion.
The expansion adds 25,000 square feet to the terminal and includes a number of improvements for passengers, including a larger baggage claim area, more spacious waiting areas, a bar area, a fireplace, and remarkable views.
"This has been a seven year journey—from public meetings on the master plan to a ribbon cutting this week, I'm proud of the work that has brought this to fruition," said Lloyd Arnold, Aviation Director at MTJ. "The expansion will greatly improve passenger experience and attract additional airline carriers to Montrose Regional Airport. I want to thank the Montrose County Commissioners and management for their support in making this project possible. I would also like to thank our contractor FCI and the team that has been involved in making this project happen."
"This is an exciting time for the Montrose community," said Roger Rash, Montrose County Commissioner. "The north terminal expansion will improve the customer experience at MTJ and make it a more attractive option for travelers. I am proud of the work that has been done to make this project a reality."
"I remember back when I was a kid and the old MTJ airport—I got on a Frontier turbo-prop plane in '68 or '69. Looking at this airport now—the escalators, elevator, and overall construction—I wouldn't even think we were in Montrose," said Commissioner Keith Caddy. "This is a great facility and something we should all be honored to call a part of Montrose County."
"I am very proud of this facility. Kudos to Lloyd and his staff for keeping the airport operational while under construction," said Commissioner Sue Hansen. "This is a truly remarkable regional transportation hub that makes a huge impact on our local economy."
The north terminal expansion is the latest in a series of improvements at MTJ in recent years. Several projects has been completed in anticipation of ultimately doubling the size of the terminal. The airport has continued to add additional public parking areas and is working to improve its signage and wayfinding system with a new digital message board and enhanced signage.
MTJ is the leading airport on the Western Slope of Colorado. Though a partnership with the Colorado Flights Alliance, MTJ is proud to offer the most comprehensive direct flight service outside of Denver International Airport. There are direct flights to Denver, Phoenix, Dallas, Houston and several more destinations during ski season as well.
"Montrose Regional Airport is a vital economic engine for our community. It supports jobs and tourism, and it helps to keep our businesses competitive," said Arnold. "The north terminal expansion is a significant investment in our future, and I am confident that it will pay off for Montrose residents for many years to come. As a reminder, the airport is not funded by property taxes, but rather through passenger ticketing fees, Federal Aviation Administration and state grants, and other funding sources. I want to thank the Montrose County Commissioners and airport management for their support in making this project possible."
The new terminal addition is a major improvement for passengers. It features a larger baggage claim area, more spacious waiting areas, new fireplace and courtyard area, added charging tables, a dedicated bar area, and additional paved parking spaces. The remodel of the existing terminal has also made it more modern and comfortable for passengers. Two new glass passenger loading bridges will provide the finishing touches on the expansion and will be installed in December.
The north expansion was planned to be open for the traveling public shortly after Tribute to Aviation. The south expansion will be open in later October and will feature two new ticketing counters and expanded airline offices.
Information in this article came from a Montrose County press release.