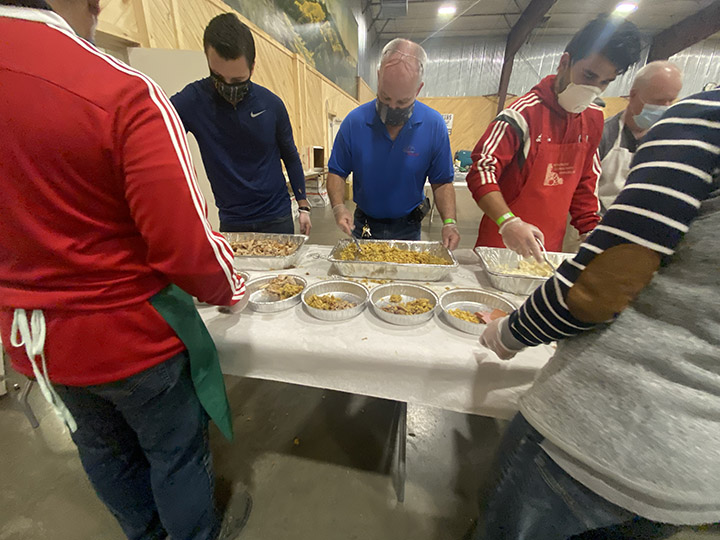 Community Thanksgiving dinner organizers need a new kitchen manager
Justin Tubbs
Montrose Business Times
A community mainstay around the holidays, the annual Community Thanksgiving Dinner is looking for some help.
For the past several years, Holly Padilla has served as the kitchen manager for the event, but she is retiring from that position, leaving some question about who will oversee the kitchen as it makes some 2,500 free meals for the community.
Padilla will still be around for the 2023 holiday season, helping in the kitchen, but event organizers need to bring in a kitchen manager-in-training for this year's event. That person would take over completely for the 2024 Thanksgiving dinner.
"(Padilla) has done a marvelous job," said Kevin Kuns, one of the organizers for the event. "But some family obligations mean she can't, so we really need to bring somebody in and train them this year."
The event grew in 2022. Meals served were up to 2,500, up from about 1,700 when the current organizers took over.
"We've grown, so it takes someone with some kitchen experience and someone who understands how to manage people," Kuns said. "You're working with volunteers, so they just need to be able to put those meals together in basically a five-hour window."
The kitchen crew works days in advance preparing the Thanksgiving meal and prepping the kitchen for the event. Volunteers work to prepare and then serve the meals at Friendship Hall at the Montrose County Fairgrounds.
"This is by far the crown jewel of Montrose from the perspective of community holiday outreach," Kuns said.
The kitchen manager is a voting member of the Board of Directors for Montrose Community Dinners and is responsible for ordering, preparing and cooking the food served by the nonprofit.
The kitchen manager does maintenance of all the equipment and supplies used in prep and oversees all steps of serving the meals on Thanksgiving day.
Monthly meetings from August till October, meet every other week in October, then weekly in November.  The week of Thanksgiving, must be available from Saturday through Friday to oversee food preparation, cooking, inventory, and clean-up.
Daily schedule can be as early as 7 a.m. and go until 2 p.m. Thanksgiving Day duties start at 6 a.m. and continue until all food is served, distributed, and/or stored, and the kitchen has been cleaned.
Flexibility is a must, as timelines can change from day to day.
If you or someone you know is interested in volunteering as kitchen manager, contact Kevin Kuns at kevinkuns@gmail.com.
Justin Tubbs is the Montrose Business Times editor. He can be reached by email at justin@montrosebusinesstimes.com or by phone at 970-765-0915 or mobile at 254-246-2260.