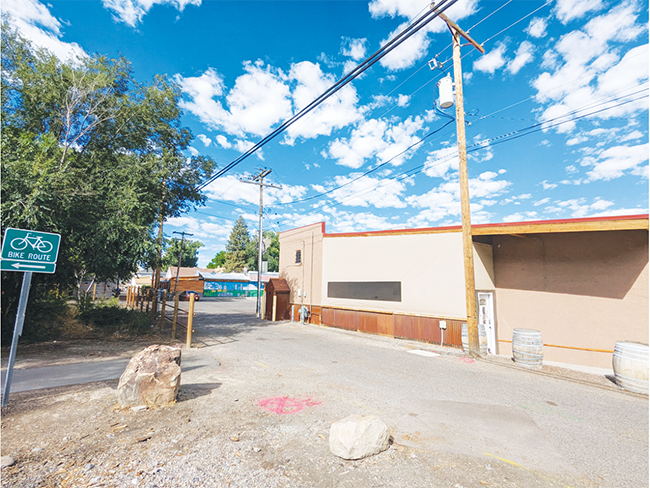 Business, News
September 13, 2023
Halloween, lighting alleyways and more
The topic that dominated the Sept. 5 meeting for the Montrose Development and Revitalization Team (DART) was Halloween.
About 79% of downtown business owners would like to have a trick-or-treat event for the kids, based on a survey emailed by DART. That percentage is almost 95% when you add in the folks who could take it or leave it.
Only about 5% voted against this time-honored tradition. The question posed to the attendees of Tuesday's meeting, however, was: Do we host trick-or-treat on Halloween Day, which is a Tuesday, or on the prior Saturday, Oct. 28, when most people are off work and the Farmers Market offers additionally festivities?
The answer is both! Downtown businesses who wish to participate and have candy for the kids on Tuesday, Oct. 31, will display a DART-supplied sign in their windows. Parents are encouraged to head downtown and visit between 2 p.m. and 6 p.m. These fun and generous businesses want to let everyone know that while there will be candy for trick-or-treating on Tuesday, there will not be candy on Saturday the 28th. That's where the Farmers Market comes in.
The Farmers Market, which is on South Uncompahgre between Main Street and South First, will have a variety of events and activities for the kids (as well as the young at heart) to do. Stay tuned for information on a costume party, among other fun things.
Any business interested in participating in trick-or-treating on Tuesday, Oct. 31 is urged to contact Michelle to get on the list for a window cling, which should be available in September. Also, if you are hosting a public Halloween event, contact Michelle Wingfield (mwingfield@cityofmontrose.org) to get on the official DART flyer to promote your event. Let her know before Sept. 25 to be included.
Botanic Gardens Scarecrow Fest
Related to Halloween, the Botanic Gardens (montrosegardens.org) is hosting its annual Scarecrow Festival on Saturday and Sunday the 14th and 15th from 10 a.m. until 4 p.m.
Entry is free, and you can bid on the donated scarecrows and other fall-themed arts and crafts. There will be a silent auction, treats for the kids, and the Montrose Regional Library Bookmobile will be there on Saturday.
This is the eighth year of the festival — with a year or two off due to COVID. Do you want to build a scarecrow to donate? Go to the website and click on Events for more information.
Lighting Alleys
DART supports the beautification of our town. And to that end, DART, DMEA, the City of Montrose and Phelanies Speakeasy are partnering to create what has been dubbed, the Phalley Project (for Phelanies' Alley).
After DART committee members attended the Downtown Colorado Inc. meeting held in Loveland in April of this year, they came back with a number of good ideas to improve unsightly (and unsafe) areas around town. One such idea is overhead lighting in dark alleyways.
The alley on the southside of Phelanies (19 S. Junction) has been poorly lit yet heavily trafficked for years. But not for much longer!.
On Wednesday, Sept. 6, the city installed a new telephone pole donated by DMEA and began stringing lights 15 feet overhead in a zigzag pattern. This will not only beautify the area by illuminating the formerly dark space but will make it safer for foot traffic between the Phelanies' parking lot and Horsefly, a very well-traveled route for locals.
If all goes well, this pilot project will be duplicated in other areas of town that need it.
The pocket park between San Juan Construction and the Synergy One Lending on Main Street, just east of Cascade, is a likely second site. Your suggestions for future alley illumination projects are welcome. Email Michelle.
All of these amazing projects, plus annual events and city construction, cause some streets to be shut down from time to time. A complete list of scheduled street closures is available from DART.
Lots of Motorcycles
Finally, among so many other great events and happenings in Montrose, the Motorcycle Cannonball is coming (motorcyclecannonball.com). This is a one-of-a-kind, coast-to-coast endurance race from Virginia Beach, VA to Oceanside, CA, and it passes through Montrose.
What's unique about this race is that all of these motorcycles are vintage classics, like a 1930 Indian Chief and a 1911 Harley. There's a list of the riders and their bikes—as well as all the stops along this year's route—on the website.
Come check out these classics on Monday, Sept. 18, at Centennial Plaza from 4 – 6 p.m.
If you've heard the buzz about DART—that's the Montrose Development and Revitalization Team—you can be a part of it. DART is designed to help Montrose businesses grow and prosper. The open-to-the public group meets at 8 a.m. on the first Tuesday of each month at The Community Room in the Public Safety Complex at 434 S. First St. The next meeting is Oct. 3. Mark it on the calendar and come join us. You can also join remotely via Google Meet. Video call link: https://meet.google.com/euw-qqdv-edn
Kevin Clay is a local
business owner and a freelance contributor for the Montrose Business Times.