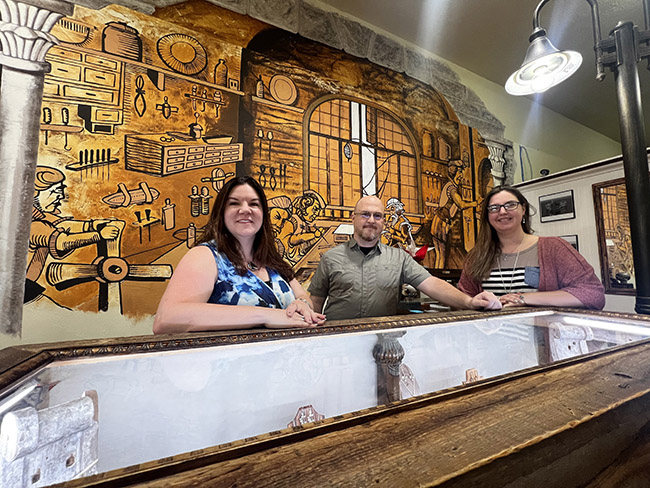 Ouray Silversmiths has been putting out quality work since 2003
For Josh Kline, silversmithing isn't a lost art. It's what he does every day.
The industry has changed and evolved since he first got into the business of crafting jewelry, but Ouray Silversmiths has stayed dedicated to making unique, quality products since it opened.
Melanie Kline, Josh's mother, began the business in Ouray as a small studio with a retail front in 2003.
The business expanded in 2006, opening a store in Montrose. The Ouray location has since closed, and Melanie retired in 2011. But the business still has the same charm it did when it opened.
Even though it opened in 2003, Josh says it all started far before then.
"It was in the 1960s when my mom decided to take metal shop in high school," he said. "She got totally hooked on silversmithing."
She operated a different business on Cape Cod called Sail on Silver Girl, a line from Simon and Garfunkel's Bridge Over Troubled Water.
"She's been a silversmith for my whole life," he said. "So when I turned about 21 or 22, I realized that all the jobs I had sucked and that I liked doing art better."
Josh went to his mom's then boss to get a job.
"He made me jump through some hoops before he hired me," he said. That was in 1998; and he worked at a few different jewelers before landing on the Western Slope, including one in Carson City, Nevada.
Over the years, Josh has made everything from rings and necklaces to business recognition awards. Josh and his wife Chena thought about opening their own silversmithing business in Ouray, but it turned out his mother and brother were doing the same thing Ouray.
"So we decided instead of doing the same thing they were doing, we would just come here and do it with them," he said.
The original shop was located in the basement of Mouse's Chocolate in Ouray. They bounced around to some different locations in Ouray. Their final Ouray location was where Ray's Jerky is currently located. After the Montrose expansion, they realized they were stretched a little thin.
"We weren't really set up well for the commuting, and the Ouray economy was really only good in the summer, so we basically decided to not do that anymore and just have the shop in Montrose," he said.
Josh and Chena, as well as their store manager Jilian Keenan who has worked for them for 16 years, have been making new pieces and helping people with repairs and alterations since then.
Picking a style
The reason silversmithing is a sustainable business, Josh says, is because everyone has some kind of ornament, "whether it's a watch or a ring or a bracelet or earrings or a money clip."
But they also try to offer things no one else has. That's what really sets them apart.
"We decided we wanted the identity of the American West without the Native American sort of style you see a lot," he said. "… By creating original designs that speak to people from this area, or who love this area, or visit it, we create memento and icons that reminds them of their time here."
One of Melanie's original businesses in New England was called Cowgirl at Heart when she was jonesing to be back in Colorado. Of course, when Josh came on, he wanted a change to the name, so they settled on Ouray Silversmiths.
But the style stayed the same.
They work with a lot of turquoise and other gemstones native to the American West.
But they also do repairs and work with jewelry of all kinds, like wedding bands and engagement rings.
Industry change
The main thing that has changed in the business of silversmithing is that the artform isn't as popular.
"The one big change is that there's just a lot less of us," he said. "When we opened in Montrose, there were like five other jewelers that actually had jewelers in the stores that could work on pieces. Now I'm the only one."
He says fewer young people are taking up silversmithing, and there are just generally fewer silversmithing businesses.
Part of that could be the price of metals. When Josh started as a jeweler, gold was $250 an ounce. Now it's almost $2,000 an ounce.
"There's been a lot of inflation anyway," he said. "The market fluctuations since 2008 to now have been substantial, but it's not the biggest expense. That would be our time and effort. Labor's a factor."
Still, Montrose is a community that supports his kind of work, Josh said.
"There's 40,000 people around here, plus tourism," he said. "So just repairs in and of themselves could be a business. People buy stuff everywhere, and there's no standard at many places."
Some pieces break easily, and some need to be completely rebuilt, he said.
He does 10-15 jobs a week, which is mostly fixing and some building custom pieces.
Josh has seen equipment change over the years, too. When he got into silversmithing, laser technology wasn't widely used. But they are now the standard, and help make cleaner, sharper products than traditional methods.
They keep coming back
Much of Josh and Chena's customers are new customers, but about 40% are return customers, he said.
"We have a good client base here," he said. "A lot of the jewelers before didn't care, and (when they closed) they sent business my way."
Jilian Keenan, who works the storefront mostly, said customers of all types come in, and custom jobs and repairs are still in high demand.
Ouray Silversmiths, because of the quality of their work, likely won't see those customers go away any time soon.
Justin Tubbs is the Montrose Business Times editor. He can be reached by email at justin@montrosebusinesstimes.com or by phone at 970-765-0915 or mobile at 254-246-2260.