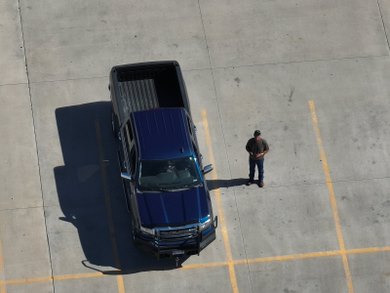 Business, News
September 6, 2023
Mike McKivergan, Droneworx USA
Montrose Business Times
Mike McKivergan started flying drones in 2015 when his wife bought him one as a gift.
Today he owns Droneworx USA, which works with various industries in providing aerial videography and photography out of Montrose.
His website can be found at droneworxusa.com.
Montrose Business Times: How did you get into the aerial videography/photography business?  
Mike McKivergan: I started flying drones in 2015. My wife bought me an inexpensive drone, it was light weight, not stable at all and it had little range, and I crashed it all the time.
So, I started researching drone technology. I knew I was going to start a small business. I have some ground photography experience from my days working on the paper in high school and college, I did not know that I would need that experience today.
I attended Drone Pilot Ground School online, got my license and reality was looking at me. I didn't know where to turn.
I read an advertisement about a group called the SkyEye network. It is a nationwide network of certified drone pilots where we all help each other, from basic beginning questions you can get answered online, to training, seminars, and conferences around the country on up to getting gov't contracts.
I joined the network a couple of years ago and they have been a tremendous help.
MBT: What are some of the different types of industries/businesses you work with? 
Mike: I've been to San Antonio, Houston, and Phoenix to help with some real estate jobs.
Other businesses and industries that I work with include: construction progress shots, roofing/solar inspection, bridge inspection, events, weddings, golf courses and more.
MBT: What type of drones and camera equipment do you work with? 
Mike: I bought an EXO brand drone. At the time I did not know about DJI drones, I did know that EXO drones are made in Utah, so I figured I would keep it local. I have seen them as a prize on Price Is Right.
Anyway, the EXO drone was a step up, more of a trainer. After more research, I knew that I needed to get an FAA Part 107 license.Almost everyone in the drone industry worldwide flies DJI drones. They are simply the best.
There are a bunch of different kinds of drones and different vertical applications, from small, 249 gram fit in your hand FPV drones, to industrial monsters.
They are expensive but worth it. I fly DJI Mavic 3, DJI Air 2S and DJI Inspire 2.
These drones are designed for cinematography and aerial photography, inspections and more.
As for the ground photography equipment that I use,
I have a Canon 5D Mark II camera, along with a few different lenses. I also have a cool little hand held video camera made by DJI called the Pocket 2.
MBT: How do you work with clients to understand their vision and incorporate it into the final product?  
Mike: Working with clients is great, most people haven't seen aerial photos of their property or business.
I'm not sure if the client even knows what they want, but they know what they want! I let them know what I am going to do and how.
The end results are usually good. The "wow" this is good makes my day.
I crashed my Mavic 3 on the last shot of a video I was doing for a golf course, saved the video but the drone was toast.
Drone Insurance is good.
MBT: How tough is it to stay up-to-date with technology?
Mike: Staying up to date with drone technology is part of the job. I read online articles, usually Mavic Pilots, about various subjects dealing with drones.
Agriculture mapping and scanning is taking off in parts of the country and I would like to see it take off here.
I will be attending a class soon on LiDar and photogrammetry which civil engineering firms use.
The requirements to fly are changing slowly, the FAA will require all drones to be equipped with remote id in the very near future.
 If you think your business might be a good candidate for our weekly 'Ask a Local Business' section, email us at submissions@montrosebusinesstimes.com