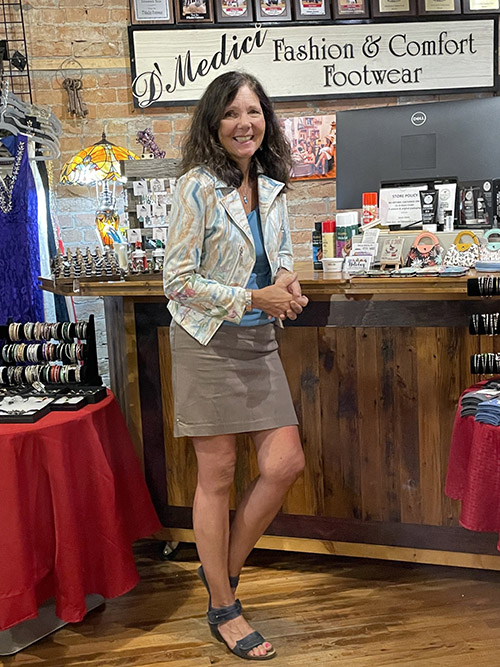 Debbie Blanchard is a one-of-a-kind downtown retail entrepreneur
The definition of a successful entrepreneur is someone who is driven, ambitious and willing to take risks that others won't.
Being an entrepreneur takes dedication, hard work and thick skin, and it often requires being ready for anything: Expect the best, but be prepared for the worst.
Debbie Blanchard, owner of D'Medici at 316 E. Main in downtown Montrose, and two other businesses, is that person. She is tallish, older than you'd guess, self-confident, vivacious, business-minded, detailed-oriented, and, astrologically speaking, a quintessential Capricorn.
A transplanted Canadian, she settled in Montrose 12 years ago. She and her husband Ray were looking for a new place that would satisfy both of them. He didn't want it too hot; she didn't want to shovel six feet of snow. Montrose fit the bill.
Blanchard had been in the footwear business in Canada.
She owned five stores in five shopping centers. In June 2011, she bought an historic Montrose Main Street building and opened D'Medicis in March of 2012.
"I wanted to move to a stable community–an ag community because they don't move around a lot. I could see Montrose growing because, since the last census, it had doubled in size," she reflected.
Blanchard grew up in downtown Toronto in a small multi-ethnic community. "Ten months of the year I'd go to school and the other two months I spent at the 150-acre farm my family owned north of Toronto." Free as the wind, she could do whatever she wanted.
"By the age of ten I had my 22 semi-automatic rifle. I'd go groundhog and porcupine hunting. I could do whatever I wanted to, as long as I cut the grass, and helped the farmer who rented the fields, lifting and bucking bales. I had a great childhood at that farm," she recalled wistfully. "Then you grow up and you have to go to work."
She went to university and earned an Honors degree in economics with a minor in economic history.
"I think I only went because at 18 I didn't think anyone would take me seriously about opening retail stores. It did help me."
Blanchard believes she was meant to be in business. From the age of 14, she was doing her father's books for his footwear companies.
"He taught me how to do it and I used to go to his accountants' meetings, so I knew what to expect."
"I loved retail," she said. "My father had shoe stores so I was trained in that. I took it a little further and went to Europe and imported a lot of the shoes I had in Canada."
The store sold only footwear when she opened in June 2012. "I knew going into a small town that just limiting yourself to footwear was going to be a struggle." She realized that she would have to add another component.
People said they loved the quality of the shoes but couldn't she carry clothing. That was lacking in town. Especially since Montrose was attracting early retirees.
"Even though they loved the outdoors, they still went to functions and wanted to be dressed properly."
Blanchard has a blended family with husband, Ray, his two adult sons and her three adult children.
"Every one of the children understands a work ethic," she said. "That's what Ray and I brought to all of our children. If you don't work, you don't get paid, and if you want to be successful you have to put your best foot forward and you have to work."
"After D'Medici," she continued, "I opened Hypoxia because everyone was asking for active wear and I couldn't fit everything in D'Medici. I sold Hypoxia to Raymond, Jr. because he wanted a store when he moved his family here from Texas."
The other store, Coloradology, 316 E. Main, began as a partnership between Blanchard and her daughter, Jamie.
"It's sort of the quirky side of both of us — the fun side, the novelty side. It's fun, but it's a lot of work because there's a lot of inventory. Everything from novelty socks to rubber duckies, puzzles, logo wear for children and adults."
The Holiday store 328 E. Main, was an idea Blanchard got from going to the trade shows.
"I saw all the holiday items that these gift areas sell and fell in love with the home decor things."
Her economics degree is apparent when she explains that "statistically, independent stores come and go about every five years."
"I plan to stay. I'm not going anywhere for a long time," she said. "The money stays in the community."
She supports the Montrose County Fair, especially the kids.
Blanchard sees expansion in the future of downtown Montrose, hoping that more independent businesses open.
"I'm expecting downtown will get busier." Her caveat: "Don't open a business that someone else already has. Be your own person. Do something different."
Mavis Bennett is a
freelance writer for the Montrose Business Times.