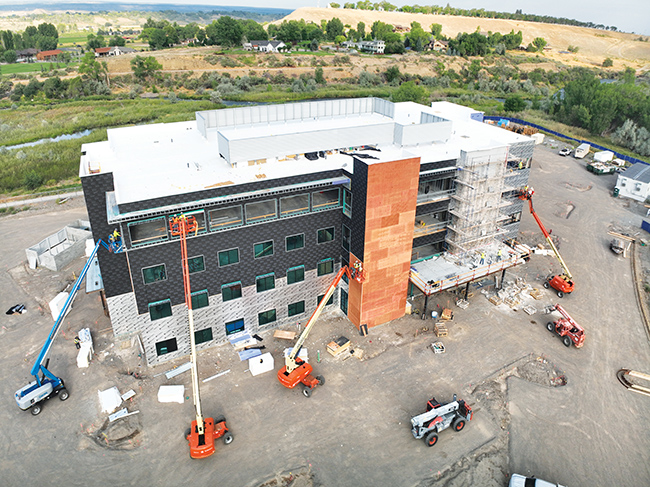 Stonework goes up on exterior of MRH Ambulatory Care Center
Stones were being put up on the facade of the Montrose Regional Health Ambulatory Care Center last week.
The goal is to be ready and open by February 2024.
The first three floors of the four-story, 65-foot-tall building will be occupied by Montrose Regional Health for surgeries, medical imaging and other services that will be moved from the hospital on S. Third Street.
The project was announced last year, and Denver-based NexCore Group, which partnered with MRH and leased the land from them, broke ground on the 80,000 square-foot outpatient care center last fall.
It is meant to serve Montrose and surrounding counties, including San Miguel, Ouray, Gunnison, Delta, Hinsdale and San Juan.
The region's largest primary care provider, Cedar Point Health, which currently has medical offices near the hospital, will rent the top floor of the facility, which will be located at the intersection of Townsend and Rio Grande Avenue.
Services offered by MRH at the ACC will include minor procedures, Mountain View Therapy, outpatient laboratory,  cosmetic procedures, and medical imaging, with a specially designed area specifically for mammography and women's imaging. Alpine Women's Centre at MRH has outgrown its current space and will be moving to the new location to better serve their patients.
Montrose Regional Health is aso partnering with independent providers in the communities to offer care at the new ACC.
Photos were provided by Mike McKivergan, operations manager for DroneworxUSA. 
Justin Tubbs is the Montrose Business Times editor. He can be reached by email at justin@montrosebusinesstimes.com or by phone at 970-765-0915 or mobile at 254-246-2260.