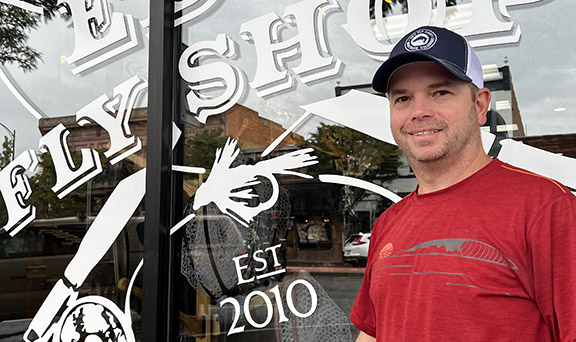 Ed's Fly Shop has operated in downtown Montrose since 2019
Montrose may once have been a hidden gem.
But when it comes to fly fishing, the secret is out.
So says Ed LeViness, owner of Ed's Fly Shop in downtown Montrose.
What started as a hobby is a full-fledged business for LeViness. And it's located in the perfect location. Montrose is a hub for amazing fly fishing, which can be found in just about any direction.
Right in Montrose's backyard is the Black Canyon, and there's great fly fishing in the East Portal of the national park. Right outside Black Canyon, there's good fishing in Cimarron.
An hour away, you'll find yourself fishing Gold Medal waters on the Gunnison River. Head south, and you can fish Pa-Co-Chu-Puk.
Or, LeViness says, you can go to San Miguel County or the Grand Mesa. Wherever you go, there's good fishing around the area.
"I mean, we're in such a little fishing Mecca," LeViness said. "This is kind of a basecamp."
Like most, the fly shop owner found his way into fly fishing as a hobby. He was already interested in spincasting, but he found his fly fishing hobby kind of by accident, when he saw his father-in-law, who is from Nebraska, struggling to fish.
"I came out and I was watching him in the river, and he was just struggling," he said. "And I was like, I've always been a spincasting guy, but I'm going to figure this thing out.
LeViness took a lesson, and from then on, he wanted to go fly fishing.
LeViness bought a vise and began tying his own flies. Then he started selling vises on the side. He was working in corporate hospitality and the hotel industry when he realized he had a knack for it. His sidegig soon became a full-time gig.
He started doing business on the Front Range in 2010, and before moving to Montrose, LeViness was most recently in Steamboat Springs.
He moved the business here in 2019 and opened the retail storefront at 432 E. Main St. He's been working at growing his business ever since.
Of course, those from Montrose know what would come in 2020. The COVID-19 pandemic broke out, and LeViness couldn't open the store, but his online presence helped the business see a big surge in growth.
People wanted to get outside and find new hobbies. Fishing was one of those hobbies, and Ed's Fly Shop was there to help outfit people with the right gear.
"The online sales are what really grew," he said.
And for a small shop, Leviness' inventory is vast. He carries all the locally manufactured brands, like Scott's Rods and Abel and Ross Reels. He also has all the flies anyone might need to go fishing.
He carries the apparel as well as the equipment needed for fly fishing.
His biggest competitors, of course, are big online retailers, like Amazon. But LeViness' business supplies a personal touch as well as customer service he learned while he was working in the hospitality industry.
When his store gets a call, it forwards right to his personal mobile number.
When people walk into Ed's Fly Shop, they may not know what they want. He said first-timers come in, but he doesn't want to necessarily sell them a $1,000 fly rod as they learn whether they're interested in the sport.
Last year, he purchased an outfitting company, so Ed's now offers fly fishing lessons as well as longer guided fishing excursions, ranging in price from $300 to thousands.
He recommends all people go out and find out whether they like fly fishing before buying a bunch of gear.
"It's like golfing, or any hobby, you're going to spend a lot of money on it," he said.
In total, Ed's Fly Shop employs five or six, including a few that help with the outfitting side of the business.
In the fall and winter, when people don't necessarily want to go out in the cold, the shop offers fly-tying classes.
About eight people at a time sit down in the shop, with a teacher, and learn how to tie their own flies. LeViness also works with the Montrose Recreation District on programs in the fall and winter.
Ed's Fly Shop is online at EdsFlyShop.com, and Ed, himself, works out of the downtown Montrose storefront.
Justin Tubbs is the Montrose Business Times editor. He can be reached by email at justin@montrosebusinesstimes.com or by phone at 970-765-0915 or mobile at 254-246-2260.