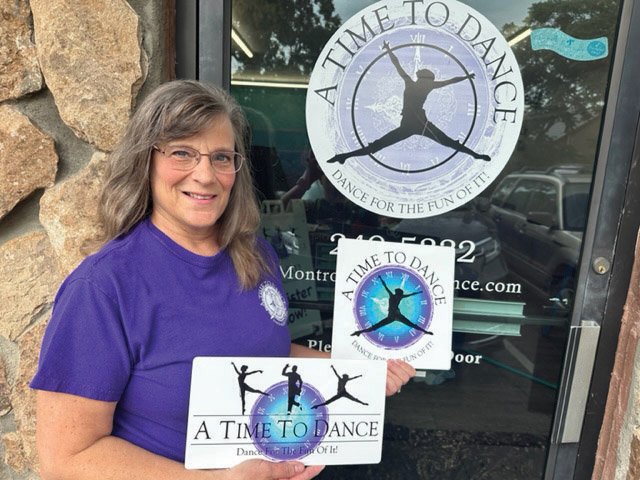 Business, News
August 30, 2023
Catherine Frates, A Time to Dance studio
Montrose Business Times
Catherine Frates started dance at a very young age. She was taught by my grandmother, Margie Myrick, at their family studio, Myrick School of Dance in Roanoke Rapids, NC. She later studied dance and theatre at Appalachian State University, where she graduated with a bachelor of arts degree.
She returned home to teach dance with her grandmother and aunt, Jeane.
Then In 1998 my family moved to Idaho where I taught dance in two different cities for Backstage Dance. She, along with her husband, Tim, and their two girls, Amber and Meredith, moved to Montrose in 2000.
Frates started A Time To Dance in fall of 2004. Her thought was,"I f I could get 40 students I could make it work."
For more information check out the website at montrosetimetodance.com  or call 970-249-5332
MBT: How has the studio grown since you started it?
Frates: I started the studio with 41 dancers registered.  I was teaching 18 classes a week, being the only teacher. The studio grew to 60+ the first year.
The studio has grown so much that we have three additional teachers and are now offering 30 classes covering six days a week.
MBT: Who can take classes at A Time to Dance?
Frates: We offer classes to ages 2 through adult.  We have added adult only classes this year, as well. Classes offered at A Time To Dance include ballet, contemporary, jazz, lyrical, hip hop, tap, acro, and clogging.
MBT: How much prep goes into classes for a season?
Frates: We are moving into our 20th season of dance!
We have lots of fun activities planned to celebrate this milestone, including a 20th season celebration that will be open to the public. Date to be announced. We have also given our logo a fresh, new look. We will have a 20th anniversary commemorative t-shirt that will be for sale soon. Platinum Rewind is our theme for this season, and our recital, because it encompasses our 20th anniversary, which is represented by platinum. We will be bringing back alumni of A Time To Dance to help us celebrate!
Preparation for dance classes is an ongoing process, for which each individual teacher is responsible.  Some classes are prepped for months in advance and others on a week by week basis.  Choreography for dances for our May 4 and 5 recital has already begun, along with choosing of music and costumes. The recitals themselves are an ongoing task, from before classes begin in September through to recital days.
MBT: What's the most rewarding part of your job?
Frates: Running A Time To Dance has been a lifelong dream for me and I love sharing my passion for dance with others. I created the studio to give dancers and their families a place to have fun dancing and a place to belong.
Watching the dancers grow as individuals and in their dance abilities is so rewarding. Every dancer and their family is a part of our A Time To Dance family.
.