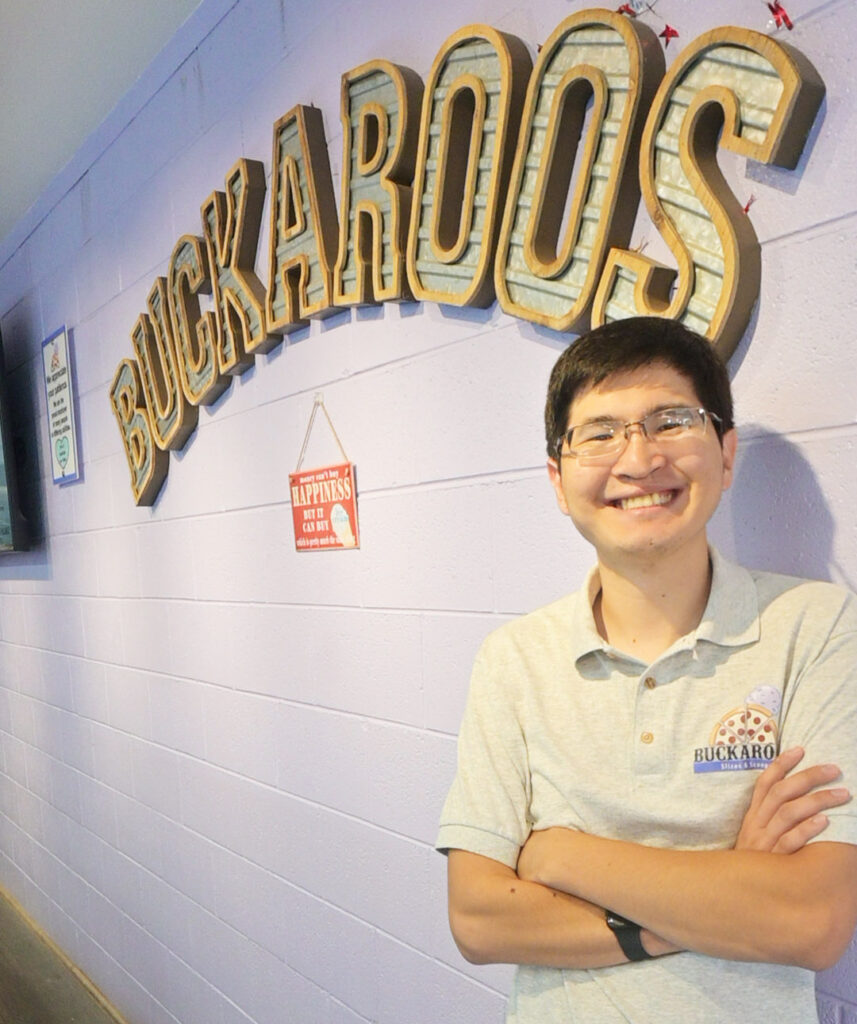 Pizza with a Purpose
Kenny LaJoy describes Buckaroos Slices and Scoops as a "mission-minded business."
After nearly four years in business, he and Buckaroos feel like they've come a long way in achieving that mission.
Kenny is one of three children adopted into the LaJoy family (he has four siblings in total). He and two sisters live with FASD, which is why their father, Dominick, who also owns House of Spirits next door, decided to open Buckaroos.
"Having three of our five kids adopted with special needs," Dominick said as to why Buckaroos actively employs people with special needs. "It's really great to see them come through, gain skills, and then go on to other jobs, and really, that's the whole goal."
Since opening in October 2019, Kenny, who manages the business while his two sisters have moved on to other ventures, says Buckaroos has employed 12 or 13 people with disabilities or forms of neurodivergence.
"We feel like that's our main mission," he said. "Our main thing is to help people with neurodivergence, people on the spectrum, people with traumatic brain injuries."
Buckaroos aims at helping people with disabilities learn job skills so they can more easily find jobs in the future. Kenny says the basics include teaching people how to show up on time and basic hygiene and working well with others.
More advanced skills include customer service, working pizza ovens and other specific tasks.
The Buckaroos philosophy
Above the entry to the kitchen, a sign is posted: "Pizza with a purpose for people with potential!"
That slogan is a good way to describe the business, but there's more to it, according to Kenny.
"We try to follow the philosophy of the Three Gs: Good food, good people, good customers," he said. "All of that is our mission, and then serving and empowering and hiring people with disabilities."
If Kenny is any indicator, they've accomplished the "good people" part. The "good food" philosophy has been successful, too. Kenny says Buckaroos especially takes pride in the crust that makes up their pizzas. But they also have several ice cream flavors to choose from, as well as other dinner menu items like wings. The "good customers" philosophy takes care of itself.
Buckaroos regularly gives back to the community, and though it's not their goal, those good deeds in the community have meant the community has turned around and supported the business.
Growing as a business
Many in Montrose probably remember when Buckaroos opened.
Connected to the LaJoys' other business House of Spirits, at 1518 E. Main St, it's the only local restaurant that does regular pizza delivery.
"In that initial year when we first opened, there was a lot of energy around here," Kenny said. "But what turned was when the pandemic hit, and he thought we were done."
Things were rocky. The business opened just a few months before the beginning of the COVID-19 pandemic. Kenny and his sisters were worried the business may go under.
Because they had some employees who were at high risk for contracting the coronavirus, those employees had to stay home for a while.
They were deemed essential workers, which meant the business could remain open.
They began doing delivery at that time, and that helped keep the business alive.
"I won't say we were exploding, but we were doing enough to keep our head above water," Kenny said. "My sisters and I were willing to earn nothing to keep this thing going. So we did basically earn nothing."
That was a big decision, and one which probably kept the business alive to today. While Dominick will step in when there's a need, he basically lets Kenny run the business. He says he's "hands-off."
They also learned to market themselves better and began partnering with organizations in the community to meet more people and gain more exposure.
Last year, they partnered with four different charitable organizations, including Peer Kindness, Hilltop and Haven House.
This year they will hold fundraising events for the Montrose football booster club, giving a dollar from every pizza sold on Friday when there's a home game.
"We saw that our doing good in the community kind of ended up being free advertising," he said. "Not that we do good just to advertise, but if it works that way, that's a nice thing."
Another unique draw
One of the most unique parts of the business is the fact that Buckaroos delivers more than pizza, wings and ice cream.
Because of its connection with House of Spirits, the business also delivers beer, wine and spirits.
"As far as I know, we're the only ones in the state," Dominick said.
While he had the idea, he didn't know if it was possible. So he went to the state to ask. After jumping through several hoops over six months. Then it was approved.
Asked how he knew that would even be an option for their businesses, Dominick said, "you don't know unless you ask."
Buckaroos is open 6 days a week, Tuesday through Sunday. And you can find Kenny there just about every day.
Justin Tubbs is the Montrose Business Times editor. He can be reached by email at justin@montrosebusinesstimes.com or by phone at 970-765-0915 or mobile at 254-246-2260.