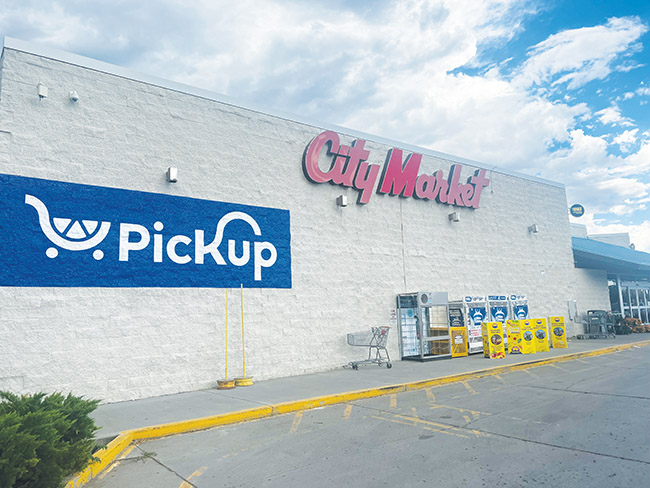 Kroger-Albertsons merger could affect three local supermarkets, workers
As supermarket chains Kroger and Albertsons inch closer to a merger, leaders across Colorado are speaking out against the deal.
Colorado Secretary of State Jena Griswold — as well as the secretaries of state in Arizona, New Mexico, Vermont, Rhode Island, Minnesota and Maine — on Thursday wrote to Federal Trade Commission Chair Lina Kahn asking her to block the deal.
The letter argues the merger would result in reduced consumer choice and lack of competitive incentive, meaning stores would be less likely to reduce prices.
"This corporate merger will put an even larger strain on American families who are already struggling to pay the bills and keep food on the table," the letter states. "Government must stand up to corporate greed as it has done in the past to ensure there is a competitive marketplace for essential goods and services."
That news coincided with a Wednesday visit from Colorado Attorney General Phil Weiser, who was in Montrose to discuss that exact topic.
Weiser was at the Montrose Regional Library to hear comments and opinions about the proposed merger.
About 40 people filled the library meeting room. No one in the room spoke positively about the merger.     Kroger operates 148 stores in Colorado under the King Soopers and City Market banner while Albertson operates 105 stores under the Safeway and Albertsons brands.
The Kroger-Albertsons merger would combine the two largest U.S. supermarket chains, resulting in an entity that would control 22 percent of the food retail market and make it the nation's second-largest food retailer. Post-merger, the combined companies, plus the largest food retailer, Walmart, would control 55 percent of the food retail market.
Aside from the arguments regarding consumer choice and competitive pricing, those against the merger also argue it could negatively affect employment, including in a community like Montrose, which has two City Market locations and one Safeway store.
"The deal will reduce the number of outside employment options available to workers," according to the think tank EPI (Economic Policy Institute), "lowering grocery store workers' annual wages by a total of $334 million–about a $450 loss in annual wages per worker."
Weiser explained the rules regarding mergers and spoke about how this merger is different from an ordinary case. "What makes this case different," he said, "is that everyone here and a lot of your friends and neighbors will feel this merger on a weekly basis."
The two companies agreed to a merger in Oct. 2022. The Federal Trade Commission (FTC) has yet to approve the agreement, but if it does, the deal could have implications for Montrose.
Those attending the meeting included current and retired employees of Safeway, members of the United Food and Commercial Workers International Union (UFCW). Its 1.3 million members recently voted unanimously to oppose the $24.6 billion Kroger, Albertsons deal. Sharron Counas worked for Safeway in Longmont for 15 years before becoming the union representative on the Western Slope.
"This merger is going to be very devastating," she said.
"The union holds the companies' feet to the fire," she added …"to make sure these companies pay decent wages, contribute to a pension plan for them and have a good health and welfare benefits plan."
Counas continued with a dark picture of what the union believes Kroger will do after the merge. She said the union fears that if the deal  is approved, the company could end up cutting  pensions in half.
"Kroger will say they will cut prices," she said. "But only for five minutes…"
There was also some fear about whether all three supermarkets in Montrose would continue to exist. Mabel Risch of Montrose commented that should the local Safeway store close, there are people who will lose walking access.
"The geographic market here for Montrose is broader than just Montrose," Weiser noted. "The stores serve the communities of Ridgway, Ouray, Telluride as well as Norwood, Naturita and Nucla."
In terms of what products are sold in the different City Markets, it was pointed out that City Market South offers more options for specialty foods like imported cheeses and a variety of olives.
Antitrust laws have a basic standard regarding mergers:       Mergers are illegal when they would substantially harm competition or tend toward a monopoly. When you have a limited number of providers and they merge, the concern is whether consumers may have fewer choices, will prices go up, will workers get paid less or lose jobs and will suppliers have a harder time getting their products distributed. Weiser wrapped up the meeting stating: "Our office has to come to a decision if this merger is illegal. If we believe it's illegal, we have the authority and obligation to bring a lawsuit."
Kroger argues the deal will result in lower prices and protection of union jobs into the future.
"Kroger joining with Albertsons will mean lower prices and more choices for more customers in more communities, higher wages and more industry-leading benefits for associates and growing union jobs," a statement from the supermarket company states. "The only parties who would benefit if this merger is not completed are large, non-unionized competitors such as Walmart and Amazon."
Kroger and Albertsons have expressed they expect the deal to finalize in early 2024, but it could take longer if antitrust suits are brought against Kroger.
Mavis Bennett is a freelance writer for the Montrose Business Times, and Justin Tubbs is the Montrose Business Times editor. He can be reached by email at justin@montrosebusinesstimes.com or by phone at 970-765-0915 or mobile at 254-246-2260.