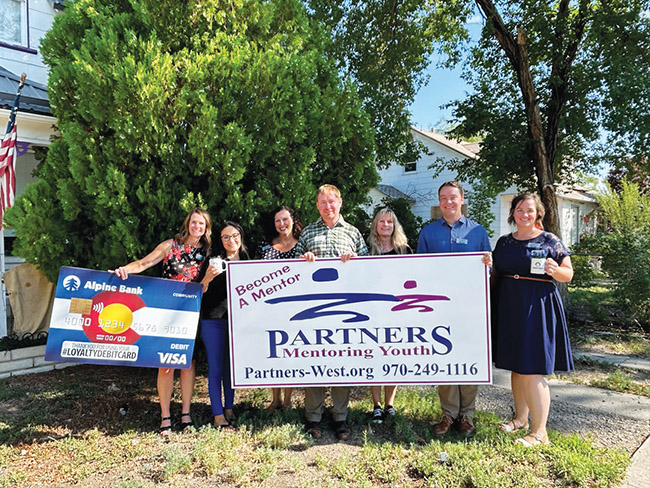 Alpine celebrates 50th anniversary with several donations to nonprofit organizations
Alpine Bank this year is celebrating its 50th anniversary.
As part of that celebration, the bank is recognizing the role its customers and community partners play in its success.
Alpine Bank is also celebrating the anniversary with a 50 Years of Philanthropy campaign in which all of the bank's 853 employees directed a $500 charitable gift to an eligible Colorado nonprofit.
Locally, 12 nonprofits were the recipients of these donations. They were: Partners Mentoring Youth; The Dolphin House; CASA of the 7th Judicial District; Montrose Area Bicycle Alliance; Peer Kindness; Welcome Home Alliance for Veterans; Montrose County Fairgrounds and Event Center; Black Canyon Boys and Girls Club; Mrs. Claus for a Cause; Centennial Middle School; and the Academic Booster Club.
In total, $426,500 was to be donated to the selected organizations in celebration across all branches. The gifts were awarded Aug. 1, Colorado Day and the state's 147th birthday.
All selected organizations received a letter explaining the surprise donation, along with the total amount awarded. Some organizations received gifts larger than $500 after being selected by more than one employee.
"I think it's impossible to separate where business interests end and where society's begin," said Alpine Bank founder and Chairman Bob Young. "What makes a good banker is somebody who carries the same values. A good bank is one who can fully support the community in the most positive way."
Colorado Governor Jared Polis underscored the company's community commitment with an official proclamation naming August 1, 2023 as "Alpine Bank Day," noting that "since its inception in 1973, Alpine Bank has exemplified a philanthropic spirit by providing non-profit organizations with over $55 million in grants, scholarships, sponsorships and other donations."
The guiding values that Bob established when he founded the bank in 1973 remain relevant today: Independence, Integrity, Loyalty, Compassion and Community.