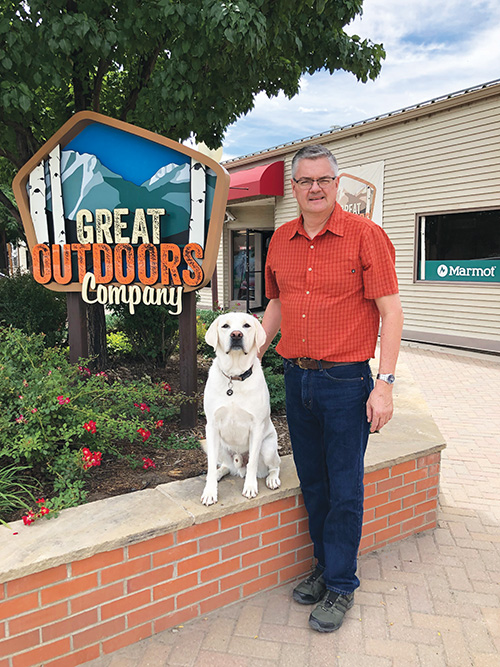 Great Outdoors Company, open since 2014, has a longer legacy than some may know
Operating since 2014, The Great Outdoors Company in downtown Montrose specializes in connecting people with the outdoors.
As owner Steve Omernik explains it, the store has what most folks need for an outdoor adventure, but it doesn't carry the types of specialized equipment the experienced outdoorsman might need to add to their pack. But he's had plenty of experience with that, too.
Omernik has seen it all when it comes to the outdoor retail industry.
His parents, Gene and Kay, were well known locally. They bought a local retail store, The Westerner, in 1972. Renamed Gene's Westerner, Omernik worked there from the time he was about 7 years old.
The business closed in 2012, but Omernik didn't want to stay out of the business forever. In 2014, he opened his own store. The store had a smaller footprint and reduced inventory, but the business was the same: outdoor retail.
The Great Outdoors is still alive and thriving in downtown Montrose, right down the street from the store his father owned for 40 years.
Family legacy
At Gene's Westerner, they sold everything.
"We used to sell firearms and fishing. We sold bicycles," Omernik said. "We sold downhill skis and snowboards, western apparel, athletic stuff. So we were kind of that old school sporting goods store."
The store was so successful they opened a second location in Delta in 2000. And they opened a larger store in Montrose, on North Second Street, replacing the original.
That store had its share of ups and downs; but the Omerniks knew everyone in town, and everyone knew them, too.
Montrose has always been a great access point to the outdoors. And for the longest time, Gene's Westerner was the place to go to gear up for the outdoors.
They opened the new building in 2001, right before the Sept. 11 attacks. Steve remembers nobody came in for a week.
Then came the recession in 2008. That made things tough. "You know we just struggled to find even a breakeven point," he said. "So we closed it in 2012."
It was a hard decision to make, as the business had struggled for four years. Omernik said one of the main reasons they kept Gene's Westerner open was that they would have hated to close the business while his father was still alive. Gene didn't live to see the business close.
But in a way, his legacy lives on today through his son.
A second try
Omernik didn't stay out of the retail industry for long. Two years after the Westerner shut its doors, he went into business on his own.
This time, though, he made the decision to sell fewer items, targeted at the general outdoors consumer.
"I took a much more focused approach," he said. "When we opened this one with a smaller footprint in terms of square footage, we left some of the hunting and fishing stuff off to the side and just came back with outdoor apparel."
When they opened, they began with local brands. Marmot, which had started in Grand Junction, could be found on the shelves of the Great Outdoors. He also carried Osprey. Today he carries Kuhl and some other outdoor brands Coloradans are familiar with.
He pretty much works six days a week. His sister, Mary Mathis, also works with him in the store, bringing more experience. In total, Omernik has a staff of five, not including the shop dog, Bridger, named for the mountain man Jim Bridger.
"We feel very fortunate with how the community has supported us over the years," Omernik said.
An outdoor boom
The business was already successful for many years. What distinguishes Omernik and company's brick-and-mortar retail store from online retailers is the experience.
Not only does Omernik know his products (The Great Outdoors' speed to market is better than online retailers in terms of keeping up with trends), he knows the area.
When someone visits to buy a pair of hiking boots, Omernik, an avid outdoorsman himself, can make recommendations on trails and gear. In that way, The Great Outdoors becomes a trip supplier and a pre-trip guide of sorts.
But Omernik couldn't have predicted what would come next.
When the COVID-19 pandemic rocked the world in 2020, an economic boom for the outdoor industry came with it. But it came with its challenges also.
Omernik said his business increased 40-50% in the first couple years after the pandemic began. But it was tough to keep the shelves stocked.
"It was a constant struggle to get product," he said. "But I think we had a better    handle on it than most."
He had good working relationships with vendors. And despite the fact that inventory got low for necessities, like camp fuel, he never completely ran out, he said. "We would have people calling us from the Front Range saying, 'do you have camp fuel and freeze dried foods and stuff like that.'"
It was "fun and exhilarating," Omernik said.
But it didn't stop there. He says he has a larger customer base than before as the pandemic has faded away, even if the desire to get outdoors has waned to other vacations, like trips to Europe or the Bahamas.
He's been so successful that, looking toward the future, Omernik would like to expand.
"The way Colorado and Montrose have been growing, there's plenty of room for growth in how we use the outdoors," he said.
He would like more space eventually, to carry more inventory, and he'd like to continue the business as far as he can see into the future.
Justin Tubbs is the Montrose Business Times editor. He can be reached by email at justin@montrosebusinesstimes.com or by phone at 970-765-0915 or mobile at 254-246-2260.