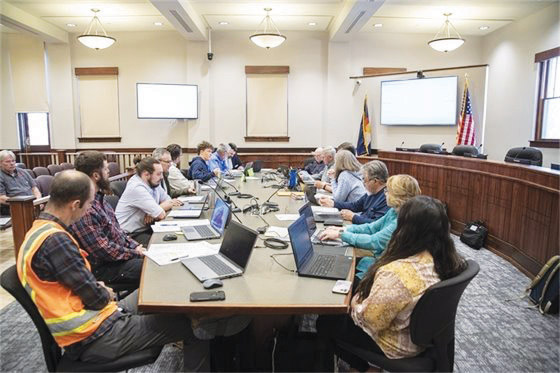 Business, News
August 16, 2023
City Council invites interactive sessions with citizens
Press Release
Residents who want to have an audience with the Montrose City Council or have their comments submitted into the council's official meeting record will have opportunities to do so as the City of Montrose is preparing new ways to connect the City Council to the community.
At the request of city council members, city staff has created what will be known as Citizen Interactive Sessions, which will take place from 9 to 10 a.m. before the start of the council's work session on the third Monday of each month. Work sessions are held on the first and third Monday of each month. The work sessions, as well as the council's regular meetings, are held in the City Council Chambers at 107 South Cascade Ave.
"I'm looking forward to trying something new when it comes to citizen engagement. While we have always welcomed phone calls and emails from our community, the public comment portion of city council meetings has always felt unsatisfactory to both council members and to our constituents," Montrose Mayor Barbara Bynum said. "This new addition to our work sessions will allow for the back-and-forth dialog that isn't possible during formal council meetings."
Residents wanting to participate are encouraged to go online and fill out the Citizen Interactive Session Form. This form will help the city clerk organize the materials needed before the start of each Citizen Interactive Session.
Those wanting to participate will need to provide their name, email address, and physical address, or physical area of where they live, along with a topic they wish to discuss. Once the form is filled out, the City Clerk will contact the sender via email to confirm their request. Topics should be of general community interest, fall within the City's purview, and offer an opportunity for conversation. If a request is more suitable for a one-on-one conversation with staff or Council, the City Clerk will forward the request to the appropriate staff member or to the Mayor.
The interactive sessions are designed to facilitate in-person dialogue between residents and City Councilors before the start of the council's work session. Each session will be recorded for replay on the city's Youtube channel and cable channels.
The City Council has a public comment period for non-agenda items during each bi-monthly regular meeting on the first and third Tuesday of each month at 6 p.m. The City is now offering an opportunity for residents to submit written comments on non-agenda items. Residents wanting to have their written comments on non-agenda items placed into the City Council meeting packet record can submit their written comments via the council's new online comments form.
Written comments submitted by noon on the day of the regular City Council meeting will be compiled, posted via a link on the Public Portal, and included in the meeting packet. These comments will not be read aloud during the meeting. City Council may or may not respond to written comments received.
Comments should pertain to matters of at least general importance to the city organization and its operations. Please be aware that neither City Council nor city staff are expected to engage in discussion or debate with citizens during the public comment period. However, the city may respond when appropriate at a later time.
Comments containing personal attacks, personnel, and employment matters, the use of profanity, or ethnic, racial, or gender-oriented slurs are prohibited, as is any "disorderly conduct" which violates state or local law.  See, City of Montrose Regulations (Sec. 7-14-1, et seq.)
The new interactive sessions and online comment portal stems from City Council discussions about the need to create new opportunities to connect with local residents.
For information about the City of Montrose visit CityofMontrose.org.