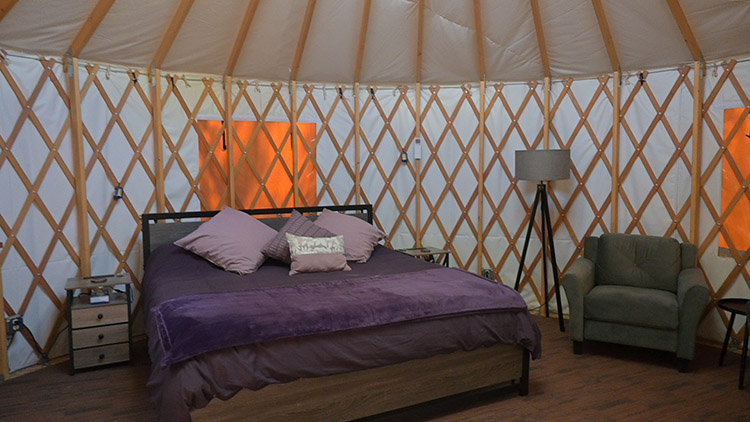 Business, News
August 9, 2023
Rebranded Secret Creek has experienced shifts in three-and-a-half years
Since acquiring Colorado Yurt Company in 2020, John and Kelly Gibson have had to shift a couple times.
Investing $7 million in a new campus, which includes 2,700 square-feet in manufacturing space and an expanded outdoor display area, the company has since rebranded. What was the "Colorado Yurt Company" is currently doing business as "Secret Creek."
With the rebrand came new products: different yurts and tents ranging from the very basic outfitting-style tent to glamorous 700-square-foot yurts.
But the rebrand and the upgraded product line aren't the only ways in which the company has shifted. The Gibsons bought the business in 2020, and then came the COVID-19 pandemic.
With the pandemic came a surge in the outdoor industry. Not only was Secret Creek helping consumers purchase tents for their own private use; there was a surge in the "glamping industry."
Resorts and campgrounds providing tipi and yurt lodging began popping up all over the country. The most recent with which Secret Creek has done business is a resort with tipi lodging in Pigeon Forge, Tennessee, home of Dollywood and other fun attractions.
But with economic uncertainty looming, fewer businesses have opted to spend the cash on new tipis and yurts, John Gibson said in an interview with the Montrose Business Times last week.
Hence, the shift. With a volatile housing market, the business has begun putting more marketing efforts into showing its products as accessory dwelling units — or even residences in some cases.
Many of their units are equipped with all the makings of a home or granny flat: air conditioning, room for furniture and living space, and even showers and bathrooms in some cases.
The fact that the yurts, tipis and tents can be built to custom specifications is a plus, so Gibson and company look at their products differently than they did in say, early 2020, when they purchased the business.
Early days
It wasn't just a new industry John Gibson was contending with: he had no experience in yurts but always had a liking for the outdoors. After a healthy sale and exit of the company he previously built up, he looked for something new to buy.
He landed on the Colorado Yurt Company in Montrose, a company that had already been successful — in business since 1976 (and it went through its share of rebranding with the founders before Gibson purchased it).
In 1976, the business opened as Earthwork Tipis. It eventually changed to Advance Canvas Designs. And finally, the previous owners, Dan and Emma Kiga, landed on Colorado Yurt Company.
The name Secret Creek was chosen as a tongue-in-cheek reference to Gibson's answer to folks who ask him where he liked to go backpacking.
"Every yurt can be someone's secret creek or secret ridge," Gibson said.
Colorado Yurt Company, in Gibson's estimation, also didn't reflect the range of business, both relating to product and locale. They made more than yurts, and they sold outside of Colorado.
Doing a tour of the Secret Creek campus, it's clear his knowledge of canvas-and-wood dwellings has come a long way.
He describes to visitors how each structure stays upright. Some are built on platforms, others are more simple. The tipis feature designs that go back to the Sioux Native Americans, which includes natural air-conditioning of sorts for the summer months — and real air conditioning for people like Gibson, who says he "prefers it a little cooler."
But all the knowledge couldn't have prepared him for the industry shift. In some ways, it was a shift to the good. Gibson found himself in an American economy that wanted to get outdoors more, to open spaces free of masks and risk of illness.
Business was good, but the business, which currently employs 52, also had a new face once the new campus was built on the land at Colorado Outdoors. The manufacturing space alone increased about 2.5 times what it was before. And customers were invited to see each of the company's products in-person (they could even rent one for the night).
Sales began to go up.
"When people walked in, they said, 'Oh you're an actual business … not just people who make yurts as a hobby,'" Gibson said.
But other challenges presented themselves: supply chain issues. An increase in sales didn't translate to an increase in profitability. The cost of OSB, used for the floors in many of their products, increased from $13 a sheet to $68 a sheet. Materials to make rafters increased by three times.
They already had orders to fill, priced at estimates that didn't seem feasible.
"By March, we thought we were out of business," he said.
But they decided, rather than close their doors, they would eat the cost.
"These are people's homes," he said. "So we made a decision to eat it, and said that karma is hopefully going to come back to us but right now it's a painful thing."
The latest shift
In a way, Secret Creek is still in its early days. About three-and-half years in, they are still shifting.
The latest shift has been choosing to view their products — and their campus — differently.
The first and last yurt people visit is the merchandise yurt, where customers can buy clothing and other apparel that represents the business publicly.
Their display yurts, which collectively Gibson calls the 'village', are available to rent nightly. And their campus, which is beautiful and green this time of year, positioned right along the Uncompahgre River, is available to rent for events.
And their yurts, which start in the low-$10,000s and can go way up from there, are being marketed toward people who want to use them as permanent dwellings.
Because things are tough for the sales force right now, the business has had to innovate and adapt.
He realizes they've been geared toward the glamping world and that they'll have to shift.
"We're realizing we have all these opportunities for accessory dwelling units in towns or alternative use for our products," he said.
But, that's the way the whole outdoor industry is moving, as people are tightening their belts and holding onto their cash in preparation for what could be a tough economic climate moving forward.
"(We are) hearing more 'not now' than 'no,' which can be tougher because that gives you some hope," Gibson said.
After a tour of the campus, it is obvious why it is "not now" rather than "no." Secret Creek's products are attractive to all sorts of people who like the outdoors.
The business' logo is a mule, which is probably more representative of the company than the Gibsons realize.
Mules are tough and resilient and can carry heavy loads. A mule named Margie is the company's "brand ambassador" of sorts.
But despite the challenges, the business makes unique products. They have an artist on staff whose job it is to paint the interiors and exteriors of tipis when asked.
Their hard work and determination earned them the 2022 Manufacturer of the Year award with the American Glamping Association.
And John says he is determined and motivated to take the company he's purchased and continue to grow it in a "great business community."
Justin Tubbs is the Montrose Business Times editor. He can be reached by email at justin@montrosebusinesstimes.com or by phone at 970-765-0915 or mobile at 254-246-2260.