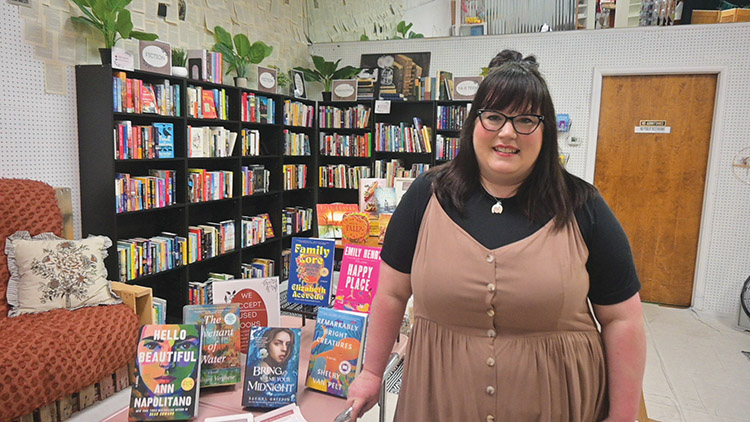 Bookstore opens inside downtown boutique Mauve
There is now a local place to shop for new and used books.
A former librarian and a boutique owner for the past five years has begun a new business venture, Curiouser Books, a new and used bookstore in downtown Montrose.
Lizz Martensen last week welcomed customers to browse the bookshelves of the business, which is located in the same building as Mauve, her boutique, at 324 E. Main St.
"This was only our third day, but it's been really, really busy," Martensen said last Thursday while a customer shopped for books.
They've been so busy that Martensen is already expanding her selection, adding more shelves to the bookstore.
Martensen formerly worked at Maggie's Books, owned by her fellow former librarian Sara Rinne. But Maggie's Books, which opened in 2018, has since closed, and Montrose hasn't had a local bookstore since.
With her experience, Martensen felt she could open her own establishment. She put her own twist on it this time.
"All of our used books come in on donation," she said. "And then when people donate their books, they can choose which local nonprofit that we've partnered with that they want to support."
When the donated book sells, Curiouser Books writes a check to the nonprofit matched with that book.
"It's a cool way to kind of give back," Martensen said. "But we also have lots of new books, and we can order anything people are interested in."
So far, the genre flying off the shelves quickest is fiction, but Martensen said tourists also come through looking to take a piece of Colorado back home with them. Some history books have been popular picks.
Curiouser Books also offers a "blind date with a book." Customers choose a book wrapped in paper with only little hints describing what the book might be about. Customers purchase these and take them home, not knowing what they've bought.
Books related to tourism or travel to the area will be coming into the store soon. Local authors had already popped their heads in by last Thursday, some even donating copies of their books.
"We didn't open with a ton of new books just because we're pretty small," Martensen said. "We're trying to get our feet under us."
Other nonprofits are welcome to see if they fit with Curiouser Books. Customers can also follow the Curiouser Books blog. All of that is at CuriouserBooksMontrose.com.
Curiouser Books
nonprofit partners
When customers make book donations to Curiouser Books, they can choose one of six nonprofits to support. When the book sells, the nonprofit organization receives the money from that sell. Those nonprofits are:
• Peer Kindness, which partners with schools and other youth organizations to help prevent bullying.
• Faultless, which educates youth about body safety, digital safety, all forms of abuse (physical, verbal and sexual), grooming, sex trafficking, cyberbullying and mental health.
• Montrose Children's Museum
• Black Canyon Boys & Girls Club
• Partners, which mentors youth in Delta, Montrose and Ouray.
• Valley Symphony Association.
Justin Tubbs is the Montrose Business Times editor. He can be reached by email at justin@montrosebusinesstimes.com or by phone at 970-765-0915 or mobile at 254-246-2260.