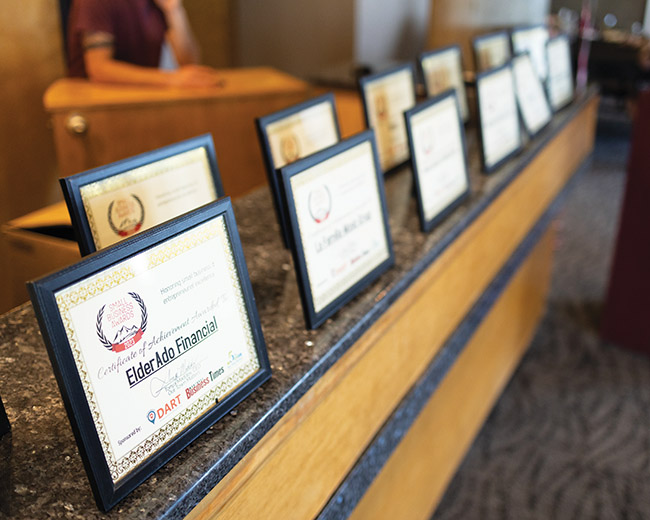 16 awarded at 2023 Small Business Awards
The Montrose Business Times, Montrose DART (Development and Revitalization Team and Our Town Matters last Thursday hosted a reception at the Montrose Pavilion to recognize winners of the 2023 Small Business Awards.
Michelle Wingfield, DART and grant coordinator, was on-hand to help give out awards, and she applauded the Montrose business community afterward.
"I think these businesses show really amazing dedication and have made a deep impact on the community," she said. "Their success is inspiring, and I hope that these small business owners can create a platform that inspires others."
The winners of this year's awards are a group of 16: Black Canyon Gymnastics, Buckaroos Slices and Scoops, Camelot Gardens & Gifts, ElderAdo Financial, Elevation AcademyYou  of Dance, Jessica Larson Designs, La Familia Music Group, LaNoue DuBois Winery, Maslow Academy of Applied Learning, Mimo's, Montrose Brazilian Jiu Jitsu, Montrose Donuts & Deli, Salon Polished, Studio 14 by Gabrielle, ThinkSharp! Consulting and Western Colorado Select Equine Sale.
The Montrose business community is strong and healthy, according to Tonya Maddox, owner of Our Town Matters marketing company and publisher of the Montrose Business Times.
"This year's winners are a diverse group. They span the range of solo entrepreneurs to organizations with 20-plus employees," Maddox said. "From two years in business, to almost 30 years in business."
One of those leaders at the Small Business Awards event on Thursday was Jamie Kyle, owner of Western Colorado Equine Sales, a 30 year business that Kyle acquired about a year ago.
People log onto the business' website from all over the country to look at the high-end horses and possibly buy them.
Kyle was thrilled with the nomination and her business earning one of the 16 awards.
"It's really big for us," she said. "We're very excited that someone nominated us, and if we knew who they were, we would definitely thank them."
Jessica Larson also attended the Thursday event, representing her business Jessica Larson Designs, which specializes in logo design, branding, website design and print design. Thursday also happened to be Larson's birthday.
"Being recognized by the community is such a blessing and very humbling for my business," she said. "And to celebrate my birthday with a bunch of wonderful business owners is just so amazing."
A local favorite restaurant that became so popular it had to move into a bigger location is Mimo's. Carmen Briceno and her mother, Rocio Rueda, were there to accept their award.
"It's a big accomplishment," Briceno said. "We've gotten recognition but never like this one before."
Chrissy Simmons, owner of nonprofit Maslow Academy, attended the ceremony and accepted the award for her business. It was recognized for recently expanding and opening a second location, Bright Beginnings, at Colorado Outdoors.
Representatives with Unify Montrose, an effort of Unify America, attended the ceremony to underline the need for childcare and applaud Maslow Academy's efforts toward filling that need.
"We really try to serve the community and their needs. As you heard at this program today, we live in a childcare desert," Simmons said. "So that expansion of Bright Beginnings is a direct reflection of that."
All the businesses, Maddox said, have contributed to the community in significant ways and were deserving of their awards.
"One common trait these organizations have in common is their devoted and driven leaders," she said.
Gunnison Clamp contributed to this article.
Justin Tubbs is the Montrose Business Times editor. He can be reached by email at justin@montrosebusinesstimes.com or by phone at 970-765-0915 or mobile at 254-246-2260.