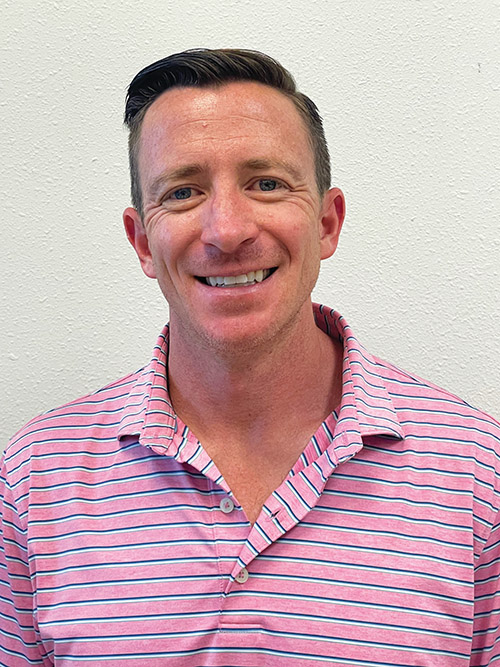 Business, News
July 26, 2023
Wes Abbott, Montrose Ford-Nissan auto dealership
Wes Abbott is executive manager of Montrose Ford-Nissan. He took over operations of the dealership from his father, Thomas, who started the business in 1986, when their family moved to Montrose.
"Montrose was a much smaller town back then, and the dealership was located where Flower Subaru is currently," Wes said.
At the time of the purchase, the dealership sold Ford, Lincoln and Mercury makes. Then in 1987, Thomas added the Nissan franchise. As the town and the dealership grew, eventually the business needed more space. Thomas built the current dealership facility at 100 Merchant Drive, and they moved into it in 2001.
When the financial crisis of the late 2000s hit, Ford Motor Company phased out the Mercury brand. In 2015, they chose to cut ties with Lincoln, as they continued a strategic path more fitting to metro markets. That left them with their current offering of new Fords and Nissans and pre-owned vehicles.
Wes grew up in Montrose and graduated high school in 2002. From there, he went to undergraduate school at the University of Miami, where he majored in finance and entrepreneurship. After graduating in 2006, he moved to Denver and obtained his masters in business administration at the University of Denver.
After that, he worked in corporate finance and real estate for five years. Then, in 2013, he got married, and he and his wife moved to Montrose. That's when he began his career at the dealership.
"I was, and continue to be, incredibly fortunate to have a very experienced and knowledgeable staff," he said. "They helped me learn the business then, and now that I'm running the business, they help me keep the dealership running smoothly."
Wes said he loves being in the car industry because it's exciting, challenging and ever-changing. No two days are ever the same.
MBT: How is the auto industry different than it might've been 20 or 30 years ago?
Wes Abbott: Twenty to 30 years ago, the internet, technology and computers were just beginning to enter the automotive world. Before we moved into our new building in 2001, we had less than 10 computers amongst 35-40 employees. Now, every employee's position requires the use of a computer, including the technicians.The speed with which everything is done in the dealership has increased due to technology. Unfortunately, this means if the internet goes down, we grind to a standstill. Crazy how we did without for the first 100 years of the car business.
When it comes to how customers shop for vehicles, we've seen even more changes. Thirty years ago, if a customer wanted to research different makes and models, they had to physically visit different dealerships and talk to the staff. Now, they can research everything from the comfort of their couch. Same goes for researching pricing. With Cars.com, Autotrader, Edmunds, CarGurus, etc, customers can find out what a good deal looks like without driving all over town (or even the state). Twenty-five years ago, the average customer visited five or more dealerships before purchasing a car. Now they visit, on average, one or two.
MBT: Where do you see the auto industry going, and how is it changing still?
Abbott: One of the biggest impacts to the auto industry is the push for cleaner vehicles. With the government mandating the manufacturers to obtain lofty fuel efficiency standards, the push for electric vehicles shows no sign of slowing down. This is a challenge for dealers and consumers as they educate themselves on the pros and cons of EVs.
In recent times, we've seen supply chain issues as a result of the world economy. There were times when there were fewer cars on the lots than you've probably been used to in the past. What has your dealership done to keep up with challenges like these within the industry?
Before the pandemic hit, car dealers had an average of over 90-day's supply of vehicles on their lots. This provided consumers with many options to choose from. At its worst, we were down to about a week's supply of vehicles. As things normalize, inventory is up, but it is likely to never reach pre-pandemic levels. To combat this, we've pushed hard to educate our customers on the benefits of custom-ordering vehicles.
Obviously, this is only possible with new vehicles, and when a customer has a flexible time frame. The benefit is getting the exact vehicle they want at the best price (no paying for options they don't necessarily want/need). We've also become hyper-focused on the inventory we do have in stock and go to great lengths to make sure we have the vehicles and options our customers want.
MBT: When customers want to buy a vehicle, why do customers choose to buy with you?
Abbott: At the end of the day, our slogan (Not just a better deal. A better dealership) is truly how we look at the business. Given enough research, customers can always find a good deal.
What you get when you deal with Montrose Ford-Nissan, is a family-owned and operated business, who have been part of this community for almost 40 years. I run the dealership and am there daily. I get to know our customers, as I see them at the dealership and around town.
If you have an issue, you can call me directly. As part-owner and day-to-day decision maker, I'm here to help. When customers buy cars from bigger dealerships in bigger towns, they are just a faceless number. As soon as the ink is dry on the paperwork, they aren't thought of again. At my dealership, we care about our customers and our community.