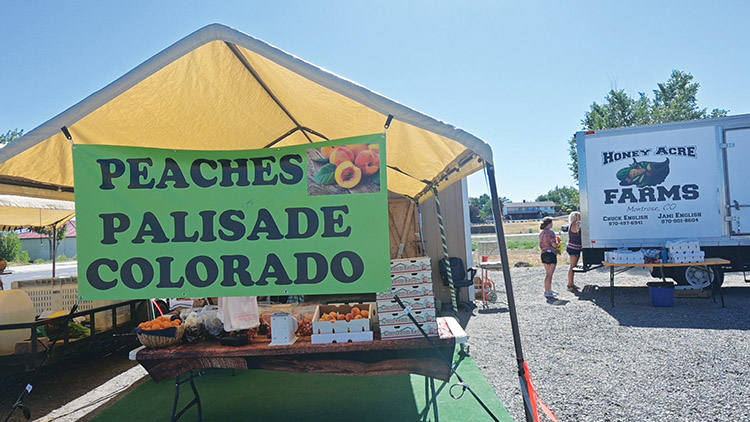 Honey Acre Farms sells produce locally since 2006
For the local agriculture community, this is just about the best time of the year.
The fruits (and vegetables) of farmers' labor make it to produce stands, grocery stores and, ultimately, to your table.
On Thursday and Friday, Chuck and Jami English were active, running around their local produce stand, Honey Acre Farms, chatting with customers and handing out samples of sweet corn. It's what they've done every summer since 2006, when they first opened the produce stand.
If you are from Montrose, you've at least driven past it, but more likely, you've stopped in. The stand is located in the U.S. Bank branch parking lot, off Oak Grove Road, while their farm is located on Spring Creek.
Just recently, they sold all their asparagus crop, about 3 and a half acres worth. Now, they're onto their Mirai sweet corn, a different variety than the Olathe Sweet patented here locally, and the Englishes swear by it.
"You can eat it raw," Chuck said. "It's the only way we know it's ready in the morning is if we taste it and can tell that it's ready."
It's about 19-23% sugar, and they say you can taste the difference. It's why their customers keep coming back, they say.
The rest of their produce comes from other local farms. Since they started the produce stand, it's been Jami's job to drive all over the valley, buying potatoes, tomatoes, onions, strawberries and more from local growers. They bring it to Montrose and sell it to customers the same day.
They also make and jar their own jams to sell at market.
Farming and selling local
Chuck English has been a farmer since 1986. He and Jami have been together since 1993. She says she is now a farmer by marriage.
But they only started growing their Mirai sweet corn about 10 years ago. English used to sell the Olathe Sweet out of the back of his truck. But he did an experiment, selling some of the Mirai, alongside the Olathe Sweet, to customers. They loved it and kept coming back.
Chuck also used to grow around 300 acres of produce that he could sell directly. Jami went into QuickBooks, showed him where they were making their real money. They've switched to specialty crops and haven't looked back.
Chuck also grows plenty of pinto beans, and he direct-markets those to Grand Junction, New Mexico and other surrounding areas.
Jami goes to Palisade to buy peaches and apricots. She also buys green beans. They grow and harvest watermelon and cantaloupe. Come fall, they'll be harvesting pumpkins and selling out of their pumpkin patch at their farm.
Their first corn harvest came about just last week, on July 19. So the corn was fresh out of the field as they sold to customers. By Friday, word had gotten around, and 10 cars were parked at their produce stand at different times throughout the day.
"We have always just made sure that we have the best quality of anything that we sell," Jami said. "If something is a lesser quality, it will come at a lesser price. I'm always honest with people, so that's how we've gained a following.
The pandemic
For many, the COVID pandemic put a strain on business, but for Honey Acre Farms, it was a different story.
It was a little difficult to navigate right off the bat, Jami said. But their stand, like grocery stores, was deemed essential.
While you couldn't dine in at a local restaurant, you could pick up fresh produce from the Honey Acre Farm stand.
"So with the pandemic, we kind of exploded," Jami said. "And by that, I mean our customer base exploded."
More and more people wanted to shop locally. And as they did that, they were able to learn about where their food came from while getting quality produce for meals they could cook at home during the pandemic.
At the end of the year in 2020, they had done better than they ever had. Since the pandemic, their sales have increased by about 30% and continue to grow every year.
"I used to sell 50-60 boxes of peaches every week," she said. "Now I'm going back and forth to Palisade every couple of days for 100 boxes. It has really increased the demand."
Connecting with the community
The English family employs several, many family members and others who have become like family.
Cora, their granddaughter, spends summer days gathering corn into mesh bags to sell to customers (they want to follow the state's plastic bag law).
During the asparagus harvest, they had about 20 people working for them, picking the crop. Jimmy Cox is their longtime right-hand man. He does just about everything they need him to do.
But they also connect with the community by meeting and learning about their customers.
Gary Johnson is one of those customers. He comes at the end of the day to pick up leftover cobs and other excess fruits and vegetables to feed to his donkeys.
Chuck's favorite part is meeting new people.
"You've been able to market to them, and then they come out here and you sell to them like this," he said. "It's fun, and it's the fruits of our labor."
He said sometimes they can be challenging if they (or he) has had a bad day. But he followed that by yelling at a customer with a bag of corn, "Have a good day, thank you!"
Justin Tubbs is the Montrose Business Times editor. He can be reached by email at justin@montrosebusinesstimes.com or by phone at 970-765-0915 or mobile at 254-246-2260.