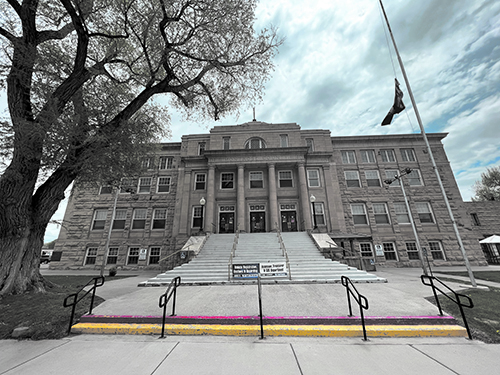 Business, News
July 26, 2023
County chooses local contractor for design-build of courthouse renovations
The Montrose Board of County Commissioners signed a contract with Montrose-based Stryker and Company, Inc., for the design-build of the Montrose County Historic Courthouse renovation project.
The proposed contract amount is $396,718 for phase one design, and a not-to-exceed amount of $11 million for phase two final design and construction. Following phase one, a guaranteed maximum price will be presented to the county for review by December 20, 2023. Montrose County has $14.7 million budgeted in 2023 for this project and is able to complete this renovation without incurring debt. At this time, the county is still discussing a congressionally directed spending award with the United States Department of Agriculture.
"This has been a long time coming and we are finally getting it done. It's been years in the making, and we put it off because of the pandemic, so I am pleased to see this project moving forward," said Commissioner Keith Caddy. "The historic courthouse was dedicated to local servicemen from World War I, and we will make sure to continue this tradition by dedicating this renovation to all military members who have proudly served our nation."
The Montrose County Historic Courthouse, 320 S. 1st St., is on the National Register of Historic Places. It was constructed in 1922 and dedicated to the community on Dec. 7, 1923.
"Stryker and Company is privileged to have been awarded the historic county courthouse renovation project contract," said Jimmy Merritt, general manager for Stryker and Company, Inc. "We know the importance and significance of this building to the community and are excited to work with the county staff to develop the programming for a new, efficient office space while preserving the historical look and feel of what was built 100 years ago. This truly is a community project, with original framing timbers being logged off of the Uncompahgre Plateau and stone quarried just west of Montrose. We are honored to be a part of such a significant project. Being a local contractor and having worked on many historical renovations we feel confident that we have the experience to complete this project on time and within the county's proposed budget."
Commissioner Sue Hansen noted an important anniversary for the courthouse.
"This December, the courthouse celebrates 100 years and I'm excited that we are able to move forward with a renovation that will update and restore the courthouse to its former glory," she said.. "I'm equally excited that a local contractor was awarded the bid. Keeping a construction contract this size with a local contractor positively impacts our economy."
Commissioner Roger Rash thanked the staff.
"This has been a long time coming and I want to thank the staff—you guys knocked it out of the park—scrambling in the eleventh hour to get it done," said Commissioner Roger Rash. "This project has been overdue for decades and I'm glad we were able to make it a priority. I am hopeful that this renovation will bring another 100 years of this iconic building."
Moving forward, the courthouse is expected to be completed in September of 2025. The assessor, treasurer, and geographic information system department will be moving temporarily during the construction. Once the project is completed, the historic courthouse will be home to the board of county commissioners, assessor, treasurer, administration staff, geographic information system department, and the veteran service officer.
Information in this article is from a Montrose County press release.