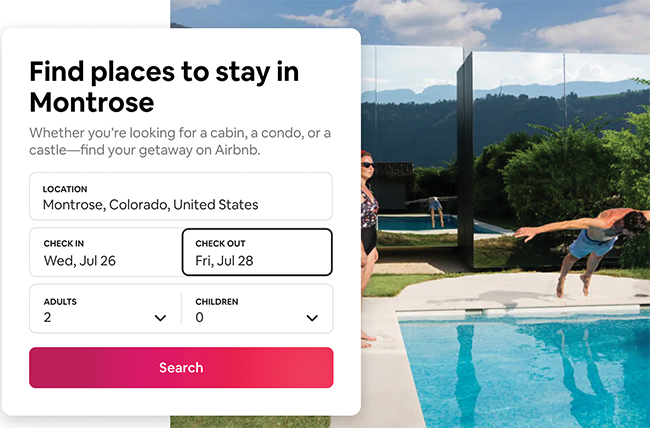 Vacation rentals grow in number and demand; experts say moratorium not the solution to Montrose housing problem
Vacation rentals are a hot-button topic for Montrose.
While they are helpful for tourism and more profitable for homeowners, they could be taking potential long-term rentals off the market for permanent and potentially permanent residents.
While the number of vacation rentals has stayed steady or decreased in surrounding towns, Montrose had 91 more available listings in June 2023 (245) compared to June 2022 (154), according to data compiled by AirDNA, a company that tracks short-term rental data and trends..
Despite the hike in the number of vacation rentals, the demand for those vacation rentals increased at almost the same rate. Vacation rentals, like Airbnbs and VRBOs, saw an occupancy rate of 74.5% in June 2023 and 76.9% in June 2022.
Madeleine Parkin, public relations specialist for AirDNA talked about the trend via email.
"As available nights grew faster — meaning that each property on average was available more nights during the month — occupancy dropped by a small amount…," she said.
Occupancy is calculated as the number of nights booked divided by the total number of nights available for rental.
Given that data, one might expect the average daily rate decreased, but that wasn't the case. The average daily rate increased by 1% June over June. And the revenue per available rental is only 3% lower over the same period.
Vacation rental effect on long-term rental market
According to Shawn Carroll, a local real estate agent with NextHome Virtual, at the very least, a long-term rental will draw $1,500 a month and can earn a landlord as much as $3,000, depending on the property.
But those economics still make vacation rentals more profitable, especially in the summer months, when a VRBO or Airbnb owner can earn $1,500 in fewer than 10 booked nights.
"It's just economics," said Michelle Klippert, who operates out of the Real Estate Store. "If anyone could turn their property into a nightly, it was a shining star for every small town investor, so why not pick that up?"
She said, however, what we didn't know is how it would affect long-term rentals. The increase in Airbnbs and VRBOS showed landlords what they could earn, causing an increase in the price of long-term rentals. Homes that used to be $900-$1,200 a month to rent are much more post-COVID, a time when many from big cities were booking vacation rentals in small towns to get away.
"There's still a demand (for short-term rentals)," Klippert said. "We had an opportunity for free enterprise, and in that free enterprise, instead of $1,000 per month, people could make $3,000."
Carroll said he sees the demand for short-term rentals decreasing in the future, but the data doesn't show that it's slowed down at all.
Revenue per available rental is up 64% in Montrose since 2019.
Exploring a
moratorium
As other towns in Colorado (mountain towns especially) have explored and implemented short-term rental moratoriums (putting a cap on the number of short-term rentals a property owner could have), the City of Montrose and Montrose County haven't followed suit.
But local real estate experts don't think a moratorium would necessarily solve Montrose's affordable housing problem. And it is a problem.
Only 67.7 percent of Montrose residents work in Montrose County. Many workers are commuting to mountain towns for work.
According to a 2022 Region 10 study on workforce housing, Montrose would need 2,660 additional homes by 2032 (divided into 1,330 single-family homes, 930 multi-family and 399 manufactured/mobile) to catch up and keep-up with demand. As of the time of the study, Montrose would need 886 additional housing units to meet current demands.
Given that data, capping the number of short-term or vacation rentals would only put a small dent in solving Montrose's housing problem.
While it would potentially increase the number of available long-term rentals, Carroll doesn't think it would make housing any more affordable.
"If they can't use those rentals as short-term rentals," he said, "they're still going to ask up to $2,000 a month for the long-term rentals."
He said those would still be too expensive.
Other solutions
Carroll and Klippert, interviewed separately, agreed action from the county and city to change zoning would help with affordable housing.
"Cities can put together different zoning areas and encourage growth and development that way," Klippert said.
As to why the city hasn't done so yet, she said our community is a "wait and see" type of place.
"We are a hub for people renting to commute to Telluride," she said. "I don't think they want to dip their toe in (a solution) until they see how things work in other communities."
In one way, she said, it's prudent for the city to be cautious in their approach to the housing problem. In other ways, Klippert said, the city needs to move forward and open up opportunities for growth of long-term rentals.
"Maybe we need to think outside the box for entrepreneurship and development," she said. "(The workforce) needs the housing, and we need to do something to make it available."
Carroll thinks the city and county could see their problem grow if they don't do something.
"I think the city and county can continue doing it the way they're doing it," he said. "But they're going to reach a tipping point."
Justin Tubbs is the Montrose Business Times editor. You can reach him at justin@montrosebusinesstimes.com or by phone at 970-765-0915 or 254-246-2260.