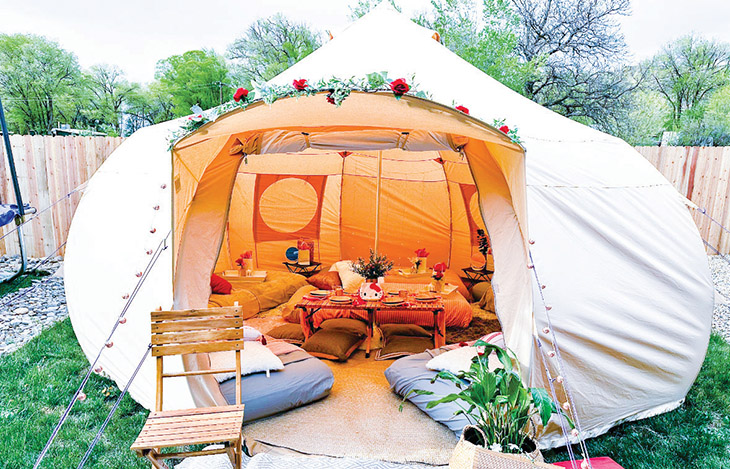 Local business brings 'glamping' to the customer in second year of operations
Camping is an American pastime as celebrated as baseball and going to the movies.
Montrose, as those who have spent any time here know, is a launching-off point for any of the camping one might seek. There are mountains and evergreens to the south. Desert land is accessible to the public to the immediate north. And there are public lands abound.
But not everyone likes the work and the grime associated with camping. Others want the camping experience but may not like leaving their backyard.
That's where Christi Berry and her family's company come in.
San Juan Glamping Co. began in 2022 as a sidegig. And while Berry says the business is still not a full-time venture, demand has increased for kush camping experiences.
"What we offer are portable glamping experiences for people who want to celebrate an occasion, have a staycation, or any of those kinds of things," she said.
Glamping is a mashup of the words glamorous and camping, and the roots of glamping date as far back as the early 1900s when hunters and outdoorsmen sought a more comfortable way to enjoy the outdoors.
African safaris, for instance, began using large tents, complete with cookware, furniture and many of the comforts one might find at home.
Glamping demand
More recently, glamping has become an activity and experience in itself. As recently as the 1990s, glamping took off as an industry.
But Berry and family noticed there wasn't much supply in Montrose (or, really, the surrounding area) to meet local and vacationer demands for portable glamping experiences.
Their first glamping setup wasn't planned.
A relative asked them to "glamp" an old hunting tent for a wedding night. They enjoyed setting it up so much, they turned it into a business.
San Juan Glamping Co.'s outdoor glamping season runs from April to October, but after launching the business, Berry learned there was demand for glamping experiences for people of all ages and for many different sorts of experiences.
Some include children's birthday parties and weddings. Berry has done more children glamping experiences than anything else so far, so her family invested much of the roughly $10,000 they've put into the business so far into 10 different themes for kids, including Star Wars, Marvel and girly pink and gold.
"We just did a glow-in-the-dark theme last weekend," she said.
In their first year in business, they only had about 10-12 jobs. Now, in their second year, they've had 31 completed or scheduled jobs. And there's no telling how many more are to come.
This summer, the Berrys will set up a bridal tent for a wedding on the Grand Mesa. The hope is to add tents in the coming months for more weddings.
"Hopefully we'll have four or five, and if we do weddings, we could do a groomsmen tent, a bridesmaid tent and one for the wedding night," Berry said.
They've also set up a camping trip in the mountains, for which there was a bigger travel fee.
So far, though, they've done more teenage girl birthday parties than anything.
And for winter and fall parties, Christy and her family can set up indoor glamping experiences.
Currently, glampers pay San Juan Glamping Co. anywhere from $250 to $500 for the full experience, minus travel costs.
Berry says people enjoy the glamping experience because "they don't have to do anything."
"We do it all," she says. "And then you're still out in nature. You can still hear the sounds of nature, but you have the comforts of home."
Very recently, the Berrys have begun exploring other sorts of events. Earlier this year, a California-based glamping company reached out about helping to supply a Colorado Springs corporate retreat.
Berry found out one of the corporations heading there would be Google. She's not sure the business has the capacity to help with such an event (it would require 48 tents), but they are slowly discovering other areas in which the business could grow.
A family business
Christy's husband, Josh, has a full-time job. But she still puts her kids to work.
Her son Mason does the grunt work, loading and unloading trailers. Addalee has a knack for interior decoration and helps babysit the youngest, Jaxston, who Christy says is a great "de-glamper."
Christy said the business has brought the family together as they have to work together. That doesn't mean they don't but heads from time to time.
But they've also learned the valuable lesson of how to pivot as they've grown the business.
One glamping experience saw extreme winds and rain. They had to figure out how to solve the issue.
Another time, they had to deter a family's goats that began munching on the fake garland that adorned the entryway to a glamping tent.
"We've learned to be flexible and not get overstressed," said Christy, a former kindergarten teacher who also privately teaches Spanish and American Sign Language and tutors. "You want to please the client and you want to make sure that if there's a surprise for someone, you keep it a surprise and don't ruin it."
The giveaway
Christy didn't want to talk too much about it, but last year, she and her family gave away a free glamping experience to a family in need of some cheering up.
The experience was so rewarding to the family, they considered doing something similar again. Soon, they will be giving away another glamping experience.
"Recently, some people who glamped with us donated a significant amount of money to be used toward another family getting to experience the gift of glamping," reads a post on the company's Facebook page. "We were moved to tears upon finding out about their gift…"
"Maybe it's that single mom or dad you know, or that family who has recently experience some heart break and needs some joy and time to connect," the post reads.
The company is accepting nominations through Aug. 1.
Justin Tubbs is the Montrose Business Times editor. He can be reached by email at justin@montrosebusinesstimes.com or by phone at 970-765-0915 or mobile at 254-246-2260.