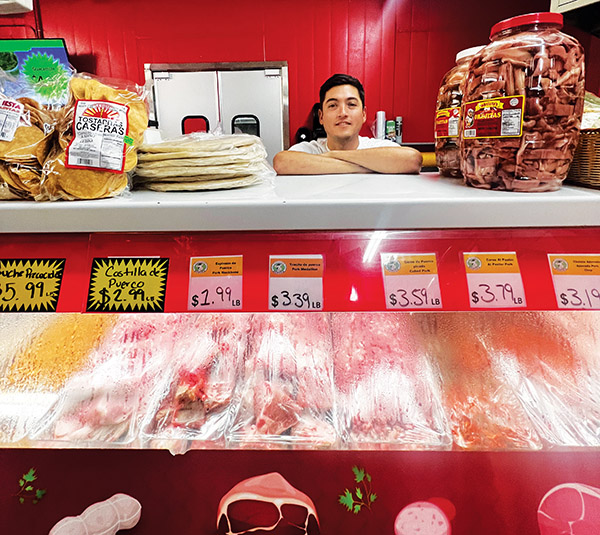 Montrose's only Mexican meat market thrives with diverse customers
When Humberto Del Castillo took over the operations of Carniceria Sonora from his uncle in 2014, he didn't have much help.
He, his wife Karla, and one employee operated the store—the meat market, the grocery store shelves and the checkout counter.
On days he had to run to Grand Junction to pick up produce, it was a scramble to keep the store running at full efficiency, and business was slow, as you might expect with something new.
"I remember the first time we sold 500 bucks (in a day)," Del Castillo said. "I came home, and I was so stoked."
Little by little, business improved. Del Castillo was doing $1,000 days, and he found himself hiring more employees.
Looking back, he says, those were the tough days. Problems he deals with today are more manageable (a backed-up sewer recently) or what someone might call good problems (a smaller space than what they need).
On an average weekday now, Carniceria Sonora does $4,000 – $5,000 in sales, and he employees 11 people.
Beginnings
When Del Castillo took over day-to-day operations, he already had a wealth of experience. He had been working in supermarkets for years and had gotten plenty of experience. He even did a lot for Carniceria Sonora, which opened on Cinco de Mayo in 2012.
"I was doing a bit of pretty much everything, wherever they needed me," he said.
Meanwhile, his uncle wanted out of the business. He already had other businesses in the Grand Junction area and didn't want to make the commute to Montrose so often.
So Del Castillo and his aunt, Enriqueta Hulteen, took over.
They went in 50-50, and Del Castillo took the reins on decision making and management. That meant making some changes and growing the business.
"I kind of just took ideas from all the places that I worked in," he said.
The biggest change he made was to the meat market.
The meat he carries is choice grade and higher, but he realized he couldn't compete with the prices of big supermarkets, so he made it different.
If you go into Carniceria Sonora today, many of the meat products are pre-marinated, and they are thinly cut. "So you can just kind of take it home and throw it on the grill," Del Castillo says.
They also make their own pico de gallo, guacamole and salsas.
"You can get the tortillas, the meat, everything right there," he said.
He also added produce. Carniceria Sonora carries a small selection of produce: chiles, cilantro, tomatillos and other vegetables you would find commonly in Mexican cooking.
Originally, he would go half-and-half with his uncle on pallets of produce. His uncle would sell in his Grand Junction stores, and Del Castillo would sell here.
He soon found he was selling more produce than his half-pallet's worth.
Still, with the growth and success, Del Castillo finds he's putting in most of the work. Two or three times a week he will work until around 3 in the morning, making sure meat is prepped for the next day, filling refrigerators with produce and unloading pallets.
A community-
supported business
When Del Castillo first took over the carniceria (literally translated as meat market or butcher shop), he said about 80 percent of the customers were Latino. Today, that number is closer to 50 percent.
COVID saw more diverse customers visit the store, and many have continued to shop at Carniceria Sonora since.
"It's very helpful," Del Castillo said of the varying customer base. "I just feel the love, honestly."
Summertime barbecues and cookouts mean an increase in demands, and he had all hands on deck ahead of the Fourth of July holiday last week.
"I was here until 3 in the morning, cooking up pico, making sure everything was ready," he said.
Del Castillo also does business supplying meat to weddings and other big events.
"One customer, she works in Telluride and does two parties a year for her company," he said. "They usually come in and buy a hundred pounds of meat and all the salsas."
Looking ahead
The biggest challenge right now might be the space at the carniceria.
"I would really like to have more space," Del Castillo said.
There's only so much inventory he can carry currently, and the space for shopping is small and can be cramped when a large volume of customers is present, he said.
Located at 347 N. First, Del Castillo currently rents the space but would eventually like more—and to possibly own his own building.
He may have more changes in store soon, as well, but he wouldn't talk about them just yet.
Justin Tubbs is the Montrose Business Times editor. You can reach him at justin@montrosebusinesstimes.com or by phone at 970-765-0915 or 254-246-2260.