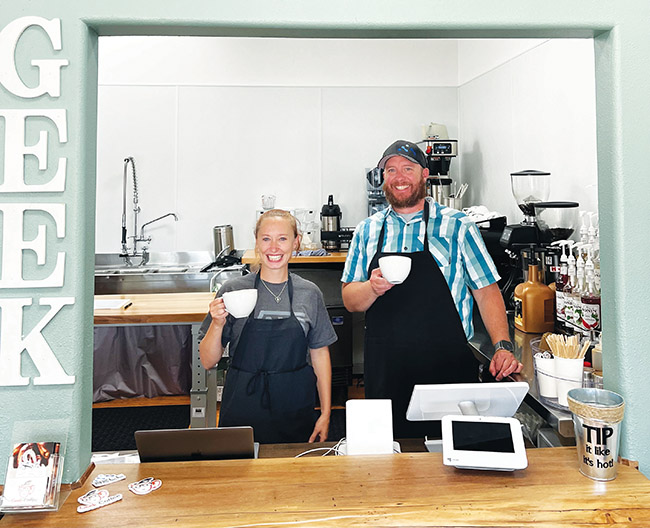 Business, News
July 12, 2023
Joel Bell, owner of Geek Coffee
Joel Bell, owner of Geek Coffee, has lived in Montrose since 2011, after moving from the Front Range.
Working in the IT industry for most of his life, his curiosity for electronics started as a kid.
He was more interested in figuring out how toys and electronics worked instead of using them for their designed purpose. He's been geeking out on computers and electronics his whole life and has always wanted to open a coffee shop where geeks of every different interest can enjoy a cup of coffee together. He
"It doesn't matter what motivates your inner geek, we can still enjoy something refreshing together," he says.
In addition to Geek Coffee, Bell owns his own IT company, Bell Tech Pros. Geek Coffee is located at 2305 S. Townsend Ave., Suite D.
Montrose Business Times: Why the name Geek Coffee?
Joel Bell: We all have that one thing that drives us, and we are passionate about. Some of us have more than one. This is individualized to each one of us and is the fabric that defines our personality, characteristics, and in essence, who we are. Our inner geek drives our behavior and the choices we make in life. Your life will flourish once you find that inner geek. Personally, I geek out with technology every day and it consumes my life. My favorite part of the day is the first cup of coffee in the morning. It warms my stomach and my soul. How do you, geek?
MBT: What do you think sets you apart from other coffee shops around? Do you have special beans? Something else?
Bell: We have partnered with several companies to produce and roast a great cup of coffee. Our beans are roasted on the western slope and delivered weekly to get the freshest cup of coffee that we can provide to Montrose. We started our shop with coffee in mind. We have worked over the past year to fine tune our flavors and methods for brewing coffee and providing a great espresso experience.
MBT: How has Geek Coffee done since you opened, and how do you look to grow the business? Any specific goals?
Bell: Geek Coffee officially opened Oct. 1, 2022, after several months of refining the recipes for our lattes, cappuccino, frappes, smoothies, and chai. We are continually changing and fine tuning our recipes and how we deliver drinks. We are excited to see what experience we can bring to Montrose and the western slope, by not only delivering coffee and refreshing drinks, but also providing several food options. We are currently sorting out the food items we want to deliver, now that we feel we can deliver a great cup of coffee.
MBT: What's your favorite menu item?
Bell: A vanilla latte, hot of course. It's the way coffee was meant to be enjoyed. I look forward to enjoying that first cup every morning when I get up. On a hot, mid-summer day, my favorite menu item is the Mango smoothie. It reminds me of summer days down by the beach in a tropical country.
MBT: What's your favorite part of owning a coffee shop?
Bell: My favorite part of owning a coffee shop is waking up every morning and drinking a vanilla latte. I want to deliver the same moment to everyone else. It's that 5-minute break at the beginning of the morning, or throughout the day, that we can all take a second and enjoy the moment before getting back to our busy lives.