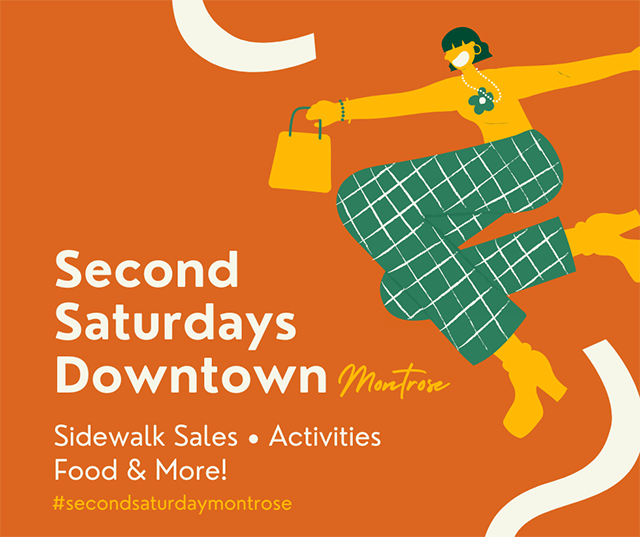 Business, News
July 12, 2023
FUNC Fest, block party and more
DART on Point
FUNC Fest, which is a fun and funky contraction of Fun on the Uncompahgre, is offering sponsorships of its events on Aug. 12 and 13 at Riverbottom Park.
You or your businesses can be featured in a variety of ways with an investment from $250 to $5,000 with exposure ranging from a listing on the FUNC Fest website to reserved space at the event. Contact Kaite Schroer for more information at kschroer@cityofmontrose.org or 970-252-4880. If you haven't experienced FUNC Fest yet, as a spectator or sponsor, make time to check it out this year.
Grand Opening
And there's a lot more going on in town. On the day of this issue's publication, Wednesday July 12, Tacos 2 Day is having its grand opening ribbon cutting.
Having graduated from a popular food truck, Tacos 2 Day now has a brick and mortar location at 1222 E. Main St. The official ribbon cutting is at 4:30 p.m.
Façade improvement
One of DART's functions to help improve small businesses in Montrose is its Façade Improvement Matching Grant Program. Through this program, businesses can get grants matching a portion of their own investment into their business facia.
Magic Circle Players has applied for just such a grant to renovate their theater with help from the city and Stryker. Together, the plan is to improve the awnings, windows, lights and to create an entirely new front entrance with a new marque.
It's a project that involves the building owner and Volunteers of America.
Other businesses in town have taken advantage of this program, like She She Boutique and Montrose Garage Doors. Learn more about this opportunity by contacting Michelle Wingfield.
Block party fun
Montrose is proud to host the Colorado Outdoors Block Party on Thursday, July 20 at 5:30 p.m. – 8:30 pm. There will be live music, food trucks, a beer garden, vendors, fly fishing demos, kids corner, etc. Everyone in the community is invited and encouraged to attend. There is no cover charge. Several businesses will be open so attendees can take tours.
Hashtag
And #secondsaturday is trending. Every second Saturday during the summer (June – August) businesses are invited to set up a sidewalk sale, live music, fun activity, or pop-up in front of storefronts to create a fun and lively downtown event.
Because so much is happening in our swanky little town, sometimes streets are closed to accommodate the participants and attendees. For instance, on Monday, July 24, Main Street will be closed from 4 – 8 p.m. for the Montrose County Fair and Parade. The road will be closed from Pythian on the east side to Rio Grande on the west. Make plans to attend—or make plans to avoid the area if you're driving that afternoon. A complete list of upcoming closures is available by contacting Michelle or going to cityofmontrose.org.
Join a committee
Finally, you are invited to join the Art's Committee! You just need to have an interest in amplifying the sense of place" in Montrose through public art. Reach out to Michelle if you are interested in joining.
DART (the Montrose Development and Revitalization Team) is designed to help Montrose businesses grow and prosper. Michelle Wingfield is the DART and Grant Coordinator. You can reach out to her at mwingfield@cityofmontrose.org.
DART meets at 8 a.m. on the first Tuesday of each month at The Community Room in the Public Safety Complex at 434 S. 1st Street. The meeting is open to the public, so come one, come all! Tuesday, August 8th will be the next DART meeting. Mark it on the calendar and come join us or join via Google Meet.
Joining Info: Video call link: meet.google.com/euw-qqdv-edn