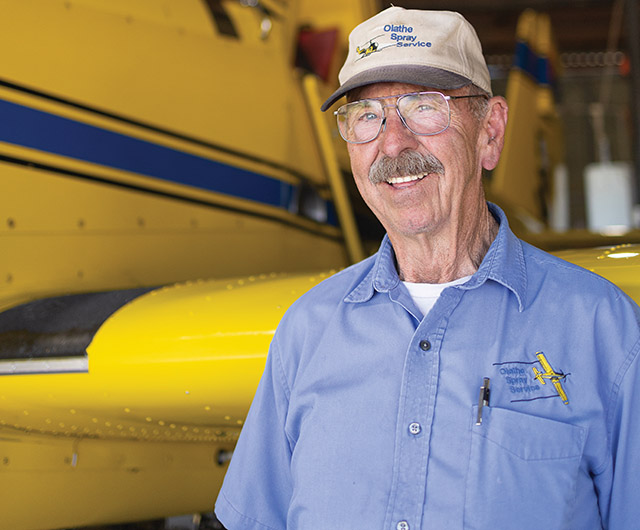 Leonard Felix has made a business out of dusting crops
Driving between Montrose and Olathe, you've probably seen a series of highway signs with a witty or wise expression to amuse you on your way. Well, those are courtesy of Olathe Spray Service, which has been a longstanding staple to farmers locally, and the healthy agriculture in the Uncompahgre Valley largely owes itself to their services.
They are the only local aerial applicator of pesticides and herbicides needed by farmers to keep their crops healthy, and have always emphasized the importance of responsible application, keeping people and pollinators safe.
Leonard Felix founded the company officially in 1972, but started flying agriculturally before that, in 1969. Asking the "chicken or the egg" question, agriculture came before flying for Mr. Felix.
An agricultural
upbringing
Raised on his father's farm, his father worked for the Producers Co-op in Olathe, and had a side business applying pesticides by tractor, with what is called a ground rig.
"One year, the pests were really bad in the sugar beets," Felix said. "And they had all their rigs out spraying the whiteflies in the sugar beets. I was fourteen years old and they needed another operator, and they had one tractor left, so they put me on that tractor. I went to Grand Junction, became a certified operator. And I sprayed sugar beets with that ground rig."
Following his beginnings in agriculture, the aviation bug eventually came to bite Leonard. And it was one bug he had no interest in getting rid of.
He explained how a woman from Rifle flying a crop duster spurred his interest. "While I was doing that, there was a lady who was a WASP(Women's Auxiliary Service Pilot) during World War II. And so I was out spraying beets with the ground rig, and I watched her go by and she sprayed a twenty acre field over there in the time it took me to do two acres, and I was there going "that's what I'm going to do." So that was my goal from then on was to become a pilot, and a commercial applicator."
Up in the air
Since then, Leonard has gained over 38,000 flight hours, making runs almost every morning in any of one of their three fixed-wing aircraft or their helicopter. He has also passed on the love of helping the agriculture industry to his sons, Seth and Devon, who are now two of the seven full-time employees.
OSS has always taken care to emphasize the responsibility with which they conduct their operations. This entails a variety of precautions, such as making calls to beekeepers with hives close to the fields they are spraying, using organic pesticides as much as possible, and using spotters on their field.
Spotters are something of the past for many applicators, but OSS still uses them to ensure the safety of everyone on the ground.
Seth Felix explained why this is an important part of their operations.
"I may not see a bicycle; I'm flying an airplane 130 miles an hour; I have a lot of instrument gauges I need to check and make sure the airplane is performing as it should. I've got somebody on the ground, on the road, watching to see if there's a bike coming, watching to see if there's traffic coming."
The company hires up to eight spotters each summer, and Seth said the business owes much of its success to this added precaution, whereas other applicators in the valley have been out of business at least 25 years.
How the business
is done
Leonard offered more on this, and how his philosophy on business has also kept him successful. "In 1972 the EPA came into existence and said we're gonna regulate this and make it better, and that's about the time I got really going in the business; I started in '69. But I had a different philosophy at that time too, I felt like it needed to be more of a prescription type thing, where each field; may or may not be pest related. That was my take on it; so a lot of those old applicators looked at it and said "if that's the way we're going to have to do business, we won't be able to stay in business, we won't do it." So they either sold out, or just quit and left."
Today, the only aerial applicators left on the Western Slope are Olathe Spray Service and Mountain Air Spray, in Craig.
His take on business has led to the hiring of a field inspector to go to prospective clients' fields when they call, and check for pests, to determine which products may need to be used, if any need to be used at all.
On this process, Leonard said, "They go out and check it out and see what the pest is. We practice good health for their plants…so if they don't need spraying, if there's not a pest then we'll tell them that. Or if it's something that they can do mechanically, or something they can do themselves rather than do an application job. But, the main thing…that we want to do for them is provide the best service we can for the money."
Even so, some people have had concerns about their operations, particularly about the altitude at which the planes fly. Most observers on the ground will recognize that most planes should not fly as low as they do over houses, fields, or highways.
But something the company wants everyone to understand is that not all aircraft operators run under an equal set of rules. Agricultural operators such as OSS operate under 14 CFR Part 137, which is some of the least restrictive flying of any certificate. Operators like them need this freedom to fly as low as they do, to effectively cover crops with their product.
Because of the low altitudes they fly at, the airplanes have manual-only controls, with no autopilot. "You're literally flying stick and rudder the entire time, from the time you take off to the time you land.", said Seth Felix.
Lots of flying
Flying since 1994, and with over 10,000 flight hours, the flight aspect is one of Seth's favorite parts of the business. He enjoys the old-fashioned manual controls and the leniency given by the FAA in the ways they can fly. "That was the big draw to me; more latitude to do what we need to do with this airplane.", he said.
Pest mitigation is Olathe Spray Service's specialty, but the business has been something of a "jack of all trades", using their aircraft for a variety of other uses. These uses have included spraying to control the invasive bush Tamarisk, which is known for draining water from rivers.
They've flown cowboys into the backcountry to find cattle, helped with search and rescue missions, and even ventured into firefighting.
The agricultural drop gates on the aircraft could be used to put out blazes, and at one time they often helped the Bureau of Land Management and United States Forest Service with wildfires. This kind of work constituted some of their most difficult flying, dealing with turbulence from the mountains that is uncommon in farmland.
Eventually though, the firefighting regulations became too much, things such as having to repaint their planes, or install computer-controlled fire gates. Accordingly, they don't do as much today, but are still able to help local counties and fire departments with smaller fires.
Helicopter Crash
As many in the valley know, the company did suffer a helicopter crash in August 2019.
Fortunately no great harm was done to Leonard, who was piloting it, but he did talk a little about the impact on the company. "It was a big loss for us. We had the money and still do, to replace the helicopter. We decided not to replace it at this time."
But that was just a part of the otherwise vastly successful history of the business. Having lived in the valley his entire life, Leonard talked about what crops he's seen grown here in the valley, many of which are no longer produced here.
Growing, and dusting,
 in the valley
"The sugar beets left, Coors left with their barley…the lettuce was here, the broccoli was here, the cabbage and the cauliflower, a lot of vegetable crops have been grown here, potatoes for instance. The potato growers, everybody's heard of them, but where's the potatoes? Well they aren't grown here anymore. And the main reason that was, was because of a disease that they couldn't control that got into the ground, and they came back forty years later and tried to grow spuds again and the disease was still there."
But what about those highway signs? The series of signs along Highway 50 out of Montrose has been popular among locals and visitors alike. Leonard explained why these started, and it's something of a "lemons from lemonade" situation.
He said, "Well that was predicated on an anonymous letter from somebody that didn't like what we were doing spraying at night. On the sweet corn, we do night applications to stay away from crews. This was a scathing letter."
Leonard and his crew wanted to get the issue into the public eye, so they decided to try out highway signs, inspired by the signs that the Burma-Shave company used from 1927 to 1963. On these, Felix said, "The first ones that went up were explaining why we spray at night. Then we had some other explanations about agriculture and about the flying, and then it just turned into a lot of fun. A lot of people liked it and they were looking forward to it."
But if any one part of the business is more popular than the signs, it would have to be the airplanes. Their crop dusting fixed-wing fleet is composed of a 1992 Air Tractor 401, 1996 Air Tractor 402, and a 1964 Piper Pawnee, which was Leonard's first dedicated agricultural plane, having previously used a Piper Cub, which is not designed exclusively for crop dusting. All of them are easy to spot, with their distinctive yellow and blue paint job characteristic of agricultural aviation.
Here's a great historical fact from Leonard, the crop dusting industry recently turned 100. It  started in 1921, with an interesting origin in Arkansas. "The Army did; Catalpa trees, with (Curtiss JN) Jennys; one guy flying it, and the other guy cranking the pesticide out. And they were using lead arsenic to kill the moths…that were decimating those trees."
Gunnison Clamp is a freelance writer and photographer for the Montrose Business Times.