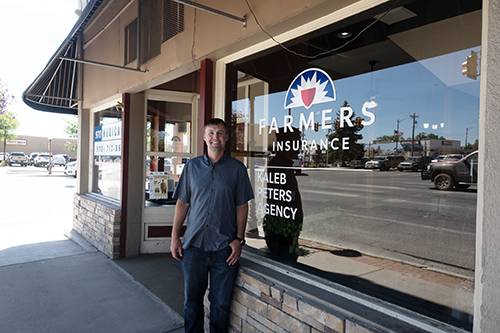 Business, News
July 6, 2023
Kaleb Peters, Farmers Insurance Agent
Kaleb Peters recently acquired the Farmers Insurance agency at the corner of Main Street and Townsend after Jesse Dryer, who still operates his Farmers branch out of Grand Junction, sold the business to him.
Peters, who lives in Montrose with his wife and two children, was most recently in the tire warehouse business. His family owned the Tire Dealers Warehouse in Montrose for 35 years and sold it two years ago.
He was a stay-at-home dad for the past two years but wanted to get back into running a business. He began researching the insurance industry and found it was similar to running a tire business in some ways, and not so much in other ways.
Peters took over the Farmers agency branch on May 1, retained all the staff and took off with the business that's new to him.
Montrose Business Times: What made your family sell the Tire Dealers Warehouse?
Kaleb Peters: When there was more competition moving in, we were the little guy. And we had kind of partnered for a couple of years with the company that we sold it to, and had a pretty good relationship with them. We just worked with them and worked out a deal that made sense for everybody. Sowe weren't actively saying we want to get out of this. But just being partnered with them and working closely with them. It just kind of happened naturally.
MBT: What made you want to get into the insurance business?
KP: With (my kids) getting a little bit older and starting to go to school, I kind of started looking for a job and found this opportunity that the agency was for sale. I really wasn't looking for insurance, but selling the business and having worked in a family business my whole life. I like having and owning a smaller business and kind of being your own boss. I just kind of started looking into it and said this might be something that's good. And then as I learned more about it, and got deeper into it just seemed like the right fit and something that I really wanted to do.
MBT: How's the transition from the previous owner to you?
KP: It's been a good transition. It's been nice to connect with the customers. And a lot of them I knew outside of this, I didn't realize that they were gonna be customers. So that's been kind of fun, and meeting more people has, too.
MBT: What kind of products do you offer?
KP: We do basically all the insurance products except for health. So, life, business, home, and we do financial services.
MBT: What have you learned so far?
KP: I've learned a lot about insurance. I didn't realize how much there was to know about it. And having been a business owner previously, you know, that a lot of things from tires kind of transfer over. Everybody has to have them. Nobody really wants to pay for it. A lot of the business part really transferred from (the tire business). It's just learning the insurance side of it. It's been cool. There was a lot of training beforehand, a big process before they would even approve (the sale). And all the staff stayed on, so that was good and helped coming into it kind — knowing a little bit and them, the staff has been very knowledgeable and helpful because they were here doing it before and are still doing it after the takeover.
Editor's note: The interview is edited for readability.