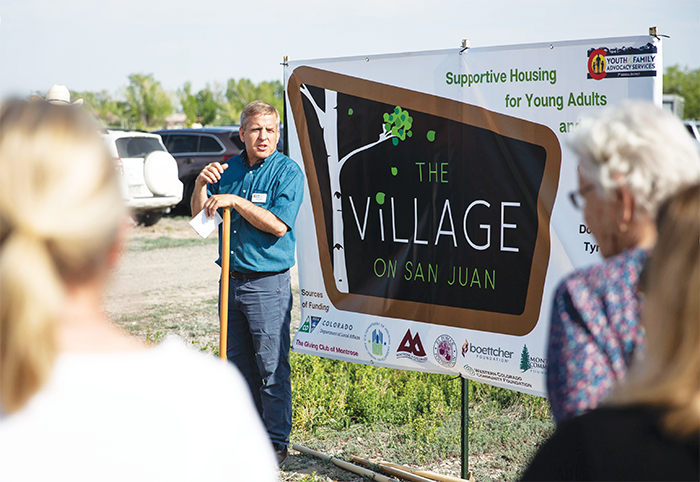 Intergenerational supportive housing project coming out of the ground
As motor vehicles traverse the San Juan cut-off between Main Street and U.S. 50/550 in downtown Montrose, a construction site, complete with heavy equipment, backhoes, trucks and various types of machinery are moving about the site.
The project is called The Village on San Juan, and last week, the City of Montrose approved a request from CASA of the Seventh Judicial District to waive sewer and water connection fees to allow the Village on San Juan project to move forward. The sewer and water waivers will abate an estimated $275,214 for CASA.
Carlton Mason is the Director of CASA (Court Appointed Special Advocates) here in the Seventh Judicial District.
Mason stood in the middle of this construction site for a groundbreaking ceremony last month, where 33 units will be built.
Many of the homes will be dedicated for young people, ages 18 to 24 who are clawing their way to adulthood leaving behind unsettled childhoods from the dark side. Others will be for seniors 60 and older who are at imminent risk for homelessness.
The project also includes 8 acres of land in a conservation easement for walking trail and outdoor activities. In addition, the project includes a 3,000 square-foot community building.
Dave Frank, a member of the Montrose City Council explained, "(CASA) approached the city and said they would like to do this supportive housing project. We recognized that we had a definite need, actually a housing crisis here in Montrose on housing and supportive housing specifically.  We took a look at the CASA project and asked for a little more information. We were inclined to support such a project but we wanted to be certain it would work."
Frank continued, "One of the things this group is trying to do is intentionally make the dwellings small to make the pathway to success a visible roadmap where one can establish oneself and then move on up the ladder of success to bigger and better things. They want it to be transitional, a stepping stone to more and better things. The program is simple but diverse."
Meanwhile, the construction site resembles a hive of activity.
CASA already has some transitional housing available for those in the area who qualify, including 1st Place on 2nd Street in Montrose and 1st Place on Palmer Street in Delta.
The Montrose 1st Place has four one-bedroom units and four 2-bedroom units.
In Delta, 1st Place includes six one-bedroom units.
The goal with supportive housing is to help youth have a place they call home as they achieve independence through "support, guidance and a stable place."
The homes are places where the youth can afford rent, pursue an education or training, receive financial education, a driver's license and a first job, according to CASA's website.
Cliff Dodge is a freelance writer for the Montrose Business Times