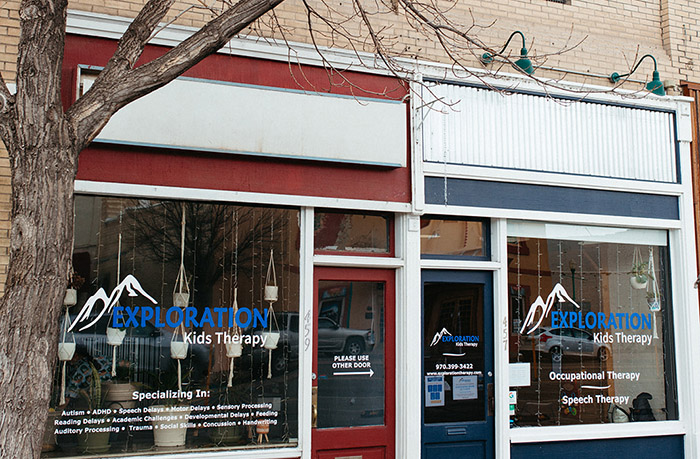 Business, News
June 28, 2023
April Christopherson, Exploration Therapy pediatric rehabilitation
April Christopherson is the owner of Exploration Therapy Group, a private pediatric rehabilitation clinic with offices in Gunnison and Delta.
Christopherson started the business in 2018 after a 2017 cancer diagnosis that pushed her to reflect on her life and the legacy she'd leave for her loved ones.
An Olathe native, Christopherson studied pediatric occupational therapy in college and started her career in the Illinois school system before moving into the Easter Seals Foundation once she gave birth to her first son.
A wife and a mother of four children, she saw a lack of pediatric rehabilitation clinics in the area where she grew up. The growth of her first clinic in Gunnison happened fast as word spread that there was local support for children with autism, ADHD, down syndrome, trauma and developmental disabilities.
By the end of 2020, the business outgrew its capacity, and in March 2021, Christopherson opened her second location, in Delta.
In addition to owning the clinics, she offers private consulting services to other professionals who want to open or grow their own clinics. Christopherson writes and teaches continuing education courses focusing on pediatric neurological rehabilitation and has been a speaker at several national conferences.
She has had the opportunity to travel and teach in South Korea and Japan with private companies who manufacture neurological rehabilitation tools. You can read more about her business at ExplorationTherapy.com.
1. What's the most rewarding part of running Exploration Kids Therapy?
Seeing the progress of the children and supporting families who are struggling is a great reward of this business. To give hope to a child and to see them gain independence in all areas of life is why we do what we do. We also offer the opportunity for high school and college students to observe and gain knowledge in the field of pediatric rehabilitation. Watching a student learn and then supporting the student through their education journey is a very rewarding experience and guarantees the continued growth of the allied health fields in rehabilitation.
2. How many clients do you currently see? And how would you like to see that number grow?
Since opening our first clinic we have served over 500 children and now currently provide services to over 200 families. We are limited only by the availability of staff and are hoping to increase our capacity as we hire new therapists. We are considered medical based care and bill both Medicaid and private insurance for services that are approved. We have ventured out the past two years and, when able, offer nature-based therapy and hippotherapy (use of equine for therapeutic interventions) during the summer months.
3. Have you found there are enough services for special needs children in Montrose and the surrounding area? How might this area service children with special needs better?
The Western Slope is not alone in its need for additional service support for special needs children. If you travel to the Front Range, there are multiple offerings of clinics and many choices for families who need private therapy.  The schools in this area are well staffed with therapists who provide services ordered through Individual Education Plans – however, some children do not qualify for an IEP and/or need additional services outside of the school setting.  Bringing in private services that are available to children who have unique needs will always be a challenge in the rural areas of Colorado.  By stepping out and providing the first direct care, private therapy for children with varied needs, we are seeing additional support services grow in the areas of Mental Health, Behavioral Health, and Physical Rehabilitation.
4. What are some of the specific services you offer, and what are the most common needs you see in children?
​We provide occupational, speech and physical therapy services to children who have delays in development (i.e, motor and language development); birth defects or genetic disorders (down ​syndrome, cerebral palsy, Prader-Willi, etc.); physical/emotional abuse and trauma, cognitive delays, speech delays, autism, ADHD, sensory processing delays, feeding and more.
5. Anything else you want to add about what you do, or your business?
We love being a part of the small communities of the Western Slope and are excited about the opportunity to support the people in these areas. Working with other service providers such as ​the schools, medical clinics, physicians, social services, etc. is one of our priorities. We have a strong desire to not only provide therapy but to also support other agencies and providers of ​therapy services on the Western Slope. We all win when we work together.