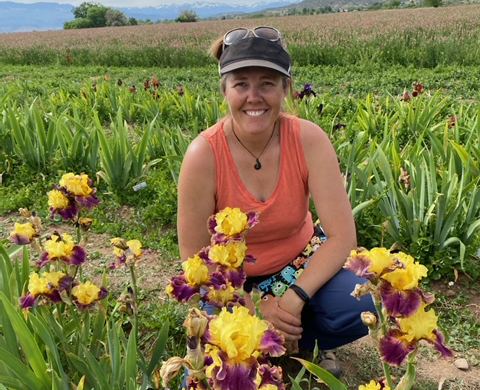 Ripple Effect Iris Farm has over 1,000 varieties that customers can buy
If you haven't been up to the south end of Spring Creek, you probably don't know about the Ripple Effect Iris Farm. Sadly, it's too late to witness the full glory of the iris field this year. Next year though, mark your calendar for the end of April to mid-June, which is the beginning of the iris blooming season. You'll want the opportunity to witness the delightful sight of brilliantly colored irises shimmering on two acres of land.
The timing of the bloom is based solely on weather. Because of the past cold winter, the bloom was two weeks late this summer. Usually the bloom season lasts around 2.5 weeks.
The farmer entrepreneur
Heather Stark describes herself as an entrepreneur. "There is nothing better than working for yourself," she stated.
She does the bulk of her business through social media, networking and referrals. "We have about 1,000 varieties that can be ordered online, April through September 1," Stark explained. "This year maybe 500+ varieties, which will allow the stock to grow." To order irises online go to RippleEffectIrisFarm.com.
But being the chief cook and bottlewasher, so to speak, requires hard labor. In her early 40s, tall and athletic, Stark works long hours on the two-acre "patch."
In 2020 she was given the opportunity by her family to start her business. Her father, Robert Eckman, 82, before retiring was the Montrose school psychologist; her mother, the late Arlene Eckman, also worked for the school system, first as a P.E. teacher, then as a librarian before retiring.
Heather Stark helped her mother as she grew up and fell in love with the iris flower. When her aging mother could no longer handle the workload, she took over her responsibilities.
Two years planting 12,000 rhizomes by hand
From 2020 to 2022, Stark planted 12,000 rhizomes in 1,000+ different colors. According to the Britannica dictionary, a "rhizome" is also called creeping rootstalk, a horizontal underground plant stem capable of producing the shoot and root systems of a new plant. Rhizomes are used to store starches and proteins and enable plants to perennate (survive an annual unfavorable season underground)
Stark built up her first iris patch by bartering her thinning services to iris patch owners around the area in exchange for a number of plants. When she decided to build a farm, she traveled to Pueblo, Arkansas and Denver to dig up 12,000 irises in 2020 and 2021 and replanted them in her farm.
It takes one to three years for a saleable mature plant to bloom, about 2-3 years from a seed. However, not all irises grown from seeds meet the criteria of a saleable and registered iris. It takes nine years from seed to propagation, judging by Iris Society members, to the sale of a new variety.  There are currently around 60,000 registered irises, some dating back to the 1800s.
Did you know there are different heights of iris? Stark sells dwarf irises all the way to tall irises. Her website is set up by style as well as color for every landscaper's needs. The plants are drought tolerant but need to be watered. Stark "flood irrigates" her iris field every three weeks. However, if they get watered every day and the soil drains well, they can grow well in the daily watering.
Paying it forward
Stark hopes to be able to hire moms with kids to work on her farm as the business grows. "To give moms the ability to work and not have to pay for childcare is a huge blessing," she said.
Before becoming an iris farmer, Stark worked for 12 years as a teacher, mostly at Johnson Elementary. As an entrepreneur she also sells health products on her online wellness website. She always strove to help others whether with health and wellness supplements or sharing the beauty of the flowers.
The Ripple Effect is how she describes the goods she offers. "To have a ripple effect on the community," she explained, "whether it is with my faith, flowers, health or love." Stark is an avid fisher, which also plays into that "ripple" name.
She belongs to a close knit old Montrose family. Married to Rusty, a wildland firefighter, they have two daughters, Tegan, 10, and Mckenzie, 8. Her sister lives within shouting distance of the farm, and their father Bob, lives on the property. Rusty, Heather and the children live east of town and her brother lives in Cobble Creek, just below their land.
Stark home schools her daughters: "They learn in an environment that is productive and educational and do some work with the plants," she said. On the farm, she is teaching her girls botany and how to hybridize the iris to make new colors. "The girls know the types of iris and are the tour guides when the field is in bloom. Our world is a great place to learn," she said. "You just have to get outside and look around."
Mavis Bennett is a freelance writer for the Montrose Business Times.