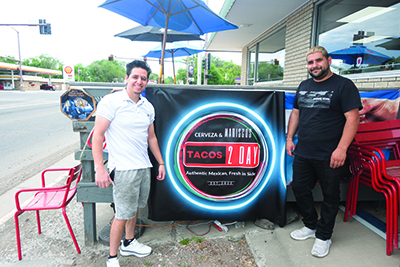 Popular taco stand reopens as restaurant Tacos 2Day
A local favorite taco stand has reopened with a permanent storefront.
Brothers Luis and Irving Macias two weeks ago opened Tacos 2Day, which previously did business as Lonchera Dos Hermanos in the parking lot of the Montrose Home Depot.
Tacos 2Day, located at 1222 E. Main St., serves tacos and mariscos (seafood), like ceviche.
"We didn't know where it was going to go," Luis said of the original business, a food trailer. "But what it led to was really good. Everything went really well with it."
Luis and Irving have worked in kitchens and restaurants all over the West Slope and beyond. Originally from Chihuahua, Mexico, the brothers both moved to Colorado and attended Ouray High School. They gained their experience over the past 20+ years or so as they've worked in restaurants as far away as the Netherlands.
Lonchera Dos Hermanos was their first joint business venture, and it went better than they could have expected. But their success was a credit to their experience, their passion for cooking and their business savvy.
Opening a food trailer
They found the food trailer in Delta, bought it, then invested in replacing everything inside. They worked out of a parking lot, but Luis said they ran it like a real restaurant. They had a tent and seating outside, and they ran their trailer like a commercial kitchen you might see in a brick-and-mortar restaurant.
"We started building it up little by little," Luis said. "We spent like three months that winter just to get it built, and we started in. We were like 'yeah, lets's go for it.'"
The owners of the parking lot were OK with them parking there, for which they said they were grateful. They picked that spot after doing research on the busiests parts of town. They wanted to be south enough that they could capture traffic from Telluride and Ouray; but it's also a good spot in that it's close enough to the center of Montrose.
They understood the two most important things in serving food are flavor and service. They strove to do well with both, and soon it paid off.
"Most people don't realize, but we worked it like a restaurant," Luis said. "We had our hours, and they were from 11 (a.m.) to 7 (p.m.) every day, no matter what. We never closed when our business hours were set."
They also utilized the internet. Their food was available on DoorDash and more, which helped increase their footprint in Montrose. You could be on the other side of town and still have Lonchera Dos Hermanos food.
"It is a food truck, but then again, it was like a physical location," Luis said. "So people always knew where we were."
When they realized they were outgrowing their trailer, Luis said, they were doing about $40-$50,000 a month in sales.
Then two months ago, they closed the food trailer. Customers around town wondered where they went. A sign on the trailer told customers they would be reopening on Main Street.
A new era
The food trailer was only open for about 2.5 years before they decided to open Tacos 2Day. The new space allows for more cooks as well as servers and food runners.
Their goal is to run Tacos 2Day like a sit-down restaurant, and their first two weekends, without any advertising, were busier than they expected.
A post on the Montrose Message Board alerted taco lovers to the new location, and they weren't quite ready; but they accommodated everyone with a limited menu during that soft opening.
Most of the Mexican food you see in Montrose and in Colorado is Southwest style or Tex-Mex, and the Macias brothers wanted to have more authentic Mexican flavors.
The name Tacos 2Day, Luis said, was an idea to make their restaurant more accessible.
"Most of the Hispanic community understood (Lonchera Dos Hermanos), but then again, the rest of the community didn't necessarily," he said.
Prices at Lonchera Dos Hermanos are reasonable. You can get four of any of their tacos for $15. They also serve beer and have a patio.
In total, they have seven people working at Tacos 2Day, including themselves.
Future hopes
Luis said his real passion is fusion food. He said he likes to marry flavors from different cultures together. One day, ideally, he would own a Mexican-Korean fusion restaurant.
For now, they're content with what they have. But that doesn't mean they're without goals.
"In two years, I hope to have multiple branches," Luis said. "But we are going to take it at a slow pace for now. We hope to be able to move into a bigger location."
In 10 years, they hope to be in the "Big Leagues" of restauranteering. They want to be able to present their flavorful food to as many people as possible.
"We just enjoy being able to make people happy by serving them food," Luis said.
But they'll be flexible along the way.
Luis' favorite saying is "be like water," which comes from legendary martial artist Bruce Lee.
"If water is in a teapot, it becomes a teapot," Luis said. "It can bend and take shape to wherever it is. And that's what I try to do."
Justin Tubbs is the Montrose Business Times editor. He can be reached by email at justin@montrosebusinesstimes.com or by phone at 970-765-0915 or mobile at 254-246-2260.