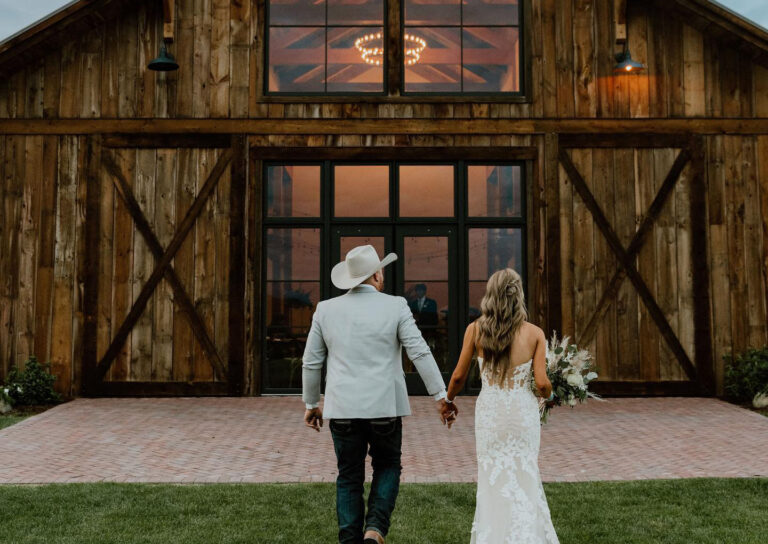 Montrose is a destination for weddings this summer
If you need to understand why Montrose has in recent years been deemed a wedding destination, you need do no more than look to the south horizon.
Those in the industry have cited the scenic views, the mild climate and the abundance of outdoor recreation opportunities as reasons people make Montrose and the surrounding area their destination wedding spot — and the reason locals decide to keep their wedding… well, local.
Those busiest with weddings this time of year (besides brides and grooms) are those who work in the wedding industry.
The market size for the wedding industry is $70.3 billion in the United States as of 2023, and there were more than 2.4 million weddings in 2022, more than 6,000 weddings every day.
In Montrose County, specifically, there were 279 weddings in 2022, and couples spent an average of $23,236 on those weddings, meaning the wedding industry just in Montrose County (not counting surrounding counties), accounted for about $6.4 million in sales, according to The Wedding Report.
That's just sales for weddings. It doesn't account for the people who visit to attend those weddings, the hotels they use, the places they shop or the recreation they spend money on.
Finding a venue
Tara Teeples, who owns Storm King Mountain Ranch up on Buckhorn Road with her husband Neal, said her venue sees at least 800 people a month, including wedding parties and guests.
Last year was their first year in business, and this will be their second full season.
"People come from Denver, Houston, New York, California, all over the midwest Canada," Tara said. "I've even had people from Australia."
They built the venue on Buckhorn Road, which is on 200 acres of land and includes a barn for the wedding ceremonies and receptions. They also host charity events, such as the Peer Kindness fundraiser held last year. But their main reason for getting into business was for weddings.
"We did some market analysis and it just made sense," Teeples said.
On average, people who have their wedding in Montrose County will pay in the thousands for their wedding venue, including $2,937 to rent the venue, more than $3,000 to feed the party, around $2,200 for bar service and $1,482 in rentals, like tables and chairs.
And Storm King Mountain Ranch is just one of several venues in the area (it's much more expensive than the average, usually more than $10,000 just for the day).
Other venues can be outdoor fields, which can cost little or nothing.
Montrose as a 
destination
Sarah Hall is also in the wedding industry. She is a natural light photographer whose niche is weddings. She said about 75-80% of her business comes between the end of May to about October.
She says people choose Montrose because there are destinations all around. On average, people pay around $1,400 for a wedding photographer in Montrose. That doesn't include engagement shoots, photo booths or videographers.
"There's two types of weddings with the industry here," Hall said. "You have like really bougie, ritzy high-end weddings toward Telluride, but then around here locally you have all these cute little barn weddings. So you have a little bit of both worlds."
She said her business is directly linked to places like Storm King Mountain Ranch.
"Ever since they opened, they've been doing great marketing, and I've had more destination weddings," she said. "It's a little different and not something I've seen much of before in the past. I've seen a lot more people who don't live around here decide to get married here."
Other costs when it comes to photographers includes things like boudoir shoots, for which Hall has an in-home studio.
Montrose has it all
Montrose is even complete with makeup artists and wedding dressmaking and alteration.
Hannah Hamilton knows about weddings. She's a dressmaker who owns Hannah Hamilton Designs.
She attended the Savannah College of Art and Design in Georgia and eventually found her way back home, in Montrose. She didn't think she'd be here.
But by luck, a local dressmaker and alterer retired. Hamilton inherited all of her clients, contacts and everything else. She's busy all summer now. Normally, her season begins in May, but this year she started even earlier, in March.
Her shop is located at 12 N. Townsend Ave., and she has a steady influx of business all throughout this time of year.
"I really do love what I do," she said.
Part of being in the industry, she said, means being invited to weddings. Going to those weddings can be tough, though.
She said people expect to look perfect on their special day, and she expects them to look perfect, since it's her work on display.
On average, someone in Montrose will spend close to $2,000 on a wedding dress. Hamilton mostly does alterations, and her prices are a fraction of what you find on the front range or in Grand Junction.
Other wedding costs
Other costs for weddings include entertainment. A DJ goes for $1,000 on average, and a live band can cost upward of $2,500, according to the wedding report.
Flowers can cost in the thousands, including bouquets, wedding venue accessories and more.
Justin Tubbs is the Montrose Business Times editor. He can be reached by email at justin@montrosebusinesstimes.com or by phone at 970-765-0915 or mobile at 254-246-2260.