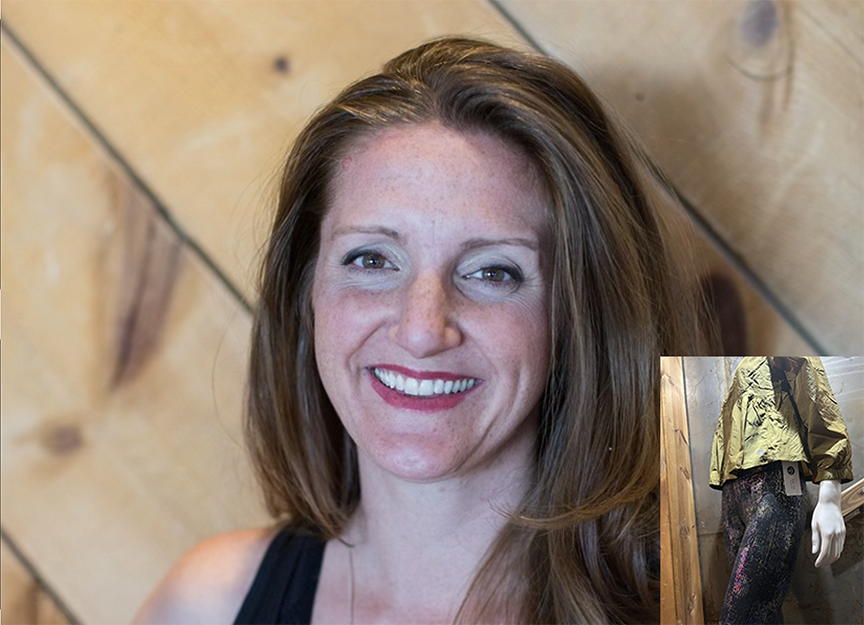 Business, News
June 21, 2023
Lindsey Blanchard, Mont + Rose Active clothing line
Lindsey Blanchard is the owner of the clothing brand Mont + Rose Active. She started the business as an extension of her Pilates studio, J Pilates, in 2021. She and her family officially moved to Montrose in 2020, but they have been traveling back and forth to visit family for eight years.
Her family purchased Hypoxia and knew it was an opportunity to move their three boys — 7, 9, and 11 — to "one of the most adorable little towns" and to be closer to family.
"Once we took over Hypoxia, COVID hit and I was forced to move some of my Pilates Reformers (machines) from my old studio in Texas to the basement in Hypoxia," Blanchard said.
That is where she started, at first, teaching virtual lessons. Once shoppers started to notice the equipment in the basement, they started asking if she taught live classes.
She eventually had five Reformers in the basement of Hypoxia and needed to grow into a space that met the high demand. Now, she has her own space in the building that shares an alley with Chow Down located at 10 S Park Ave.
Typically, J Pilates holds classes Monday – Saturday, depending on instructors and schedules with her kids, anywhere from 5:30 a.m. to 5:30 p.m., offering Pilates Reformer classes as well as Barre.
The family also owns Double Barrel Taco Co.
Montrose Business Times: What made you want to start your own brand? And what kind of activewear do you sell?
Lindsey Blanchard: I had been a wholesaler for Lululemon, Alo and other active clothing lines for about seven years, selling those brands in my Texas studio to my Pilates clients, as well as walk-in clients looking for yoga, tennis, golf, running, hiking and athleisure wear.
When COVID hit, it made it nearly impossible to get new products due to everything shutting down. So, I decided to start designing my own line and reaching out to manufacturers directly. I started small, with just a few leggings, skirts and womens tops for fall 2021. I sold the product in my old Pilates studio in Texas and here in Montrose, at Hypoxia. The line did very well and I had some great feedback. So, I added more product for spring 2022 with additional skorts, shorts, tops, dresses and jackets.
MBT: What is your activewear most useful for? Indoors/Outdoors?
Lindsey: Mont + Rose Active currently targets active women looking for a flirty line for any athletic adventure or athleisure wear. The line may be worn indoors for yoga, Pilates, cross-fit, cycling, or anything fitness oriented. It can be used outdoors for sporting events, golf, tennis, pickleball, hiking, running or could be dressed up for a night on the town. This line is very versatile.
MBT: Why Mont + Rose? What's the inspiration for that name? And what is the feeling/attitude you hope to convey with your brand?
Lindsey: It's funny, we heard some people here calling the city by two different names and quickly found that there was a longstanding debate on pronunciation. Brainstorming we thought it would be fun to break up the name Montrose and add a plus sign between, thus adding a little fuel to the debate. We wanted the name to be creative, fun and to portray a little flirtiness. I wanted to create a line that would help promote fitness all while giving women the sense of looking good while they wear my line.
MBT: Where can you find your products?
Lindsey: At the moment, my line can be found online through my website: montroseactive.com or at Hypoxia, located at the corner of Main Street and Townsend.
MBT: How do you hope to grow the brand?
Lindsey: We are currently working on putting together a gym line, golf/tennis/pickleball set, and boutique line to travel to surrounding cities and open up Wholesale accounts. We are also looking to dive a little into men's wear in the near future because it is a growing market and we see more and more gents wearing Lulu.