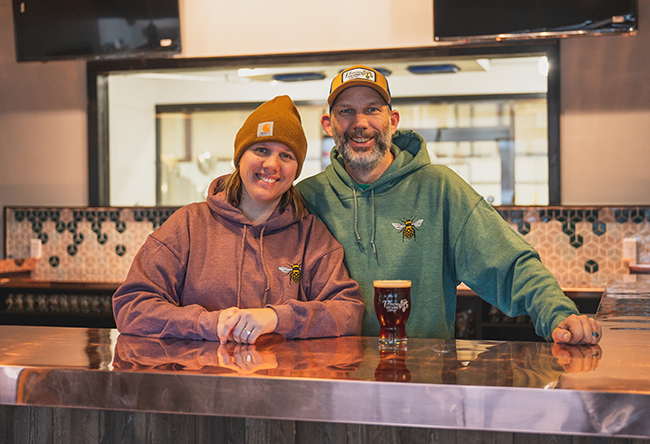 New brewery exceeds projections in first few months as it works with other businesses
When Kevin and Chelsea McHugh opened their new brewery, they didn't quite expect the success they have had up to this point.
Pomona Brewing Company opened for St. Patrick's Day weekend, a project that had been in the works since they rented their space at 830 S. Townsend Ave., the former home of Castle Auto Sales, and started busting down walls to reconstruct it as it is now.
Hundred of thousands of dollars in investment later, the brewery is doing so well that Kevin, the brewer, is doing his best just to keep the beer in stock.
On Thursday last week, he had all four of his fermenters full, getting beer ready to put on tap. But it's not so easy.
By any projection the McHughs did when considering how busy they might be, they never could have expected the beer to fly off the shelves the way it currently is.
As a business, that's a good problem to have.
With his Otter Pop IPA alone, Kevin is going through 14 kegs every two weeks. Each keg holds 124 pints (you do the math).
"It's by far beating any projection we had," Kevin said. "Of course you're conservative when you're doing a business plan, but we didn't expect this."
They've sold about 200 barrels of beer total since they first opened.
"Annual production, I was hoping to hit 4-500 (barrels), and I think we should hit that for sure," he said.
But that's not the only place they've exceeded expectations. They expected to have about four people on staff, including bartenders and kitchen staff.
They have 11 total employees, about half of which, they said, are full-time. They say they couldn't make their business work without the hard work and dedication each of their employees put into the business.
But even with their staff and their large investments, Kevin noted how his way of doing business doesn't exactly involve having all the nicest equipment.
He'd rather be brewing on a 10-barrel system instead of a 7-barrel system for instance. There are some pieces he could have spent thousands on, he explained. But maybe only needed a used piece that cost him in the hundreds.
He styled that after famed brewer Tom Hennessy, who calls it "Frankenbrew" because of the way different pieces are pieced together like Frankenstein.
The beer, however, doesn't taste pieced together. If there's one thing Kevin McHugh understands, it's how to craft good beer.
Humble beginnings
Chelsea helped explain how her husband first got into homebrewing (where any eventual commercial brewer begins), and remembered how the two worked together in the veterinary industry.
"And then as time went on, he got really, really, really good at it," she said.  "He understood about pulling those raw ingredients and just making something that worked."
Friends and family told them how good the beer was. With enough egging on, and a passion for beer, they eventually made that happen.
The McHughs' operation was previously part of San Juan Brews. But the system was too small there, and they wanted to brew more. They got out of business with San Juan Brews and started their own.
They are now in 4,000 square feet of space.
The space
Kevin and Chelsea wanted to bring some of the big city brewery feel to Montrose. There's nothing quite like it around here.
The building has a raw industrial feel, but it's also very clear when you first pull up to the building that you're at a brewery. Picnic tables outside line the 4,000 square-foot building, where you can see the brew process in action. Fermenters holding the product that will eventually go into the consumers' glasses are visible while playing darts, or foosball, or shuffleboard.
The main room can seat a little more than 50, but the outdoor space allows for even more.
Kevin, a sports fan, doesn't want to turn the building into a sports bar, but he wants the place to be a gathering spot for sports fans. They were getting ready to air game 4 of the Nuggets vs. Heat NBA Finals.
They are avid football fans and want to be a place to watch NFL and college football also, come fall.
With a city grant, they were able to build out a full kitchen. They have sandwiches, chicken and waffle fries. Kevin talked about wanting to eventually add wings.
Collaborations
Part of the McHughs' philosophy is to work with other businesses — local ones, specifically. And they've made good on that philosophy so far.
They've partnered with Colorado Boy on a special seasonal beer. They have also worked with Storm King Distillery to help with a single-malt whiskey. (Brewing and distilling are very similar up to a point.)
If you go on their Facebook page, you'll even see where they are looking for local producers as they use various ingredients in their beers.
"So we're going to do spring, fall, summer and winter (seasonal beers)," Chelsea said. "And each one is going to pull something from somebody different, whether it's, you know, squashes to berries, to whatever."
Kevin clarified how it makes a better product and it helps other local businesses.
Aside from local businesses, Kevin has already stayed true to his homebrew roots when he invited the Black Canyon Homebrewers Assocation to use his equipment for a Big Brew Day.
Some of their beers, they said, will even go to help various local charities (the brew with Colorado Boy already did that).
Kevin and Chelsea expressed the importance of being part of the community and working with others while being a place to gather, drink good beer, and hang out.
And if the first few months are any indication, that vision seems to have come to fruition.
Justin Tubbs is the Montrose Business Times editor. He can be reached by email at justin@montrosebusinesstimes.com or by phone at 970-765-0915 or mobile at 254-246-2260.