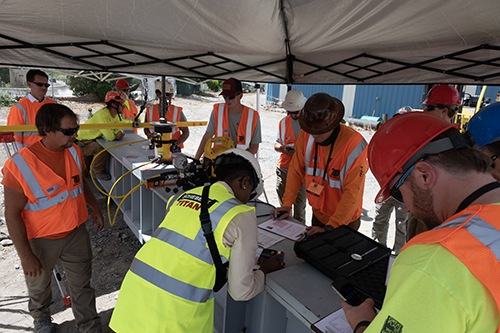 Local drill manufacturer invites people from all over the world to learn about products made in Montrose
This past week, a local manufacturer hosted people from all around the world.
You probably didn't hear about it as it was happening. That could have something to do with the fact that TEI Rock Drills is a big company (but you mostly don't know about it unless you're a civil engineer). But it could also do with the fact that its CEO, Sue Frank, is as humble as they come.
As she operates a $14 million-a-year company (it started in 1988 and did about $4.5 million in sales at that time), she doesn't brag too much about all that TEI does. She also doesn't brag that each year, 32 people from all around the globe come to Montrose just to go to school… Well, not exactly school.
Wednesday and Thursday, TEI brought in folks who use their products to teach them how to properly use them.
"By the end of this, they know everything there is to know," said Billy Aller, vice president of sales for the company.
TEI Rock Drills are used all over the world. Most of the time, they're used in civil engineering. Think, digging portions of tunnels or drilling into the side of a mountain.
The products are used as far as Australia and Germany. Closer, and more recently, they're being used in the Grand Canyon currently for a project with the Army Corps of Engineers. Other projects happen at the bottom of the ocean.
Closer to home, they're used to drill into the sides of mountains to hold them together as people pass by on highways, like the Million Dollar Highway.
All of that action (and all of that business), and many don't realize it all begins right here in Montrose. For many, it was all beginning this past week. Many contractors, construction companies and more buy TEI Rock Drills. But they're specialty drills, as Aller explained it. Are there special projects the drills are used for? Well, yes, he says. They're all special projects, in a way.
TEI's drills are different from many other rock drills in that they're smaller and built to work into tight spaces in some instances (other specialty projects in other instances). They dabble in building custom drills for custom jobs. But most jobs can be accomplished with the company's core products, which are built, constructed and sold by TEI's 40 employees.
"We normally have a company out of Germany (which supplies the hollow bar for the drills), and then we have the grout plants (which grout hollow bars into the ground) here each year," Frank said. "The course is taught by certified civil engineers. They send their drillers here so they know how to properly test it and don't have failures on their jobs."
On Wednesday, they got to try the drills out.
That entails drilling a piece of hollow bar into the ground and running grout through that hollow bar. The grout clears out rock and debris and sends it up through the hollow bar, solidifying the ground that is drilled and leaving it more stable than before.
That's essentially the process. It's a lot cooler when it happens in person, and it's nothing like you might have seen in that movie "Armageddon," Aller said.
There are only 32 people in the school, because they try to have one teacher for about two students. All the students get to actually use the drills by the end of the week.
Friday last week, most of the students went home after participating in the school. All
Justin Tubbs is the Montrose Business Times editor. He can be reached by email at justin@montrosebusinesstimes.com or by phone at 970-765-0915 or mobile at 254-246-2260.
Correction: A previous version of this story listed TEI Rock Drills' annual revenue incorrectly. It has been fixed to show it is $14 million.