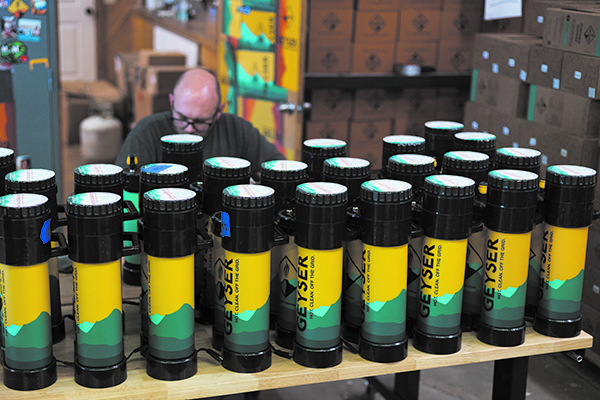 To fight water crisis, local startup makes showers using less than a gallon of water
"I am asked all the time if we just give our Geyser Systems to brand ambassadors and outdoor enthusiasts to test in the field and report back," says Jonathan Ballesteros with a smirk. "No, I say. I live in a trailer that has no running water. I use my own product every single day."
That's a bit of unexpected trivia from the founder and CEO of Geyser Technologies, inventor of its flagship product, the Geyser System portable shower. He was also voted Austin's No. 1 Extraordinary Gentlemen (but that's another story).
This story begins a few years ago during an extended camping trip through the Australian Outback. After earning his engineering degree from Texas A&M and an MBA from University of Texas at Austin, but tiring of the corporate grind, Ballesteros set out to refocus Down Under. There, thousands of miles away from his eventual home right here in Montrose, Colorado, Ballesteros invented, out of necessity, what would become the Geyser System portable shower.
"I had a blind date. I was stinky, dusty, and sweaty and about five days away from my last shower. With only one small bottle of water and a rag, I had an epiphany," he said
That moment of clarity would test his engineering prowess to develop a patented portable shower system that uses only four-fifths of a gallon of water. Don't scoff. Demonstration after demonstration (not to mention his own daily use) has proven that less than one gallon is more than sufficient to completely clean the human body — no matter how dirty it is — using Geyser's proprietary technology. There's even a video on his website — actually, it's on a lot of websites — of Ballesteros himself using a Geyser System shower to get tidy after being covered with five gallons of mud, five gallons of sunscreen and soaked in all things colorful and dirty.
Later, a heated version was conceived that can provide a hot shower to anyone, anywhere, at any time of the day or night. The system is powered by a vehicle's standard 12-volt plug and heats the 0.8-gallon reservoir in minutes. Water flows with help from the pump through tubing and into a specially designed sponge. The metered water flow through the sponge is the key to water savings and cleanliness.
After a grassroots Kickstarter fundraising campaign in 2018 generated $62,000 of seed funding, Geyser Technologies earned the chance to pitch to REI, and now, Geyser Systems are sold through 146 stores.
It's a top rated product with 4.6 stars and 570 reviews. But Ballesteros needed a place to scale up his invention. He needed manufacturing, to establish roots, and to create a headquarters to call home.
The consummate engineer, he developed a spreadsheet of possible spots in Colorado — color coded and conditionally formatted for things like the cost of living, days of sunshine, access to raw materials and skilled labor, as well as for the willingness of the city to collaborate.
Montrose came up green in every category, and so the Houston native packed his Land Cruiser — the same truck that started it all in the Outback — and came to the Centennial State. He found a small warehouse off 6450 road for his R&D and manufacturing HQ and bought a 26-foot trailer, parked right outside the office, which is presently his home. Today, Geyser Technologies employs nine full-time workers, including Jonathan's wife, Lisa, and two part-timers. During a visit to the shop, Vonne, Henry, Josh, Lee, and the rest were busy assembling Geyser System showers, water testing, packing, and readying to ship them all over the country and to Canada and Australia, while classic rock music filled the space and next steps were being discussed.
In 2020, Jonathan made a pitch to the Montrose City Council for an incentive grant. Only one person on that board had reservations about assisting Geyser Technologies with its mission to bring 100 jobs to the city within five years and to develop its products right here at home. The grant was overwhelmingly approved, but not before Ballesteros responded to a pointed query about why other investors hadn't been secured.
"Geyser Technologies does not accept investment from venture capitalists," began his reply, "Those guys want 10-times return on their investment in three years."
Roused, he said, "I recognize, as CEO and the founder of this company, that the community is investing long term in us. We have a fiduciary responsibility to the community of Montrose to stay here, to bring jobs here and to keep our voice and our vote here. To steer the company in the interests of the community, not VCs who seek to profit and probably put jobs overseas."
Unlike other employees who are paid more, Jonathan earns $13.75 per hour. Until those 100 new jobs are realized, Ballesteros, the educated engineer and owner, earns enough to keep rolling out new products and developing his crew. He is down for the same sweat and grind. "My crew eats first," he says, a nod to the Simon Sinek book, Leaders Eat Last, and an insight to his approach to management and leadership.
Last month, to help Ballesteros get to that number, his company was awarded $100,000 from OEDIT through the Outdoor Recreation Industry Impact Fund (ORIIF). The grant is intended to help startups get to and retain 100 employees. Geyser systems was one of 24 recipients to receive the grant.
Ballesteros' leadership has brought a new business here with the promise of jobs and a unique product line able to boast, "Made in Montrose." The original product, the Geyser System portable shower, is available with or without a heater and is undeniably positioned for the 1%'ers who want to camp out in the remote wilderness, but with some conveniences of home. However, there is more to this story.
Ballesteros and his team are out to resolve the water crisis in the western states. They are launching the Geyser EcoShower to save water at home. Normal showers require on average 17.5 gallons of water.
With the Geyser EcoShower, people can take showers using less than 2.5 gallons of water. "This is disruptive in terms of water, time and money savings. Most water bills in San Francisco are around $150 per month. We're reducing those water bills significantly with a product that's reasonably priced and wonderful to experience." With each Geyser EcoShower come Geyser Mini-Soaps that are inserted in the sponge and enhance the aroma of the water coming out.
"Our intent is to deliver an extraordinary experience that surpasses a common, everyday shower head," he said. Don't worry; the Geyser EcoShower leaves room to keep and continue using your existing shower head when extra water is needed.
An even more urgent and enormous need exists by first responders and the public suffering from the immediate impact of natural disasters or emergencies where water is scarce and power may be absent. Geyser Technologies is prepared to pivot in a direction that serves them as well.
It's not hyperbole to say that Geyser's technology can save lives. Studies have shown that carcinogens, like those from smoke, can enter the bloodstream subcutaneously within minutes. Firefighters and first responders who are in contact with smoke and debris are five times more likely to develop related cancers. So, the ability to rid themselves of the soot, ash, and other carcinogen-containing contaminants quickly via the Geyser Technologies' products literally saves lives.
This is just the beginning of this story. What began continents away as the need for a quick shower has already evolved into a local business with a unique product carried in the stores of one of the most recognizable outdoor outfitters in the United States. And it will continue to evolve as the pressing need to conserve water balances with the desire for a hot shower, whether at your campsite or after an earthquake.
Kevin Clay is a freelance contributor for the Montrose Business Times.