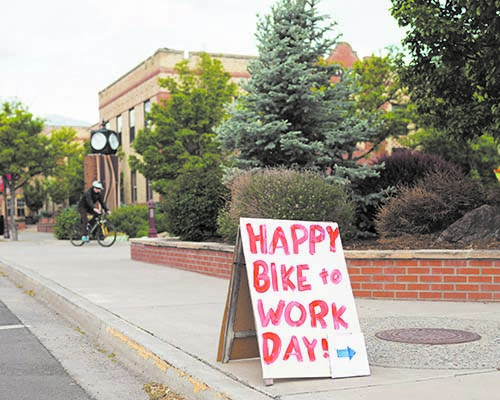 MABA kicks off Bucks for Biking month with Bike to Work Day
Considering changing up your commute a bit? Jeff Rice, volunteer for Montrose Area Bicycle Alliance has an idea. That idea can even involve you making money on your commute to work.
We spoke with Jeff on May 31, as Montrose Area Bicycle Alliance (MABA) held its first "Bike to Work Day" of the year. It is the first of several they have planned for 2023.
The all-volunteer organization has big plans for the year.
Rice spoke to how the year looks for them.
"We're going to have three (Bike to Work Days) total, one right now, there's one in June and one in July. We might do another one in August, but right now we've just committed to the three," he said. "A lot of communities have a bike to work day, but a lot of them only do it once a year, so for Montrose to have three is pretty special. The next one is June 28, which is also Colorado Bike to Work (Day)."
Rice talked about a unique program MABA is conducting this year, Bucks for Biking, which will reimburse cyclists for their commute.
"Bucks for biking starts on June 1. It's for the entire month of June where we are paying citizens $2 a day for when they bike to work," he said. "A lot of major employers of Montrose are matching the payouts. I had never heard of any other community doing this, we came up with it two years ago. We were just trying to come up with incentivization to encourage more people to bike to work. This is our second year doing it."
Rice, asked what he believes the benefits of biking to work are, traffic wise, health wise, and so on, had praise for our town's cycling options.
"Ultimately, Montrose is one of the best biking towns that there is, just because we're flat. And it's got a great biking infrastructure and it's only getting better," he said. "Certainly health is the biggest benefit of biking to work. You get to see a different part of Montrose, and it's very enjoyable. If a lot of the locals that live close to where they work were to bike, that'd be pretty fantastic."
For Bucks for Biking two years ago, the numbers showed that MABA removed 907 cars from the streets for the month of June.
"We are so fortunate to live here in Montrose, Colorado where we have 300 days of sun," Rice said. "You could realistically be biking to work…100 days a year."
MABA publishes a unique map designed just for cyclists, the Montrose Urban Bike Map. Jeff spoke on this as well. "It's a free map that's online, it's at the Visitor Center, all the bike shops. We put this together and it's also something that very few communities have."
Montrose Area Bicycle Alliance can be reached at montrosebicycle@gmail.com or on their website, montrosebicycle.org.
To register your rides in the month of June and get paid, go to the website and click the "Bucks for Biking" tab at the top.
Gunnison Clamp is a freelance writer and photographer for the Montrose Business Times.