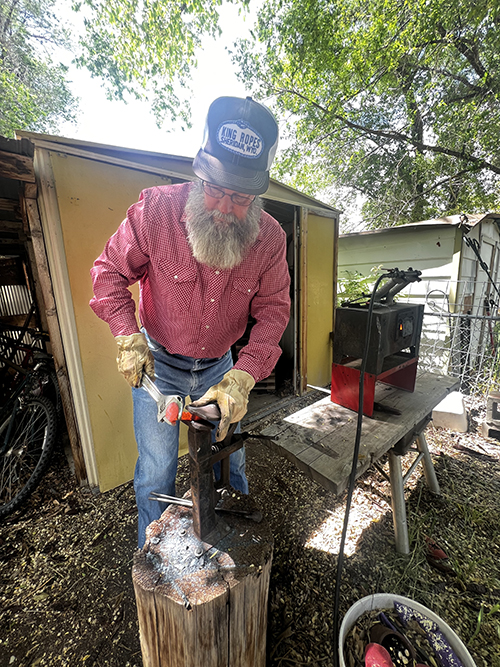 Local man crafts one-of-a-kind wooden furniture pieces
For some people, it may take a lifetime to find a calling. For John Jenkins, it didn't take quite that long. He is a craftsman by trade.
Part blacksmith, part carpenter, Jenkins uses his skills to build high-end wooden pieces. He's done it for 30 years as something fun to do, but for the last 20 years, he's made a business of it and has seen that business grow.
"This just kind of came natural to me," he said. When inspiration came to him, Jenkins was watching a show on National Geographic.
On the show, the craftsman would gather dead trees and branches from the wilderness and craft those into things (not exactly the same kinds of things as Jenkins) for people's homes. Jenkins was shoeing horses for a living when he saw that show.
A man he knew gave him some leftover cedar wood, and he built a headboard out of it. "I just fell in love with it," he said.
Fast forward some years, and Jenkins found himself in Montrose with his wife and two boys. They moved here to be closer to his father-in-law. His father-in-law and wife have both since passed away, but he and his two sons still live in Montrose.
A labor of love
Pointing at some of his pieces, Jenkins explained his process to the Montrose Business Times. He gathers old, dead junipers from Paradox Valley in the West End of Montrose County.
They're usually branches or downed trees. He brings a chainsaw, stands the pieces of wood upright and tries to visualize them in someone's home. If they speak to him, he takes them home to craft them into something new. They're ugly when he brings them home. But with enough work, he explains, they can be turned into something beautiful.
He takes a wire wheel brush and sands them down until they're presentable. Then he coats them in two coats of polyurethane. Sometimes he gives them wooden platforms.
Sometimes it's metal. For the coat racks (Jenkins mostly crafts furniture that might go in the entryway of someone's home), he takes railroad spikes, which he buys from wherever he can get them, forges them into a hook you might hang your jacket on. For other projects, he puts in more work.
He showed off a chair with a Mongolian cashmere seat and a bench fit for two people. Asked if he likes what he does, it's easy to tell there's a labor love in what he does.
"There's nothing I'd rather do," Jenkins said. "If I have to work for a living, there's nothing else I'd rather do."
His love for his craft shows. Wholesale, he says his pieces for anywhere from $500 to $1,500 usually. In shops, like one he supplies in Telluride, his pieces can go for thou-sands. He even sold a piece to country music legend George Strait once. A furniture store mogul, he said, also bought a coat rack from him for his own home Jenkins has even shipped some of his pieces to over-seas buyers, to people in Australia and the Bahamas.
"There's all sorts of import-ant people that buy these, I guess," Jenkins said.
He does commissions from time to time also, but he admits he doesn't like doing those as much. You can find his pieces all over, but the best way to get Jenkins' pieces is to contact him.
He even just set up a new website. He sells the most stuff to Telluride but says he still hopes to get a couple more stores like the one in Telluride to buy his pieces whole-sale. All his pieces are one-of-a-kind and come with a J/4 stamp — his brand.
Sustainability
All Jenkins' wood designs are built from recycled material, including the railroad spikes and the dead collected wood. He started his hobby with woods like cedar but since graduated to art woods, as he calls them.
They're tougher to work with, and more difficult to find; but it makes all the difference in his work. See more of Jenkins' work, or contact him at J4woodart. com
Justin Tubbs is the Montrose Business Times editor. He can be reached by email at justin@montrosebusinesstimes. com or by phone at 970-765-0915 or mobile at 254-246-2260.