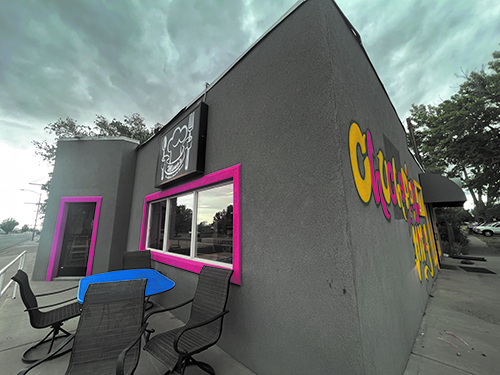 Business, News
June 7, 2023
Carmen Briceno talks Mimo's Chucherias, a snack shop that makes adults feel like children
Mimo's Chucherias is a new place to snack on various Mexican treats and candies. The shop is located in the building that formerly housed Mimo's restaurant (633 S. Townsend Ave.) before it moved into a bigger space (216 N. Townsend Ave.).
The idea behind it is for children to enjoy snacks they might get in Mexico and for adults to remember their childhood.
Mimo's Chucherias is owned by Rocio Rued (Briceno), and the restaurant on the other side of Townsend Avenue is owned by Rocio and her husband Saul Moreno.
Both locations are man-aged by Rocio's daughter, Carmen Briceno, and their first employee and family friend Cinthia Rendon. Mimo's Chucherias first opened on May 9, a day after the one-year anniversary of Briana Briceno-Rueda's (Ro-cio's daughter) death. Briana opened the first family chucheria business back in 2015, but it has since closed.
Hours at the new Mimo's Chucherias are Tuesday – Thursday 11 a.m. to 10 p.m.; Friday – Saturday 11 a.m. – 1 p.m.; and Sunday 11 a.m. to 10 p.m. The best way to reach them is to call 970-240-0616 or drop in during business hours.
Montrose Business Times: For readers who may not know, what is a chucheria, and where does the concept come from?
Carmen Briceno: The term chucheria is a term our parents used to use when-ever we would have snacks or what they would like to call junk food before a main meal.
MBT: What's your favorite thing on the menu? And how many menu items do you have?
Briceno: Our favorite thing on the menu is our tostilocos (which is typically layers of tortilla chips, jicama, cucumber, peanuts, and tamarind candies topped with hot sauce, chamoy, and lime juice). We have over 20 menu items, of which every single one can be customized. And if we have the ingredients, you can even make your own item.
MBT: What made you guys want to turn that building into a chucherias shop? Was it the plan all along to get a bigger location for the restaurant and keep the other building?
Briceno: When we first opened our first Mimo's back in May 2018 and we outgrew the building, it was very hard to let go of the place that saw and helped us grow. And what better way to honor Briana, then to reopen her first business and use her recipes? We have always aimed for success, but we know it doesn't always happen. We have had many trials and errors before reaching success. Thanks to all of our employees' hard work and the support of our community, we reached a point where we outgrew our original location.
MBT: It's a colorful build-ing. What inspired the de-sign, and who painted it?
Briceno: The idea behind the new building's artwork was inspired by Rocio, for children, and also for adults to remember their child-hood. To remember home and for the community to learn the heritage behind the art. The artwork was done by Nabor Arroyo.
MBT: And lastly, how would you like to see the business grow? I know you're brand new, but what's your goal as a business?
Briceno: We have always been very community-oriented. The goal for this business is to continue to grow with our community and to support our community as much as possible. We would also love to be able to teach our community about the different snacks we grew up with and our heritage.