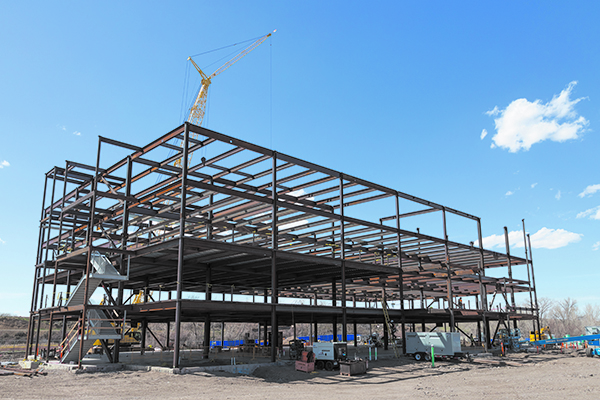 Ambulatory Care Center ahead of schedule at south end of town
The construction of Montrose Regional Health's Ambulatory Care Center is ahead of schedule by two weeks, according to Leann Tobin, marketing officer for the hospital. As of last Wednesday, the steel beams had been set in place, contracted by local company Iron INDAstries, and construction workers had begun pouring cement and forming walls on the new facility.
The goal is to be ready and open by February 2024. The first three floors of the four-story, 65-foot-tall building will be occupied by Montrose Regional Health for surgeries, medical imaging and other services that will be moved from the hospital on S. Third Street. "The idea is to get people in and out in a day, so they don't have to stay overnight," Tobin said. "It actually brings the cost of the care down, and it's more convenient for the patient."
The project was announced last year, and Den-ver-based NexCore Group, which partnered with MRH and leased the land from them, broke ground on the 80,000 square-foot outpatient care center last fall. It is meant to serve Montrose and surrounding counties, including San Miguel, Ouray, Gunnison, Delta, Hinsdale and San Juan.
The region's largest primary care provider, Cedar Point Health, which currently has medical offices near the hospital, will rent the top floor of the facility, which will be located at the inter-section of Townsend and Rio Grande Avenue.
Services offered by MRH at the ACC will include mi-nor procedures, Mountain View Therapy, outpatient laboratory, cosmetic procedures, and medical imaging, with a specially designed area specifically for mammography and women's imaging. Alpine Women's Centre at MRH has out-grown its current space and will be moving to the new location to better serve their patients. Montrose Regional Health is also partnering with in-dependent providers in the communities to offer care at the new ACC.
The new center, according to MRH, goes in correlation with the growth currently happening in Montrose and particularly on the south side of town.
"I think it's going to be a great compliment to all the excitement and development going on at that side of town," said Brad Wiersma, the hospital's marketing director. "I think it's just a really great place to be for our community. "Our community is just continuing to grow," Wiersma said. "And as people move here, like the retirement community, they have the expectation that they will have the services they had in big cities."
MRH believes the ACC will help in that regard. More information, and a live feed of the progress at the Ambulatory Care Center, can be viewed at montrosehealth.com/about/ambulatory-care-center-acc/
Justin Tubbs is the Montrose Business Times editor. You can reach him at justin@montrosebusinesstimes.com or at 970-765-0915