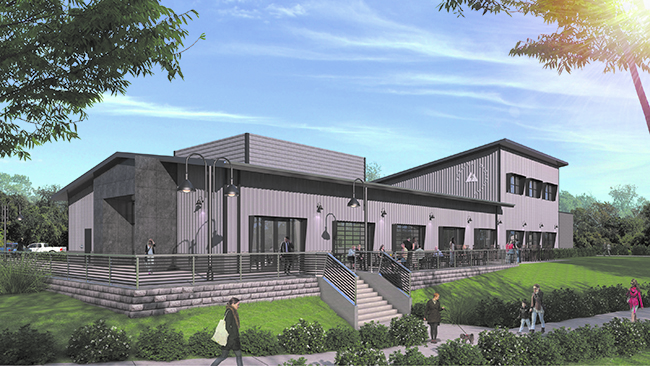 Shelter Distilling prepares to come to Montrose
So, you're a successful, small-batch, distillery with a cool brand and a rabid following for your spirits, beer, ciders and food; but you need to grow.
You grew up in a cool, funky, mountain town but now you need a larger spot that's not only friendly to small businesses and easy to work with but also has its community's best interests foremost in its growth plans. You need smart, skilled workers, and the ability to locally source everything from grain for beer to beef for the table.
Oh, and you'd like to have 300+ days of sunshine, plus the ability to ski and snowboard, go hiking and biking, golf, fish — you know — amazing outdoor possibilities and easy access to adventure.
If it's not too much to ask, maybe the new production facility and restaurant could be on a river near hiking trails, with mountain views.
After looking at a lot of places to grow Shelter Distilling beyond Mammoth Lakes, California, owners and partners Jasion Senior, Matt Hammer and Karl Anderson settled unanimously on Montrose.
The setting and expansion made possible at the Colorado Outdoors location checked all the boxes on their wish list and groundbreaking on the new 14,000 square-foot facility started in 2022. 10,000 square feet will be production space and the rest will welcome diners and imbibers to their farm-to-table restaurant that should be able to seat 350 folks, plus they've envisioned an enormous outdoor patio that will lead out toward the Uncompahgre River. Jason is already a Montrose resident and is here to help oversee the construction.
Why Montrose?
"Montrose is really similar to Mammoth," said Matt without hesitation. "There's a terrific quality of life here with the outdoors and adventure."
Matt Hammer is one of the co-founders and the director of marketing and branding.
"From our very first contact with the people and the City, everyone in Montrose has shown us integrity, strong morals, and honor—everything the way we want to do business," Hammer said. "We want — Montrose wants — every business to thrive and expand and become uber-successful. I would be very proud of your local government."
And it doesn't hurt that "the water quality — the snow melt — is fantastic."
"And that's the number one ingredient we need," he said.
Yes, without water, there's no Dark Sky Whisky or O'Pinyon Gin. Shelter intends to source as much of its raw material as possible from local growers and farmers and intends to employ 40 full time staff as well as 20 part timers. A few will come from their Mammoth Lakes operation, but the rest will be plucked from our public and placed into the future of Shelter Distilling.
"Evolution is inevitable," said Hammer. "But instead of letting the ball roll over us, let's help guide that ball. With help from the City, we feel that everything we do must benefit the town."
He means the business, clearly, but also helping with things like traffic and tourism. Those things need to be managed effectively to protect the people who grew up here as well as later-comers to the community. And having begun the business in a relatively modest 3,600 square-foot space in 2017, enduring, surviving and then thriving through the pandemic, the Shelter Team knows a thing or two because they've seen a thing or two.
Recognizing the growth that Montrose is experiencing right now and wanting to be a part of it, Shelter Distilling has also secured a contract on the second level of the airport expansion. In addition to and in cooperation with Horsefly and Coffee Trader, Shelter Distilling will be ready to open beginning as early as July.
It is the distinct mission of Shelter Distilling and its founding ownership to become a welcome, beneficial part of our community—not just the small business community, but the greater Montrose community as well.
If the mission of Shelter Distilling is to bring something good to town, their vision of building community, and the demeanor of its leadership, are indicative of what Matt Hammer and his partners are bringing to Montrose by way of their growing distillery.
Kevin Clay is a freelance contributor for Montrose Business Times.
CLICK HERE TO SEE MORE PHOTOS