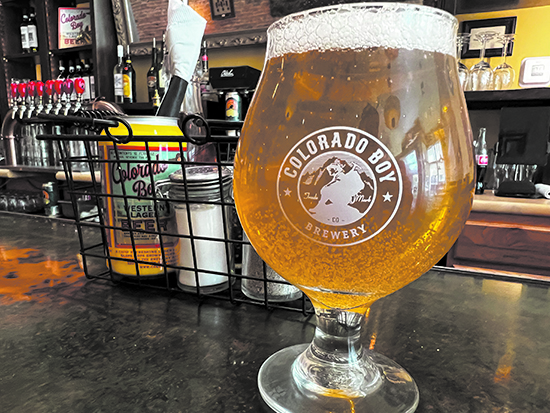 Restaurant industry grows, adapts with rising costs of business
For Colorado Boy Pizzeria & Brewery in Montrose, a COVID and post-COVID world has meant adjusting and adapting.
That's because the cost of being in the restaurant business has increased significantly in recent years. But despite those challenges, the restaurant is growing and is even seeing a larger profit margin with the help of some changes.
Victoria Cornejo, who was a longtime employee of Colorado Boy, even felt confident enough to buy into the company. She is now part owner, as of late last year.
Also the general manager, Cornejo has had trouble finding reliable employees and has faced issues with rising costs of food, labor and more.
Of course, the industry changes all the time, and businesses have to adapt, but the recent pandemic and the following issues with the economy and inflation have meant many businesses have adapted or closed.
According to Cornejo, the business has increased menu prices (9 of 10 Colorado restaurants said they increased their menu prices to offset rising costs. Colorado Boy also reduced its hours and its staffing levels, following along with statewide trends. More than 60% of restaurants cut their hours, and more than 68% of restaurants reduced staff.
But Cornejo knows it's not always easy making those kinds of decisions.
"We try not to do increases (in prices)," she said. "You can't just say this used to be $10 and now it's $15."
So they increase their prices gradually.
The restaurant was once open 11:30 a.m. to 9 p.m., seven days a week, but it has had to change its strategy on that as well. They are only open for lunch service two days a week currently.
"There was a point several years ago when we were open for lunch, but I don't plan on opening for lunch much anymore," Cornejo said. "It's mostly because of the staff. We would have to double the staff. The profit margin, just for that short amount of time that we've cut, has gone up immensely."
She now carries about half the staff she used to, and the restaurant has seen positive impacts because of it.
On average, that has left only about 3 cents profit from each dollar spent at the average restaurant, after all the rising costs.
Surviving, and adapting in the thick of it
According to the CRA's January 2022 impact survey, the percentage of restaurants that were considering closing permanently in 2022 was 54%.
Among those, 14% believed they would close within 14 months and 28% expected to close within six months.
More than 99% of restaurants reported that the cost of doing business had increased from January 2021 to January 2022. And with 69% of Colorado restaurants being independently owned and operated, there usually isn't a larger company to fall back on.
Montrose saw some restaurant closures over the past few years. Even with that, the Colorado Restaurant Association says the restaurant industry grew by 3% from 2019 to 2021.
During the pandemic, Colorado Boy survived with takeout orders and a greatly reduced staff. They also had deals, like $5 growler fills. They also had to follow pandemic protocols, which were constantly changing and make sure their employees were safe and taken care of.
"I got a ton of experience with all the adapting and different protocols," Cornejo said. "How are we going to sanitize and space tables out? We wanted to make sure we were doing it properly."
With their restructures, they have also made the decision to pay employees more.
"But that's just something we always want to do," she said. "We want to make sure employees have a livable wage."
Looking ahead
Cornejo, as well as partner and brewer Mike Thomas and primary owner Jenny McClellan, will have challenges ahead as they look at what foods to order and when. They will likely still face hiring issues.
Between 2022 and 2023, 8 of 10 restaurants struggled to hire enough staff, and wages have risen an average of 20%.
"Just to staff for the summer was difficult. It took me three weeks to get people in for interviews and hired," she said.
And with food costs, they have to be more diligent than ever to keep things running smoothly. Food prices have risen 11%, the highest increase in four decades, according to the CRA.
"With food ordering, we want everything to be right pricewise," she said. "I'm very strict going through things once a month and seeing what we can afford and what we can or can't do without."
Colorado Boy, like other Montrose businesses, will likely be OK, though.
"We're just really grateful to the community through everything, and I want to pay our appreciation to them," she said.
Justin Tubbs is the Montrose Business Times editor. He can be reached by email at justin@montrosebusinesstimes.com or by phone at 970-765-0915 or mobile at 254-246-2260.